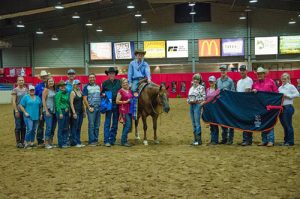 Friday night's competition was filled with national and international competition when the USEF Youth and USEF Open championships were showcased. The riders dazzled the crowd with big stops, fast spins and smooth moves. Both the professionals and the young guns of the sport had the opportunity to show off their skills.
Josh Crawley and Spin N Whip (Wimpys Little Step x Spinning Beauty) won the Adequan USEF Open championship with a score of 73.5 for owner Denise Hobbs. Crawley says it's special to compete and win for your country, but the win was made eeven more noteworthy because of the team he has on his side.
"Denise has shown Spin N Whip here in the Green Reiner a couple of times this week and I just cannot say enough about this horse; he is extremely honest and just went in there and tried his heart out every single time," Crawley said. "We're all very, very blessed to be a part of this horse's career. He's truly an amazing individual."
Shane Allen Brown took home the silver medal riding Give Me Starbucks (Walla Walla Whiz x Starbucks Rosy Blend) while Emily Emerson rode Wind Er Up Wimp (Wimpys Little Step x Wind Her Up Doc) to the bronze medal.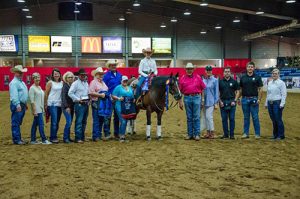 Carlee McCutcheon rode Katy Dun It (Dun Gotta Gun x Dun Kissed Peaches) to the USEF 13 & Under gold medal with a score of 211.5. Katy Dun It is owned by Shawn Stratman and Carlee said the mare showed well on Friday. The young McCutcheon was pleased to improve from last year's USEF championship where she finished second.
"I was a little too 'Come on, let's go, let's get this,'" Carlee said with a laugh, "but she was really good and tried hard and we ended up better than I thought."
Raeanna Thayn and Coded N Color (Electric Code x RT Missy Olena) took the silver medal with a score of 204.5.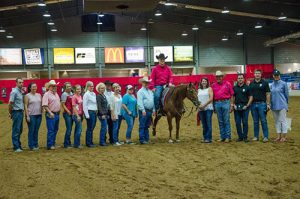 Cade McCutcheon rode REF Sturgis, owned by Anne-Marie Burns to the USEF Youth 14-18 gold medal with a score of 218.5 to defend his title from 2017. Cade expressed his pride in his mount's consistency and talent saying Friday's run was the first time he's ridden the 6-year-old since last year's USEF Youth class.
"It's always fun to win something for USA," Cade said. "He's a very easy horse. He's laid back and quiet. The first time I've rode him since last year when I won this was last night – I've only rode him to show him in this class. He's real easy to get along with and made it easy on me."
REF Sturgis is by Custom Harley out of Chics Time To Rein and not only earned McCutcheon the 2017 USEF gold medal, but also led his owner, Burns, to big wins at the 2018 Tulsa Reining Classic SmartPak Non Pro Derby on Thursday.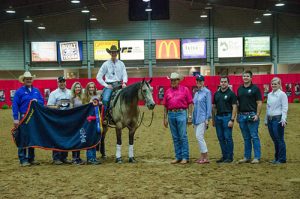 Jack Medows and Surpizentheprincess (Jerry Lees Surprise x Princess In Diamonds) to the USEF Youth 19-21 gold medal. The duo has had a lot of success together in the show pen including an NRHA Derby Level Non Pro championship, NRBC Non Pro championships and other big accolades.
"This is a mare I've shown a lot," Medows said. "She was pretty good tonight. It's really exciting to get her back out and start showing her again."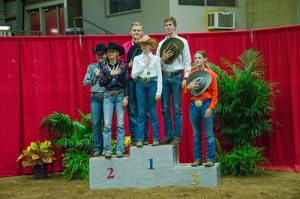 Catch all the action of the Tulsa Reining Classic at www.tulsareining.com and by following along on social media.
The National Reining Horse Association is not responsible for information contained in this press release. Please contact the author or submitting organization for further information, requests or questions.