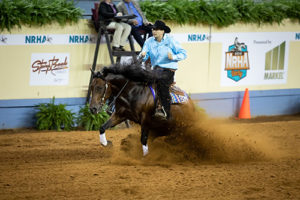 The 2019 National Reining Horse Association Derby presented by Markel Insurance provided a week of thrills and excitement for exhibitors, owners, sponsors, and spectators, escalating to a crescendo on Open finals night, Saturday, June 22. The Jim Norick Coliseum at the Oklahoma State Fairgrounds was filled with an enthusiastic reining crowd that watched climbing scores and outstanding performances.
Riders posted one massive score after another, making memories with every run. Several times it looked as if a winner had been decided, but then another rider would raise the bar.
Draw 29, Guaranteed A Magnum, by Magnum With A Dream out of Guaranteed By Amos, had lifetime earnings just under $200,000 prior to the finals. In fact, he and rider Jimmy van der Hoeven won the event in 2018, entering the arena as the reigning champions.
"Casey (Hinton) and I talked it over before we walked in. It goes through your mind that you need to stay calm. Casey told me to 'Ride what your horse can do. That's what they do, and don't try to do more than that,'" Van der Hoeven shared. "Those were the words I heard when I walked in, but it's hard when people are screaming and you know what the horses before you did. Staying calm in that is not easy."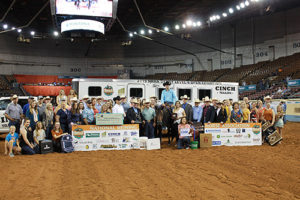 Still, Van der Hoeven and Guaranteed A Magnum stayed the course through seemingly never-ending stops, impeccable spins, and flashy circles. The cheers of the already loud crowd reached deafening levels when the score – a 231.5 – was announced.
Along with a check for $57,000, Van der Hoeven was presented with a year's use of a gooseneck trailer from CINCH trailers, a Montana Silversmiths buckle, a Bob's Custom Saddle, a pair of Anderson Bean boots, as well as product from Classic Equine, Platinum Performance, Bluebonnet Feed, and CINCH. He also received gift certificates to SmartPak and Shorty's Caboy Hattery. Guaranteed A Magnum's nominator Heather Hochstatter will receive a check for $3,000.
Van der Hoeven began riding Guaranteed A Magnum, now owned by Chad and Molly Cherry, at the end of the horse's four-year-old year in 2017. The next year, they finished fourth at the National Reining Breeders Classic before winning the Derby for the first time. They went on to win the Junior Reining Championship at the American Quarter Horse Association World Championship Show.
They returned to the NRBC in 2019 to place third prior to heading to the Derby. "He's really special. What he has done in the past year is pretty special. He keeps getting better, too. This is the highest he's ever marked, and it's the highest I've ever marked," Van der Hoeven shared. "I know when I go in there he's not going to let me down. I never have to worry about him."
Van der Hoeven trains out of Casey and Kathy Hinton's barn in Whitesboro, Texas. "I thank the whole team. Casey and Kathy are real special to me. Casey is a great coach and trainer. I also thank all the people who work at home, and my brother Roy van der Hoeven," he said.
Craig Schmersal piloted No Smoking Required to a 231 to win the Level 4 Open Reserve Championship, worth $40,544. No Smoking Required, by Gunner out of Icing Required, is owned by the Wranglen Partnership. Nominator Carluccio Orsi will receive $2,133.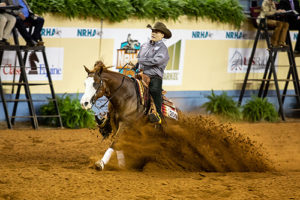 Cade McCutcheon and Shes Got Good Guns Win Open Levels 3 and 2 Championship
It was Cade McCutcheon's first time to show in the NRHA Open Derby, and the young trainer made the most of it, qualifying all three of his entries back to the Open Level 4 finals. He finished as the Open Level 3 and Level 2 Champion on Shes Got Good Guns, by Gunner out of A Bueno Poco Dunit.
McCutcheon and Shes Got Good Guns marked a 227.5, which also ranked them eighth in place of the Open Level 4. The night's earnings totaled $39,592 for McCutcheon, with nominator/owner Roxanne Koepsell receiving an additional $2,083. Prizes included buckles from Montana Silversmiths, two Bob's Custom Saddles, two pairs of Anderson Bean boots, gift certificates from Shorty's Caboy Hattery and Smart Pak, and product from Classic Equine, Platinum Performance, Bluebonnet Feed, and CINCH.
"She was awesome. She's very honest in the show pen and I know I can trust her. She was there for me every step of the way," McCutcheon said. "She's a really good mare, and I'm just lucky to have her."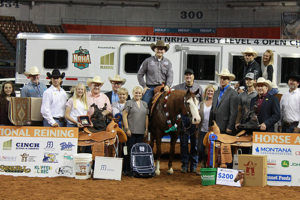 With the high temperatures and humidity, McCutcheon had a game plan. "I did as much of nothing as I could. She was tired anyway, so I didn't do anything hard between the go-round and the finals," he said.
If his horse felt slightly fatigued, McCutcheon did, too, as his first two entries were relatively close together. "I was pretty tired after my second one, but my mom brought me a snack," he said with a laugh. "Actually, it's easy to get hyped up and not tired when you get to ride one like this."
McCutcheon, who began riding as a professional in January, added, "I thank my parents and my grandparents and everyone at the barn. Joe Schmidt, Fernando Salgado – there are just a lot of people to thank. I also thank Roxanne Koepsell, who has been awesome. She's always been there for me."
Perhaps one of Cade's most exciting accomplishments of the night was being one half of the first father-son duo to qualify for the Level 4 finals at the same time. Cade's father Tom also qualified for the Level 4 finals on Dun With Guns.
Finishing second in the Open Level 3 was Trevor Dare and Xtra Dun Step, by Wimpys Little Step out of All Thats Dun. The pair marked a 225, also finishing 13th in the Level 4. The win netted owned Silver Spurs Equine a check for $20,269, and nominator Ixtul Quarter Horses received $1,066.
Reserve in the Open Level 2 went to Lorinaldo Gomes and Snip O One, who finished the finals with a 224.5. That score was also good for third in the Level 3, and fifteenth in the Level 4. All totaled, Snip O One, owned by Sarah Nimigan, won $20,863. Snip O One, by A Sparkling Vintage out of Snip O Gun, was nominated by Harper Conner, who will receive $1,098.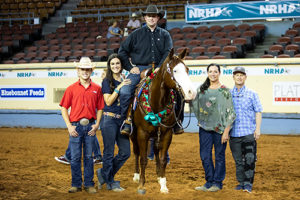 Josh Tishman Wins Open Level 1 Championship on Baileys Sidekick
With a 222.5, Josh Tishman and Baileys Sidekick won the Open Level 1 Championship, besting their preliminary round score by a point. While that feat was impressive – they also qualified for the finals of the Open Levels 2 and 3 – the story gets better. Baileys Sidekick pulled double duty at the NRHA Derby. "He was shown by both his owner, Kathy Thompson, and myself. Kathy qualified for the Non Pro Level 4 finals last night, and he and I were only a half-point from making the Open Level 4 finals," Tishman shared. "He's given everything he has. He has a huge heart and is pure as pure can be in the show pen for both of us every time."
Tishman and Baileys Sidekick collected a check totaling $12,237, while nominator Turnabout Farm Inc., received $644. The night before, Baileys Sidekick by Gunners Special Nite out of A Shining Sidekick won more than $3,650 with Thompson. Prizes for the Open Level 1 title included a Bob's Custom Saddle, a buckle from Montana Silversmiths, a pair of Anderson Bean boots, gift certificates to Shortys Caboy Hattery and Smart Pak, as well as product from Classic Equine, Platinum Performance, Bluebonnet Feed, and CINCH.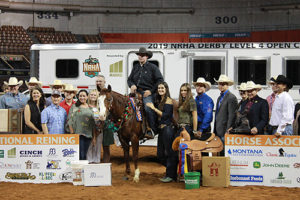 "Honestly, we just didn't try to override him and kept him happy. He has an amazing brain and that's what did it," said Tishman, who rides for Deary Performance Horses. "He ran in and stopped huge, and he was pure as could be. He ran his heart out."
Tishman said the next stop for Baileys Sidekick is likely the Tulsa Reining Classic and the AQHA World Show. "I have so many people to thank. I thank his owners, Casey, Nicole and the whole Deary team," he said.
Todd Wright and SJR Karinas Lil Step finished as the Open Level 1 Reserve Champions, winning $4,845 with a score of 220.5. Owned by Teresa McCarthy, SJR Karinas Lil Step is by Wimpys Little Step out of Whizs Katrina. Nominator San Juan Ranch will receive $255.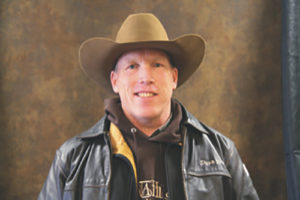 Dean Brown and Gunnatrashtheplace Win Open Prime Time Title
The Open Prime Time Championship was decided in the preliminary round, and Dean Brown and Gunnatrashtheplace topped the division with a 223, earning $2,271. "He was really good to me. He ran in there and gave me his all. We had a couple little bobbles that kept us out of the Level 4 finals, but we made the Level 3," Brown explained.
Brown and Gunnatrashtheplace, by Gunnatrashya out of All Chic N Shiny, are coming off a recent Prime Time win at the NRBC. "He's been a very good horse for me. I've made the finals at all the major events with him. I've had him since he was a 2-year-old. He's just a very nice horse," Brown said of the 6-year-old stallion who is owned by Jeff Levine of Levine Equine Enterprises of Valley Cottage, New York.
In the finals, Brown and Gunnatrashtheplace, whose lifetime earnings exceed $36,000, marked a 219 to finish sixteenth in the Level 3, worth an additional $2,278. "After this, we'll have a couple of horse shows, and then start showing our three-year-olds. It's going to be a busy summer," Brown said. "I thank Robert Santagata. I also thank Jeff Levine, who has been a great owner."
Finishing second in the Open Prime Time was Martin Larcombe and Hey Joe with a 222.5, collecting $1,804. Hey Joe, by Smart Spook out of Best Stop, is owned by Rosanne Sternberg of Aubrey, Texas.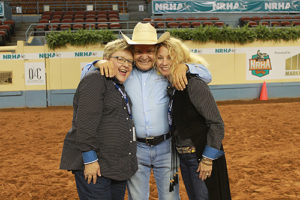 Dun It For Chex Unofficially Becomes Newest NRHA Million Dollar Dam
Dun It For Chex was recently inducted to the NRHA Hall of Fame, and on Saturday night she unofficially became an NRHA Million Dollar Dam. Owner Joao Marcos, noted, "I have no words. It's amazing. I'm so, so happy. It was a lot of work and investments," he shared. "She's the best. We call her the Queen."
Owned by Cardinal Hill Training Center, Dun It For Chex is by NRHA Hall of Fame Inductee and $6 Million Dollar Sire Hollywood Dun It out of Silver N Blue Chex (by Docs Silver N Blue). Her money-earning progeny include 2019 NRHA Derby Open and Non Pro finalists Dun It For Whizkey, Masked Gun, and Hollyood Nites, as well as Starbucks Sidekick, Wranglin In Chex, and Whizzen For Chex.
"It was an amazing night. It was one of the best shows I've seen in my life," Marcos said.
Complete results and information about the NRHA Derby can be found at www.NRHADerby.com.