Great horses and riders were shining under the Friday-night lights of the Jim Norick Coliseum at State Fair Park in Oklahoma City. The National Reining Horse Association (NRHA) CINCH Non Pro Futurity featured the top horses and riders from the preliminary round, and the champion was decided in an exciting runoff.
Jesse Asmussen & Ruf Style Of Play — CINCH Levels 4 & 3 Non Pro Futurity Champions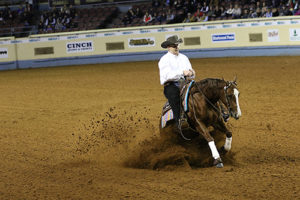 Jesse Asmussen and Ruf Style Of Play drew the dreaded No. 1 position for the CINCH Non Pro Futurity finals, but the pair made it count, marking a 220 to take the lead of Levels 3 and 4. As rider after rider took a shot at the lead and fell short, Asmussen and his team worked hard to stay busy. "We were back at the stalls sitting around, pacing, sweeping, and doing anything to just stay busy," he said. "You don't really expect a tie. You think someone will come in and beat you."
Luca Fappani had a wild run-in with a dog that jumped into the pen during his finals' run, even though State Fair Park requires leashes for all dogs and were checking them at the door. Fappani was given the option of running again after the last draw. "I was just waiting for Luca to go at the end, and then he also marked a 220. We decided to run off, and we had only 15 minutes to get ready," Asmussen explained. "This mare has been at Kole Price's, and he told me to just trot her around and that she'd be good to show. It was nerve-wracking, but she was great."
Rules dictate that the runoff occurs in the same draw order as the original, so once again Asmussen knew he had to set the pace. Once again, the 3-year-old mare gave her best, resulting in a 222. "She was phenomenal in the runoff. I couldn't believe she was better there than the first time I showed her in the finals," he said.
The win came with a bounty of prizes, and checks totaling $61,455. "Winning this is a dream every year, and until it happens, it is hard to imagine."
Asmussen purchased Ruf Style Of Play, by Not Ruf At All and out of UB Stylin With Me, from Vaughn Zimmerman earlier this year. "Bobby Avila Jr. called me in June and told me I needed to buy her. I didn't need another horse at the time, but he kept calling me and talking to me about her, so we ended up buying her without ever trying her," he explained.
After showing the mare a couple times, Asmussen elected to send her to Kole Price. "We live in Iowa, and the weather was really bad, so I sent her to Kole's and he did a phenomenal job getting her ready to come here. She felt so well-trained and easy. I owe him a huge thank-you. I couldn't have done it on my own. Kole's wife, Kelsey, did a great job of getting her pretty and making sure everything looks nice," he said. "I also thank my wife and boys. It's been a long week, and the boys have been great. My wife does so much at home and keeps me from self-destructing. My mom and dad are also huge supporters. I thank them so much."
Making this win extra-special for Asmussen is that his long-time friend Dave Kunkle was able to be present. "Dave is the guy who got me started, and both times I've won it before he's been in Iowa, so him being here was pretty special," Asmussen said.
Luca Fappani & Gotta Get Diamonds — CINCH Level 4 & 3 Non Pro Futurity Reserve Champion, Level 2 & Youth Champion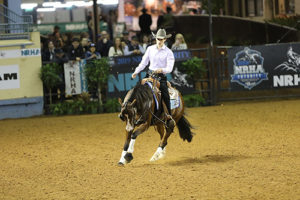 Luca Fappani didn't know he'd get to show his horse three times in the non pro finals at his first NRHA CINCH Non Pro Futurity. While competing as draw 30 in the finals, Fappani was completing his second set of circles when a dog catapulted itself into the ring and tried to herd Fappani and his horse.
"The first run was going pretty good. I saw something black and white run out in front of my horse, and I kept going, but the dog kept cutting the circle. I didn't want to run him over, so I stopped. I'd never seen anything like it," Fappani said.
Fappani and Gotta Get Diamonds were given the option of a re-run at the end of the finals, but that only gave him nine horses to prepare for yet another run. "He was pretty good the first time, so I trusted him the second time, and he was great. He did everything I wanted," Fappani said.
When the score of 220 was announced, Fappani had taken the lead of the Level 2 and Youth divisions but was tied with Jesse Asmussen for the lead of the Level 4 and 3. "My horse was great, but I wasn't sure he could do the same in the runoff. Before the runoff we stayed here and gave him some water and just touched on a few buttons," Fappni said.
Fappani and Gotta Get Diamonds marked a 218 in the runoff, finishing as reserve champions in Levels 4 and 3. Still, earnings for the day came to $56,910. "This was my first futurity, and it was definitely one to remember," Fappani said.
Luca's parents, Andrea and Tish, purchased Gotta Get Diamonds, by Spooks Gotta Whiz out of Tinker With Diamonds, from Rancho Oso Rio in October. "Dad showed him a couple times, and marked a couple 218s, I think. I tried him at Best of the West, and then had a game plan coming in here to make the finals," Fappani shared. "I took him out there and opened him up. He gave it everything."
The 15-year-old was gracious, thanking the many people who supported him. "Thank you to my mom and dad and my brother. My whole family supports me," he said. "Thank you to Rancho Oso Rio for letting us buy him."
Finishing second in the Level 2 Non Pro was Jessicah Keller and Snips Shining Gun with a 218. Keller and Snips Shining Gun, by Colonels Shining Gun out of newly inducted NRHA Hall of Fame mare Snip O Gun, also placed in Levels 4 and 3. Keller and Snips Shining Gun, owned by Hilldale Farm, pocketed $37,030.
Taylor Zimmerman and Its All About Ruf, by Not Ruf At All and out of Dun Pretty Nifty, finished reserve in the Youth division with a 217.5. Zimmerman won $24,707 for her finals runs on Its All About Ruf. Its All About Ruf is owned by her grandfather, Vaughn Zimmerman.
Blair McFarlin Wins CINCH Level 1 Non Pro Futurity on Starlights N Dreams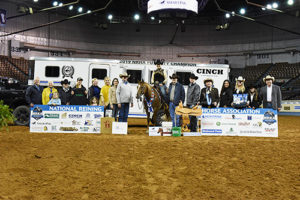 Blair McFarlin had never shown at the NRHA CINCH Non Pro Futurity before, but she made it count, qualifying for the finals of the Level 1 through Level 3. In the end, she and her horse, Starlights N Dreams, won the Level 1 Championship with a 215. "I'm extremely excited to even be in the finals. I had a futurity horse a few years ago, but this is the first one to bring here," she said. McFarlin's earnings for all levels came to $20,760.
McFarlin and Starlight N Dream, by Magnum Chic Dream out of Strike A Star, had to make an extra run to earn a finals berth. "The first time I went in there and let her do her job, and she was good for me, but not good enough to make it back, so we rode in the consolation round on Wednesday," she explained. "That really solidified for her and me where we are and what we need to work on."
McFarlan's trainer, NRHA Professional Nathan Piper, did most of the prep work on the mare. "He would ride her early in the morning, and then I'd just cruise her around before we went in," McFarlin said. "Before the finals, Nathan told me to go have fun and stay out of the penalty box."
McFarlin felt confidence from the first stop of the run. "She ran in and dragged her butt, so I knew we had started on a good note. She got turned well for me, and that's been her weak spot, so when we got through that I knew we were golden," she said.
McFarlin, of Franklin, Tennessee, has been riding reiners since she was 12 years old but spent the last four years in college. "I've been out of the loop a little bit, but she's been a fun horse to get back into it," she said. "I thank my dad, Mike McFarlin, for sticking with me and supporting me all these years."
Sally Berg and Had Us At Hello (REF Black Mamba x Dunit N Continental) finished as reserve champions in the Level 1, and placed in Levels 2 through 4, winning more than $21,645.
Jose Vazquez Tops CINCH Prime Time Non Pro With Xtra Winding Step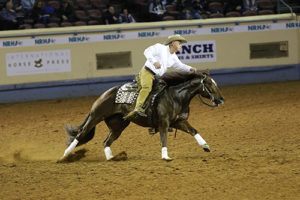 Over the years, Jose Vazquez has built an impressive breeding program and has made an impressive career on the resulting foals of his program. He won the Prime Time Non Pro title and placed third in the Level 4 Non Pro on one of those foals, this one a colt named Xtra Winding Step.
"It was a fun run," Vazquez said of his 219-point run in the finals, which resulted in a $20,862 paycheck. "He showed he can compete at a high level. I showed him two times before here. He came out here and put together two quality runs. Of course, you want to win every time, so I hope our turn is right around the corner."
Xtra Winding Step is by Wimpys Little Step out of SLJ Smartlikewhinny. "This is a horse we raised. I showed his grandmother, mother, granddaddy. The first good horse I showed was his grandmother," he added. "This one is a little more special than the rest. He's one of the best. I hope you hear from us again soon."
Vazquez was quick to thank his friends and family. "I thank my family and Alejandro and Mario, his brother. They work hard so I can have fun. Everything is a team effort. My veterinarian, my horseshoer — we all work as a team. That's how we compete on this level," he said.
Finishing tied for second in the Prime Time Non Pro was Andre Lauzon and Kelle Smith. Lauzon rode A Whizard Dream (Magnum Chic Dream x Miss Poco Whizard), while Smith rode Spookadoodlede (Tricked Out Spook x Tivitos Top Starlet). Lauzon also placed in the Level 3, for total earnings of $8,696. Smith placed in the Level 3 and Level 4 to take home $16,296.