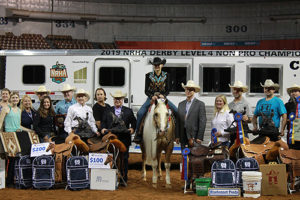 Winning a title at the National Reining Horse Association Derby presented by Markel Insurance isn't a small achievement. It's a moment most people only get to dream of, and on Friday night a 16-year-old girl rode into the arena of the Jim Norick Coliseum, capturing the crowd's attention from her very first stop.
Through flawless spins and expertly guided circles, building to a crescendo with the final stop, it was clear the run was special. When Jennifer Neudorf's score – a 226.5 – was announced, the crowd voiced their approval.
Not only had she taken the lead in the Non Pro Level 4 finals, but Neudorf and her horse, Shining In Town, were competing in every division they were eligible for, from the Level 4 down to the Level 1, and the Youth. Their score held through 12 more runs, making Neudorf and Shining In Town the newest, and one of the youngest, NRHA Non Pro Derby Champions!
All totaled, Neudorf won $42,637, almost double her current lifetime earnings. She also won a year's use of a gooseneck trailer courtesy of CINCH trailers, as well as saddles from Bob's Custom Saddles, custom Montana Silversmiths' buckles, Anderson Bean boots, product from Classic Equine, Platinum Performance, Bluebonnet Feeds, and gift cards to SmartPak and Shortys Caboy Hattery.
"I'm speechless. I'm over the moon excited. I still don't know what I'm feeling. I was super happy for sure, but I just don't know what to say," Neudorf said.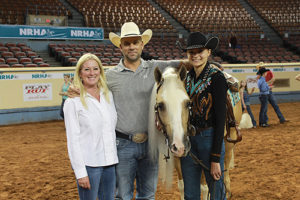 Waiting for the final results was difficult. "It was really hard waiting because there were a lot of good horses and riders who went after me. I went over to the Adequan Arena to watch a friend of mine show. We watched the live feed, but I tried to not think about it too much," she said.
Earlier in the year, Neudorf and Shining In Town, by Hollywoodstinseltown out of Shine Ann, won the Non Pro Level 1 at the National Reining Breeders Classic. "Well, at the NRBC we had a little trouble with our run in and stop, so here I just trusted him more. I just said whoa and it felt so cool," she explained. "I thought, 'Are we done sliding?' and then I realized we still were. We kind of struggle with our backup usually, so I was a little worried about that, but it was good."
While she thinks she ran to the stops a little fast, it still worked out. "I thank my trainer Craig Schmersal and his whole crew because they're so supportive, and I wouldn't be here without them. I also wouldn't be here without my mom and dad. They're big supporters. I also thank my friends, too, who make it so fun to come here."
Neudorf only began showing Shining In Town in January. "Craig tried him out, and I wasn't there because I was at home in Canada. I just trusted Craig that it would work out and it did," she said.
Shining In Town's nominator Sather Family Partnership will also receive a check for $2,176.
Tying with himself for second in the Non Pro Levels 4 – 2 and Non Pro Youth was another young gun. Luca Fappani piloted both his horses to identical scores of 223, earning more than $24,490 for each. Fappani rode Sharp Dressed Spook, by Spooks Gotta Whiz out of Dolittle Lena, and Spooks N Jewels, by Smart Spook out of Whiz Jewels. Both horses are owned by Fappani's parents Andrea and Tish.
Sharp Dressed Spook's nominator Bobby Lewis, and Spooks N Jewels nominator Courtney Brockmueller, will each receive $1,241.
David McGee Wins Prime Time Title on Knaughtybyknature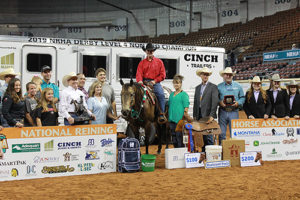 Competing early in the second section of the Non Pro finals at draw 4 was David McGee and Knaughtybyknature, who marked a 221.5 to not only win the Non Pro Prime Time, but also finish fifth in the Non Pro Level 4. McGee's earnings totaled $9,801, with $384 going to nominator Clinton Anderson. In addition to the money, McGee was also presented a Montana Silversmith's buckle, a pair of Anderson Bean boots, product from CINCH, Classic Equine, Platinum Performance, and Bluebonnet Feed, and gift certificates from Shorty's Caboy Hattery and SmartPak.
"I don't remember much. I ran through the gate, he stopped, he turned, he circled, and he stopped. I told the lady at the gate when we came out it was like Carrie Underwood's song, 'Jesus Take the Wheel,'" McGee explained. "I don't know what we did!"
There was something McGee did know. "He did good, and it feels good to be here tonight. Usually, we have something go wrong, but tonight we didn't. I finally got him ridden," he said.
Part of their success might be contributed to the man who was giving advice. "I have to thank Shawn Flarida who helped me. He can be really annoying with all his little details, but apparently, if you listen to them, they work," McGee said with a laugh. "He's given me lots of advice, and he's fun to ride with."
McGee has owned Knaughtybyknature, by Magnum Chic Dream out of the blue hen mare Princess In Diamonds, since the six-year-old was a weanling. "We bought him because of his mom. We loved that mare's babies, and he's the last one we have," he explained.
Sean Pulley and Spook In Sparks finished second in the Prime Time Non Pro and the Non Pro Level 1 with a 217. They were also competing in the finals for the Levels 4-2, so their earnings totaled $10,709. Spook In Sparks, by Smart Spook out of Setting Off Sparks, was nominated by Rosanne Sternberg, who will receive $460.
Michael Garnett Pilots Hollywood Nites to Non Pro Masters Championship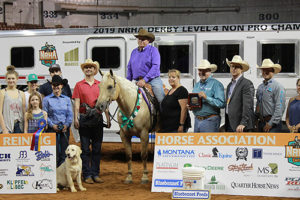 With a score of 217.5, Michael Garnett and Hollywood Nites claimed the Non Pro Masters championship, placed in the top 10 of the Non Pro Level 3, and finished 13th in the Non Pro Level 4. The night's work paid $7,590, with $292 going to nominator Cardinal Hill Training Center. Garnett also collected a Montana Silversmiths' buckle, a pair of Anderson Bean boots, product from CINCH, Classic Equine, Platinum Performance, and Bluebonnet Feed, as well as gift certificates for Shortys Caboy Hattery and SmartPak.
"I thought it was, up until the rollback, the best run we've had. We just missed the stop a little bit," Garnett said. "I think I might have been running out of horse a bit because it was so hot and humid, but other than that he finished up big. He's a very steady horse."
That is a quality Garnett says Hollywood Nites possess in spades. "Probably the word that describes him best is consistent. Before this, we won almost $80,000 with him. He's been a really good horse," Garnett shared.
Garnett purchased Hollywood Nites, by Gunners Special Nite out of Dun It For Chex, as a three-year-old from Cardinal Hill Training Center. "Franco Bertolani had him, and then Pedro Baiao who works for Martin Muehlstaetter showed him at the (NRHA) Futurity and won the Level 1 and Level 2 on him. I started showing him in the aged events after that," Garnett explained.
He added, "First I thank the sponsors of this horse show. If it weren't for those sponsors we may not be able to have it. Also, I thank my wife for all her support and Martin Muehlstaetter who we train with. His whole crew is fantastic."
The Open Derby finals will begin at 11 a.m. Saturday morning with the first section. The Open Level 4 finals will begin at 5 p.m.
Complete results from the NRHA Derby presented by Markel Insurance can be found at www.NRHADerby.com.