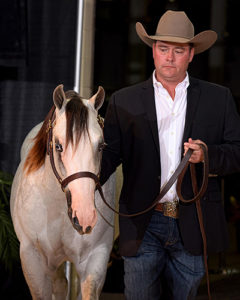 The NRHA/Markel Futurity Select Yearling Sale took place December 5 during the 2019 NRHA Futurity and Adequan® North American Affiliate Championship, and an outstanding group of yearlings was showcased at the event. Two colts, both by Inferno Sixty Six, topped the sale, bringing $80,000 and $70,000, respectively.
The top seller was hip number 1039, Inferno On Ice, a grey colt that brought $80,000 and applause from the crowd. Rick Christen signed the ticket on the colt, who was consigned by Pro Fit Equine LLC, an agent for Lotti Quarter Horses.
"We think he's an amazing prospect, and we're really fortunate to get him into our program," Christen said. "We've bought some nice horses from Lorenzo [Lotti], so we feel fortunate that we were able to get him purchased."
The colt is out of Unquestionably Crome (by Custom Crome), an NRHA Level(L) 2 Non Pro Futurity Champion who earned more than $62,000 in NRHA Lifetime Earnings (LTE). Inferno On Ice is five panel negative and is enrolled in the NRHA Nomination Program.
Comehellorhiwater, a bay colt consigned by Sergio Elia, brought the second-highest bid of $70,000 as hip number 1049. He is a half-brother to NRHA Open Derby finalist Gunnafoolya, an earner of $79,000 LTE; NRHA Open Futurity finalist Berry Best Step; and APHA World Champion My Berry Best Gun.
Out of Berry Dun It Best (by Hollywood Dun It), the colt is enrolled in the NRHA Nomination Program and the NRBC.
Toward the end of the sale, the hammer fell at $66,000 for hip number 1094, Gunnin For Fri Dee, a palomino filly consigned by Toyon Ranch LLC. She is a daughter of Gunnatrashya out of Dun It Fri Dee Nite (by Hollywood Dun It), a full sister to $44,000-earner Dun It By Chick.
Gunnin For Fri Dee is enrolled in the NRHA Nomination Program, NRHA European Nomination Program, and the NRBC, and is five panel negative.
The NRHA/Markel Futurity Prospect and Select Broodmare Sale will take place tomorrow, December 6. The sale, which starts at 6:00 p.m. in Barn 3 of State Fair Park in Oklahoma City, Oklahoma, will be preceded by a dinner at 5:00 p.m.