The National Reining Horse Association proudly hosts and sponsors the Interscholastic Equestrian Association Western National Finals on June 15 and 16 during the NRHA Derby presented by Markel Insurance in Oklahoma City.
On Saturday, riders in grades six through 12 competed for individual National Championships in Western Horsemanship and Reining. The IEA used a draw-based format for the competition, where riders randomly select the horses they will compete on just minutes before entering the show arena.
More than $9,000 in college scholarship awards will be presented to qualifying high school seniors. 
Ellexxah Maxwell Wins IEA Leading Western Rider at NRHA Derby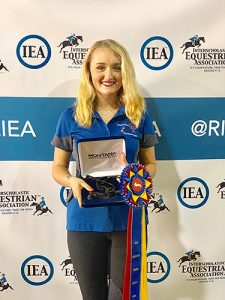 The most prestigious of awards for the Interscholastic Equestrian Association National Western Finals is the IEA Leading Western Rider. For the third time in four years, Ohio's Ellexxah Maxwell, took home the title.
The show pen dynamo is the American Quarter Horse Association's all-time leading youth point earner, and just last week, her horse Zips Bossy Chip, became the AQHA's all-time leading point earner in all divisions.
During Saturday's classes, Maxwell claimed the title of both the Varsity Open Reining and the Varsity Open Horsemanship. "I won the reining on Magnums Lil Jewel, owned by Jim Dudley Quarter Horses. It was exactly what I wanted this morning. I was a little nervous because reining is not my normal class," Maxwell explained.
The 18-year-old equestrian became involved in reining because a speaker, Katie Moorhead, came to one of the meetings. "I started out on her team, but unfortunately she was just too far away from me," she said. "I started on Ollie and Debbie Griffith's team, Autumn Rose Farm. I love reining and thanks to them I have been able to get in it."
Maxwell now owns a reining horse and has shown him at AQHA events. "I would love to do more reining in the future. It's a fun event and I don't think people realize how versatile reiners are," she said.
For more information about the IEA, visit www.RideIEA.org.