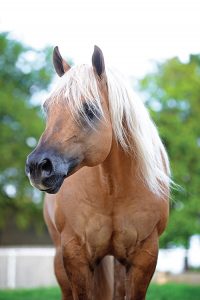 For Immediate Release – May 4, 2019 – Oklahoma City, Oklahoma – Hollywoodstinseltown has unofficially become the newest National Reining Horse Association (NRHA) Two Million Dollar Sire, thanks to the recent success of his offspring at the National Reining Breeders Classic (NRBC) in Katy, Texas. Shining In Town won just under $23,000, Miss Whizzletown earned in excess of $17,900, and Hollywooddirtysecret took home $8,750, shooting their sire above the $2 million mark. Hollywoodstinseltown is by the late NRHA Hall of Fame Inductee and Six Million Dollar Sire Hollywood Dun It and out of Hall of Fame Inductee Miss Tinseltown.
The 2004 stallion was bred by his current owner, Silva Reining Horses of Pilot Point, Texas.
Some of his accolades include 2007 NRHA Prime Time Champion; 2009 NRHA Open Derby Reserve Champion; 2008, 2009, and 2010 NRBC Open top ten; 2010 USEF National Championships top ten; and 2010 World Equestrian Games (WEG) top ten in both individual and team competition. His NRHA lifetime earnings (LTE) total more than $185,885.
Hollywoodstinseltown's top-earning offspring are:
Tinseltown Fly Guy (out of Fly Flashy Jac): $250,083.76 NRHA LTE
Tinseltown Flash (out of Billie Gun Flash): $111,740.60 NRHA LTE
Hollywooddirtysecret (out of Maximum Rpm): $91,055.69 NRHA LTE
Shining In Town (out of Shine Ann): $88,163.51 NRHA LTE
Smokinghot Hollywood (out of Smoking Rose): $87,107.93 NRHA LTE
Congratulations to Hollywoodstinseltwon and Silva Reining Horses on this outstanding achievement!