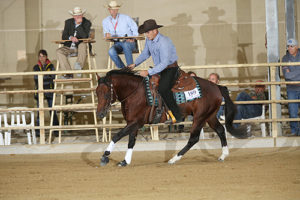 44 horses had been entered for the AustrianRHA Futurity Open go round 3-year-old horses. Very early in the go round, IRHA Futurity Champion and multiple Bronze Trophy Champion Cristian Dalla Pozza and Captains Doc Badger (AB Captain Badger x Kay Sarah) set highscore 219.5 after a fantastic run. Thus, the 3-year-old stallion which was bred by Dario Carmignani and is owned by Angelucci Quarter Horses took the lead in L3 and L2 Open.
Manuel Cortesi and AR Vintage Dream (A Sparkling Vintage x Sweet Candy Dream) owned by Elisabetta Raviola placed second scoring a 218.4. The stallion bred by Luigi Paris eis leading the L4 Open now. 27-year-old Cortesi, who was FEI European Champion Young Riders and IRHA Futurity Champion Non Pro, won the AustrianRHA Futurity Level 3 Open in 2015 and was Reserve Champion L4 Open last year.
In L 4 Open, 2018 ARHA Futurity Co-Champion L4 Open Dominik Reminder placed second scoring a 218 aboard Martin Bachmann's BMS Walla Getcha Gun (Walla Whiz Crome x Ally Get Your Gun), a stallion bred by Barbara Seibold.
Jeffrey Touroute-Thomas and Reto Erdin's Rosenkavalier (Gunwork x BR China Rose) followed on third place in L4 scoring a 215.5 which was also second place in L3 Open – together with Stefano Angelucci aboard his Zag Ebony Gun (Shine Chic Shine x Gun At The Gate) bred by Antonio Zagaria. The mare is also second in L2.
In the L1 Open Go round, two riders tied for first place scoring a 211.5 each: Saul Luca Bruzzi aboard the mare Danger Trash (Gunatrashya x Holiday With Peppy, breeder Emanuele Colleoni) for owner Societa Agricola CD Horses SR and Gabriele Wendlinger aboard her gelding Gunfighting Smurf (Gunners Smokin Oak x A Fancy Misty Glo), which was bred by Sonja Mammel. Matteo Vedovato and Fabio Cerantola's mare Spooks Carrie Doll (Spooks Gotta Gun x Emily Peppys Doll) placed third scoring a 209.5.
Manuel Cortesi & PC Tinsel Whiz take lead in L4 Open Go round, 4-year-old horses: Giovanni Masi dominates L3 and L2, Daniela Saupe L1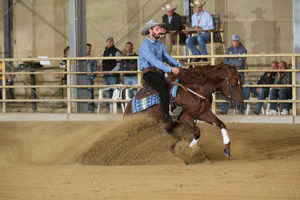 In a field of 53 horses, Manuel Cortesi took the lead in the L4 Open Go round 4-year-old horses aboard PC Tinsel Whiz (Hollywoodstinseltown x PC Sliderina Whiz). The stallion who is owned by Az Agr Cortesi Piero, scored a 223. Giovanni Masi De Vargas and Bugs At Nite followed on second place for owner Mariangela Di Pierro scoring a 222. Dominik Reminder and Martin Bachmann's Got My Baileys (Wimpyneedsacocktail x Smoking Walla Wanda) placed third in L4 (221,5).
Cortesi was third with this stallion at the 2018 AustrianRHA Futurity after leading after the go round, and placed 11th at the NRHA Breeders Futurity Open.
Thus, Giovanni Masi de Vargas and Bugs At Nite (Gunners Special Nite x Scats Ebony Shiner) took ther lead in L3 and L2. The two were 2019 NRHA European Futurity Champion Open L2 and placed 7th at the 2018 NRHA Breeders Futurity. Daniela Saupe and Smart N Surprising and Tomas Martinek aboard Wolfgang Hammers Call Me Lil Josie (Lil Joe Cash x Call Me N Hollywood) tied for second place in L3. In L2 Open, Daniela Saupe placed second with Nico Siguro and Harry Gotta Whiz (Spooks Gota Whiz x Harry Little Quarry) owned by Quarter Dream Srl following on third place. (219,5).
This was the lead in L1 for Daniela Saupe and Smart N Surprising (Smart Spook x Just Miss Enterprise). With this stallion, Daniela was L1 Open Champion oft the European Futurity 2019. Michael Saupe rode him to the 2018 IRHA Futurity Reserve Championship L1. Levin Ludwig aboard Hans Isler's Einsteins Resolve (Einsteins Revolution x Charleys Smart Miss) and Barbara Bayer aboard CSG Shining Gold (Gunner x Golden Flashy Whiz) owned by Alessandra Zotter-Gagony tied for second place scoring a 217.5 each.
The National Reining Horse Association is not responsible for information contained in this press release. Please contact the author or submitting organization for further information, requests or questions.