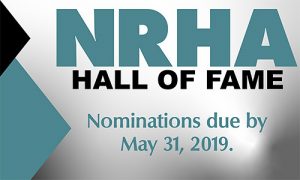 Many individuals—human and equine—have contributed to the growth of reining and NRHA. Exceptional contributors are recognized through the NRHA Hall of Fame, a standing tribute to people and horses who've made a major impact in the reining community. Chances are you know someone deserving of this distinction, but have you submitted an application on their behalf? Nominations must be in the office by May 31, 2019 for the next review.
The perpetuation of the NRHA Hall of Fame is a project of the Reining Horse Foundation, which honors the sport's legacy as part of its mission, but selection of inductees is handled through a special NRHA committee. Any NRHA member can nominate a deserving human or equine who meets the criteria, then NRHA Board and Hall of Fame members consider and vote on those nominees.
"Hall of Fame induction is considered the most prestigious award in reining, and we count on NRHA members to submit deserving people and horses for consideration," said Rick Clark, chair of the NRHA Hall of Fame Selection Committee. "It is important, however, that people realize this honor requires more than success in the show pen. I encourage reiners to give thought to those who fulfill the requirements. Also, do not assume that your peers have submitted an application."
Nominations for NRHA Dale Wilkinson Lifetime Achievement Award recipients follow the same process, so don't delay if you know someone who should be recognized. Criteria and applications for the Hall of Fame and Lifetime Achievement Award are available here.