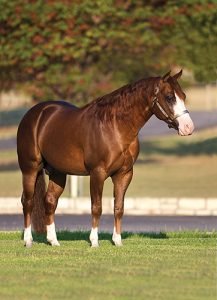 For Immediate Release- Oklahoma City, Okla., December 7, 2018 – Thanks to the success of his offspring at the 2018 National Reining Horse Association (NRHA) Futurity, we are excited to announce that Gunnatrashya is NRHA's newest Two Million Dollar Sire. Owned by Arcese Quarter Horses USA, Gunnatrashya is by NRHA Hall of Fame Inductee and Ten Million Dollar Sire Gunner and out of Natrasha.
The 2006 sorrel stallion had just as successful of a career in the show pen as he has had in the breeding shed. With NRHA Six Million Dollar Rider and Hall of Fame Inductee Shawn Flarida at the reins, Gunnatrashya was the 2009 All American Quarter Horse Congress Open Futurity Champion, 2009 NRHA Open Futurity Champion, and 2010 NRHA Open Derby Champion. Even with limited showing, he has NRHA Lifetime Earnings (LTE) of over $218,000.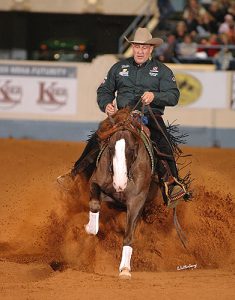 Gunnatrashya had 65 offspring entered in the 2018 NRHA Futurity (Open and Non Pro), and together they earned just under $300,000 at the event, giving him a lifetime total of $2,166,218.70 in offspring earnings. One of the most notable offspring was Gunna Stop, owned by Alexandria Gokey, who won more than $66,429 alone under Austin Lee Roush. Gunna Stop was both Level (L) 1 and L2 Champion, placed 5th in L3, and was a L4 finalist at the Futurity. Additionally, KR Ima Trashya, owned by Leslie Martin, earned over $20,392 and Gunnarickashay, owned by Jody and Jolan Puno, won more than $14,994. Gunnatrashya currently stands at Oswood Stallion Station.
Gunnatrashya's top earning offspring are:
ARC Gunnabeabigstar (out of Wimpys Little Chic): $294,874.72 NRHA LTE
Inferno Sixty Six (out of Snip O Gun): $203,495.54 NRHA LTE
ARC Gunna Mark Ya (out of Shiney Miss Marker): $163,877.50 NRHA LTE
ARC Gunna Sparkya (out of Sailing Spark): $119,605.61 NRHA LTE
Loveya (out of Love Em N Lena): $93,000.80 NRHA LTE
Congratulations to Gunnatrashya and Arcese Quarter Horses USA on this outstanding achievement!
Photo (first) by Cam Essick 
Photo (second) by Waltenberry