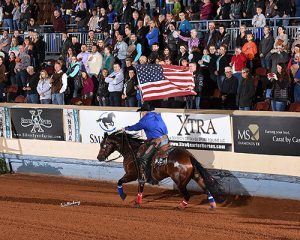 For Immediate Release – November 21, 2018 – Oklahoma City – Freestyle reining unites the finesse and precision of reining with music, costumes, props, and theatrics. The combination creates some of the most entertaining performances a horse enthusiast could hope to see! Mark your calendars to witness the next installment of this crowd favorite on Thursday, November 29 at 7 p.m. during the National Reining Horse Association (NRHA) Futurity & Adequan® North American Affiliate Championship Show.
The $20,000 NRHA Invitational Freestyle Reining is proudly presented by the Oklahoma City Convention & Visitors Bureau in the Jim Norick Arena at State Fair Park in Oklahoma City, Oklahoma. The competition features talented riders performing their choreographed, one-of-a-kind reining routines. The 12 riders gearing up to compete are:
Dan James – Midway, Kentucky
Drake Johnson – Wray, Colorado
Emily Emerson – Elbert, Colorado
Jessicah Keller – Sumner, Texas
Keith Ceddia – Centerburg, Ohio
Kirstin Booth – Temecula, California
Melanie Wilhelm – Nazareth, Texas
Randall Dooley – Elbert, Colorado
Reed Kyle – Pilot Point, Texas
Sarah Locker – Brashear, Texas
Shane Brown – Elbert, Colorado
Shannon Rafacz – Citra, Florida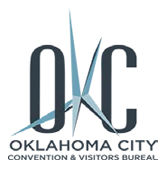 "NRHA is thrilled to have the Invitational Freestyle Reining at the Futurity again this year. With the help of the Oklahoma City Convention & Visitors Bureau, we have established a fantastic lineup for this year's competition. Everyone is invited to come out on Thursday night, and enjoy this exciting event at the Futurity," said Shianne Megel, NRHA Senior Director of Events.
Whether you're a reining pro or simply someone looking for fun on Thursday night, this event is sure to be fun for all! Buy your tickets now at nrhafuturity.com or by calling the Oklahoma State Fair Box Office at (405) 948-6800.
Reining Superstars Autograph Session
Also on the schedule for November 29, is an autograph session featuring gold, silver, and bronze medalists from the recent FEI World Equestrian Games held in Tryon, North Carolina. Just like Olympic athletes representing their home countries, these reining superstars rode for their nations for honor and timeless glory. Stop by the east concourse of the Jim Norick prior to the 7 p.m. Freestyle Reining and get their autographs!
During the NRHA Futurity, the world's best reining horses and competitors come to Oklahoma City to compete for an estimated total purse and cash prizes of more than $2 million. For more information on schedules, tickets, hotel accommodations, sponsors, and more, visit nrhafuturity.com.