Lyon, November 5 – An amazing $35,000-added Quarter Dream NRHA Reining International de Lyon Open thrilled the crowd on the Equita Lyon stands where reining was showcased to its best. Early in the draw, in a field of 17 entries, NRHA Million Dollar Rider Bernard Fonck and What A Wave (Tidal Wave Jac x What A Sunrise) set the bar by posting a 226. Owned by Steve Vannietvelt and Gina de Pauw, the 10-year-old stallion won the 2015 and 2016 NRHA Open World Championship with Fonck in the saddle. Unofficially, the pair are on their way to clinching their consecutive third World Championship; a first in NRHA history!
"I cannot believe how talented and how good minded this horse is," said Fonck. "He is incredible. Every time we enter the pen he shows off his athletic ability and keeps on bringing in first places. He's a once in a lifetime horse!" During the awards presentation, Fonck was eager to announce, with heartfelt emotion, that the owners [Vannietvelt and De Pauw] confirmed they would give him the opportunity to show 'Wave' at the 2018 FEI World Equestrian Games™ in Tryon.
Watch the winning run here:
https://www.facebook.com/equitalyon.westernhorseshow/videos/182243445662103/
Two points behind the winners of one of Europe's most prestigious NRHA Open classes was NRHA Million Dollar Rider Rudi Kronsteiner aboard Jennifer Nixdorf's AB Peppy Diamond (OT Taris San Peppy x Mare Made). "He is an amazing horse and we bought him for me as a non pro horse," said owner, Jenny Nixdorf. "Rudi started showing him last year and it worked really well. Until the Americana this year he was leading the NRHA Top 10 Open rankings but things there didn't go as planned. I am very proud of both him and Rudi, they make a great team!"
Third place honors, with a 223.5 was for NRHA Professional and past NRHA Open Reserve World Champion Cira Baeck riding Piet Mestdagh's Gunner Snappy Chic (Gunner x Chics Miss Snap).
Ancillary Action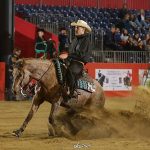 Austrian Markus Dunser won the $4,000-added Lambey NRHA Intermediate Non Pro with his horse LMD Millhouse Jac (Dolls Union Jac x She Whiz Rowdy) with a 220 score. Belgian Dries Vershueren and Smart N Sparkin (Smart Chic Olena x Setting Off Sparks), owned by Gold Paint Ranch, took second place honors with a 217.5.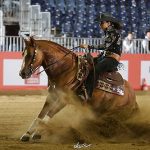 Italian Emma Villa rode Kidding Chicory (Mr Tori Kid x Genuine Chicory) to win the $500-added NRHA Limited Non Pro with a score of 214.5. Young French rider Paola Benoit-Cattin took second place with a score of 211 on her own Shining Step (Wimpys Little Step x Spark N Pretty).
Youth Action
Champions of the NRHA Youth 14-18 was French Marie Baralon riding her own Chicken Sandwich. The pair scored a 217.Second place was for Caroline Schmoll riding Whizin And Spookin. The duo scored a 209.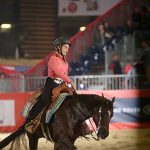 Winning the NRHA 13 & Under with a 209.5 were Nanina Staub and ARC Sangers Walla owned by Sabine Schmid. Jayson Henri and Mister Blue Einstein, owned by Henri Bertrand scored a 205 for second place honors.
NRHA France 3 & 4-year-old Non Pro Futurity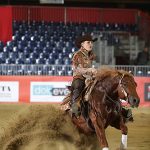 Level 4 Champions : Fabienne Kuratli Suter and Whiz ShningStyle / score 217.5
Level 4 Reserve Champions and Champions Level 2 Champions : Heike Strambach / Electric Storm Sg / score 215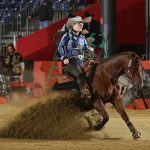 Level 2 Reserve Champions : Peter Arnet / Whiz My Freckles / score 213,5
You will find complete results nrhaeuropeanderby.com
Communication: Martine Dolbeau
martine.dolbeau@gl-events.com
Press: Daniel Koroloff
daniel@blizko-communication.com
Muriel De Moubray
murieldemoubray@gmail.com
NRHA Media Contact: Simona Diale
sdiale@nrha.com
Photos by Andrea Bonaga
The National Reining Horse Association is not responsible for information contained in this press release. Please contact the author or submitting organization for further information, requests or questions.