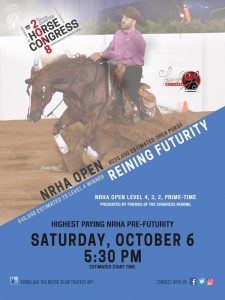 The month of October may make the masses crave the smell and taste of pumpkin spice, but for horsemen and women across North America, it is time to crave the All American Quarter Horse Congress!
This year's NRHA Open Reining Futurity, presented by the Friends of Congress Reining, is estimated to award $220,000 with $40,000 to going to the level 4 winner. The level 4 and level 3 open finals are scheduled for Saturday, October 6.
The Non Pros take center stage on Friday, October 5 in the Non Pro Reining Stakes, while the fan favorite Freestyle Reining is slated for Saturday, October 13. Prior to the Freestyle at 3 p.m., NRHA Professional Robin Schoeller is scheduled to present the sport of reining in the 2018 Congress Demonstration Series in the Cooper Arena.
NRHA ancillary classes run through Monday, October 8 and include USA Para Reining classes. Check out these helpful links for more info on the All American Quarter Horse Congress: