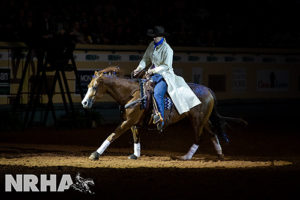 Easily one of the most entertaining events of the National Reining Horse Association Futurity took place Thursday evening, when the Oklahoma City Convention & Visitors Bureau presented the $20,000-added Invitational Freestyle.
Ten riders were invited to compete, and the pool was chosen from winners and crowd favorites from other freestyle events. Swashbuckler Captain Jack Sparrow, Santa, and more fantastic characters made an appearance in the Jim Norick Coliseum of State Fair Park.
Taking top honors in the Invitational Freestyle, and winning a big check for $6,936, were Emily Emerson and Give Me Starbucks. They performed to Gary Allen's hit song, "Every Storm Runs Out Of Rain," and marked a 223. "I didn't have the greatest year, and I did this song a few years ago. It hits a certain spot inside of you when you had a year you had hoped would be better. Doing this song and coming out at the top is a great way to start out the new year," Emerson said.
Emerson was riding Give Me Starbucks, a 9-year-old mare owned by Kelly Rainford. "This was the first time I got to be super serious with her and so the fact that I took the bridle off without not knowing how she would be, shows what a rock solid, good mare she is," she shared.
The pair entered the arena missing a very vital piece of equipment – the bridle. "I was feeling confident. When she walked in, she was really good. When I first loped her off, it didn't go like I planned, but she locked in and gave me the run I was hoping for," Emerson said.
Having grown up on a ranch in Montana, Emerson has worked for Shane Brown for almost 13 years. "He's taught me everything that I got done tonight," she shared.
Dan James and Don Magnum finished second in the Invitational Freestyle with a 222.5, collecting a check for $5,508. Third went to Sharee Schwartzenberger and Game Day Surprise, who won $4,080.