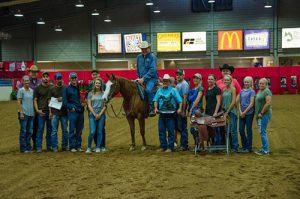 The Hollywoodstinseltown Open Futurity took the spotlight on Saturday at The Tulsa Reining Classic on Saturday, held at Expo Square in Tulsa, Oklahoma. Big stops, fast spins and flashy horses were showcased in the open futurity in the Ford Truck Arena where 116 entries battled for championship honors.
Duane Latimer turned in a crowd-pleasing run to score a 222.5 aboard Oh Starry Nite for owner XCS Ranch to claim the Hollywoodstinseltown Level 4 Open Futurity championship. Oh Starry Nite is 2015 mare by Gunners Special Nite and out of Chic Olena Starbuck and earned $15,116 for her efforts in the futurity.
"It's a good start [to the futurity season]. The destination is the fall at the NRHA Futurity, but she was excellent," Latimer said. "I was very happy with her."
Latimer said that going into the Tulsa Reining Classic he had confidence in his mount, however, he added that you never know until you're in the show pen.
"I thought, I hoped that she would be solid and she was solid. She turned good, I thought she stopped excellent – but that didn't surprise me," he said. "I can't pick her apart at all, she was excellent."
Latimer emphasized his belief in his mare saying that she's been talented and easy to get with – even if she does have a few idiosyncrasies – since the beginning.
"She's a little bit of a different cat, because she can get scared of something, but if you show it to her then she's good," Latimer said. "The same thing riding and training. She's an over-achiever sometimes and you have to slow things down. She's been good."
Andrea Fappani rode Money Carlo (A Sparkling Vintage x Chex Drive) for owner C. Ross Conner to reserve championship with a score of 222, worth $9,201.
In the Hollywoodstinseltown Level 3 Open Futurity Ruben Vandorp took Spooks Gotta Crush to a score of 220.5, worth $5,564. Vandorp said he was proud of his mount and has no regrets for the run with the 2015 stallion by Spooks Gotta Whiz out of Megas Sugar Baby.
"It feels awesome. It always feels good to win here," Vandorp said. "I was super happy with him." "This is probably as good of an arena and as good of ground as you can get, and probably one of the deeper futurities of the year, so it gives you a pretty good idea of where you're going to be later in the year, so I felt really good about the horse and how he showed."
Vandorp said the Tulsa Reining Classic is one of his favorite shows and that he always enjoys the opportunity to show in Tulsa, but it's even better to win.
"It feels awesome," Vandorp said of his win. "It always feels good to win here. I was super happy with him."
Mathieu Buton rode Smart As Hail (Smart Spook x Hailstorm Jaci) to the Level 3 reserve championship, worth $3,387 for owner Addie Shelton.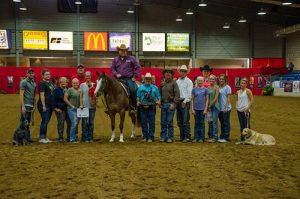 In the Hollywoodstinseltown Level 2 Open Futurity Justin Mathison rode Gunshine On Line for owner Mary Jansma to the championship from a score of 219.5, worth $2,379.
The 2015 mare by Shine On Line out of Guns R Reddy and has been with Mathison since the beginning of her training and has been promising from the start. That effortless training process translated into the show pen in Tulsa and resulted in the win.
"It was easy, easy-peasy," Mathison said of his run. "Nothing super crazy, but just sweet and consistent."
Mathison said that the win was an emotional one for him because of the relationship he has with the mare's career and legacy.
"She's by a stud that I bought for a customer of mine and she's out of a mare that I bought for the same customer," he said. "It feels good to have contributed that much to her being a part of my business and career. It feels pretty good."
The next stop for the mare is the High Roller Classic and then the rest of her career will be planned one step at a time. Mathison is hopeful for her successful future, in part because of her willing personality.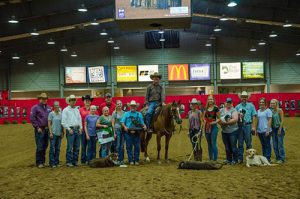 Joe Schmidt and Codalicious won the Hollywoodstinseltown Open Futurity Level 1 championship, as well as the Level 2 reserve title for owner Barn 66 LLC for earnings of $2,307.
"She was very easy to prepare all week and just kept getting better," Schmidt said. "She's a really good minded mare and super fun to be around. She's been really easy to train from the beginning."
The duo turned in a score of 218 to win the titles. Schmidt said he came into the Tulsa Reining Classic with high hopes for the talented mare.
"I knew I had a shot at being decent, I just had to keep everything together," Schmidt said. "I've been preparing for this and I made sure that I practice to be ready, but I thought I had a chance at marking big."
Todd Crawford rode Whizkeybenthellbound (Whizkey N Diamonds x Desire A Chic) to a score of 217.5 for the Level 1 reserve championship for owner MC Performance Horses and $523.
David and Bonnie Silva have been strong supporters of the Tulsa Reining Classic for years and in 2018 returned to sponsor this Open Futurity named for the Silva's phenomenal stallion, Hollywoodstinseltown.
Hollywoodstinseltown, by $6 Million Sire Hollywood Dun It out of NRHA's All-time Leading Mare, Miss Tinseltown, was destined to be a champion. Equipped with a royal pedigree, flashy good looks, exceptional movement, and an outstanding mind, he gained quick rewards in the show pen. Now he's already become an NRHA Million Dollar Sire.
David and Bonnie Silva are well known as breeders and owners in the reining industry. In fact, in 2012, David was honored as a NRHA Million Dollar Owner. He has been involved in the sport of reining for over 30 years and continues to be an active Non Pro competitor and to enjoy the opportunity to give back to the industry that he loves.
For more information on Hollywoodstinseltown and Silva Reining Horses, visit the website at www.silvareining.com.
Catch all the action of the Tulsa Reining Classic at www.tulsareining.com and by following along on social media.
The National Reining Horse Association is not responsible for information contained in this press release. Please contact the author or submitting organization for further information, requests or questions.