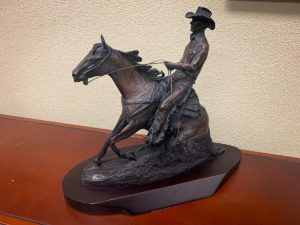 One of NRHA's main functions is documenting records for horses, riders, and owners who participate in the sport of reining. With that responsibility comes the honor of promoting the achievements of these remarkable horses, riders, and owners. It's a fantastic opportunity to recognize these accomplishments as well as a means to show NRHA's support for these stars and all of the NRHA members who help them achieve these milestones—the breeders who choose these sires and dams, the customers of the riders, and those who buy horses of all ages from the owners.
Ever wondered how NRHA recognizes these achievements? Here's a quick outline. Note that the milestone must be official in NRHA's internal system before the wheels can start turning for the celebratory elements.
First Million
Crossing the million-dollar mark for the first time generates buzz throughout the reining industry, and beyond. It's a monumental accomplishment! A horse's, rider's, or owner's first million-dollar milestone is celebrated with:
Congratulatory social media post.
Press release discussing the achievement, including quotes from those involved and major accomplishments to get there.
Three-page feature in the NRHA Reiner
Multimillions
Once a million-dollar milestone is achieved, NRHA continues to recognize and promote commensurate millions for horses, riders, and owners. Each million after the first is commemorated with:
Congratulatory social media post.
Press release noting the accomplishment along with other multimillion milestone achievers. (Usually, three to five milestones are recognized per release.)
Half-page recognition in the NRHA Reiner
NRHA has recognized more than 80 million-dollar milestones and many more multimillion accomplishments (find them all here) and is proud to share them with reiners and the entirety of the horse industry.