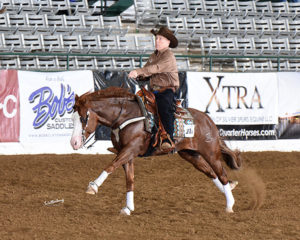 For Immediate Release – November 21, 2019 – Oklahoma City, Oklahoma – The National Reining Horse Association (NRHA) is proud to officially congratulate NRHA Professional Dean Brown for crossing $1,000,000 in NRHA Lifetime Earnings (LTE).
Brown, who trains out of Santa Hill Ranch in Campbell, New York, has dedicated his career to the sport of reining. He got his start with horses at a young age when he worked alongside his father training horses on the family's ranch in Ontario, Canada. Since then, Brown has remained an active NRHA member for more than 25 years, training horses, coaching riders, and competing in major events across the country.
Notable wins from Brown's extensive show history include:
1998 All American Quarter Horse Congress Futurity Co-Championship on Dolls Skeeter
2003 National Reining Breeders Classic (NRBC) fifth in Level (L) 4 Open and L3 Championship on Tinsel Nic
2007 NRHA Derby fifth in L4 Open on Boomtown Rocker
2011 NRHA Futurity 10th in L4 Open and fourth in L3 on Conquer The Spin
2015 NRBC ninth in L4 Open on The Kids Gotta Gun
2017 Congress third in L4 Open and L3 Champion on Dunit With A Blond
2019 Buckeye Reining Classic L4 Open Futurity Championship on Spookgotgunsintown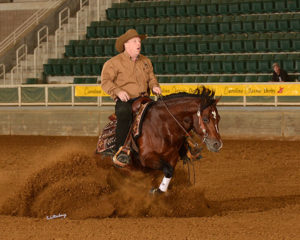 Most recently, Brown's 2019 Congress L4 Futurity reserve title and L3 win aboard SHR Sweet Sugar Joe pushed him past the million-dollar mark. As he reflects on the road to his milestone, Brown credits his parents, Brian and Elaine Brown; his family; his wife, Laura; Robert and Arlene Santagata, owners of Santa Hill Ranch; and the many equine athletes he's had the privilege to ride.
"A lot of my early horses came to me through my parents. I'm thankful for my wife, Laura, and my family's support, too," Brown shares. "Robert and Arlene have given me the opportunity to ride and train some very nice horses. They let me do my job."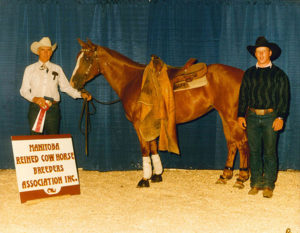 With just over a million in LTE to date, Brown has no plans of slowing down—he's already shooting for the next milestone. "We have some really cool horses here at Santa Hill," Brown reveals. "I'll just keep on working for that two million dollars."
Congratulations to Brown on this outstanding achievement!