The second day at the National Reining Horse Association Derby presented by Markel Insurance saw several more riders win checks in ancillary classes.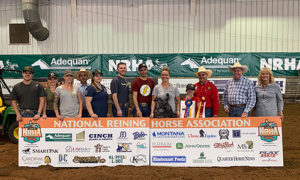 Franco Bertolani & Inferno Sixty Six Win Open [1]
Inferno Sixth Six, by Gunnatrashya out of Snip O Gun, has been catching eyes and turning heads since his three-year-old year, when, with trainer Franco Bertolani, he claimed the NRHA Futurity Reserve Championship after a run-off. Now seven years old, Inferno Sixty Six, owned by Slide or Die LLC, is back in the show pen. He and Bertolani claimed the Open [1] win at the NRHA Derby, collecting a cool $2,194.
"I have trained him all his life, and he is such a nice horse. The last time I showed him was last August in Tulsa. I just started riding him again to prepare for the Run for a Million in Las Vegas," Bertolani explained.
The duo marked a 150.5. "He was good. We just went half-speed. I didn't need to push harder. I just wanted to see what we needed to work on," Bertolani, an NRHA Million Dollar Rider, noted.
Bertolani and Gunner Dun It Again (Gunner x Dun Its Deja Vu), owned by Paulo Tripoloni, marked a 149.5 to win second, worth an additional $1,580.
Int. Open [1] Co-Champion Tyson Randle & Suisse Code
Tyson Randle hasn't been riding Suisse Code for very long, but the pair managed to tie for the win of the Int. Open [1]. "He got sent to me about a month ago, right after the NRBC for a little change of scenery and to be eligible for a few different categories. I showed him one other time in Arizona, so this is his second outing," Randle said.
The pair marked a 145, worth $490. "He came together nicely today. He's a real physical horse that can do all the maneuvers well. We got through the turns, which we had a little trouble with in Arizona. He circled really well, and he's a big stopper with a lot of look," Randle said.
Suisse Code, by Electric Code and out of Shiney Sushi, is owned by Fritz Leeman.
Int. Open [1] Co-Champion Nick Valentine & Double Loaded Gun
Nick Valentine and Double Loaded Gun also tied for the Int. Open [1] win. Double Loaded Gun, by Gunner and out of KR Anniegityergun, has been pulling double-duty as a breeding stallion and show horse. "He's been collected three days a week and still in training. To do that and get ready for a horse show is pretty special," Valentine noted.
Valentine added that Double Loaded Gun will show again on Monday. "He was really good today and was right with me the whole time. He was really quiet and relaxed, stopped well, and did everything I asked him to," Valentine said.
Double Loaded Gun, an eight-year-old owned by Doug Forzani, was shown as a young horse by Jordan Larson, and then did a spell as a non pro horse. "I've had him for about a year. He's a really talented and good-minded athlete," he said. "We need to make a plan for him. We might go to Tulsa and maybe Vegas."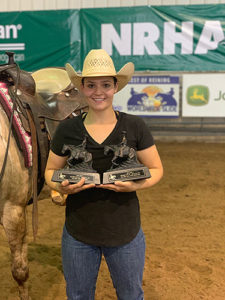 Ltd. Open [1] and Rookie Pro [1] Shalene Chartier and Jacd Up Dually
With a score of 144, Shalene Chartier and Jacd Up Dually won both the Ltd. Open [1] and the Rookie Professional [1], worth $522. "He was great. I was more than happy with him in the circles and everywhere else. He was very solid. I look forward to showing him again tomorrow in the same class," Chartier said.
Jacd Up Dually, a five-year-old gelding by Mister Nicadual and out of Footworks Yellow Jac, is owned by Tony Dudley. "I've shown him for almost a year now. He's been so consistent and great for me to show," Chartier said.
Chartier has worked for Matt Armenta in Whitesboro, Texas, for more than a year. "I thank Matt for all of his help and encouragement, and Tony for letting me show this horse," she said.
Tying for second in both divisions with scores of 143.5 were Eva Rittner and Diego Gaona. Rittner was riding Whiz Ann Tag (Whiz N Tag Chex x Mifs Doll), owned by JM Reining Inc., while Gaona rode his horse FM Dual Smoken Gun (Colonels Smoking Gun x Dual Cheked).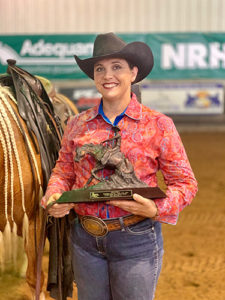 Nov. Horse Non Pro Level 2 [1] Co Champion Jessicah Keller and Coronarita Time
Non Pro Jessicah Keller has shown many great horses in her career, and homebred Coronarita Time is no exception. The flashy palomino mare is by Shine Big Time and out of Corona Lite Chex. "We raised her. I showed her mother, and my sister showed her grandmother," Keller explained. "She's very similar to her mother. Her mom was a huge stopper, and was a palomino, too."
Keller and Coronarita Time tied for the Novice Horse Non Pro Level 2 win with a score of 143.5, worth $511. "She was great. She really stopped, turned nice, and circled pretty, and she was right there with me," Keller said. "We started back riding with Trent Harvey in October, and since then we've won 11 or 12 thousand. She's won quite a bit."
The long term goal for Coronarita Time, owned by Hilldale Farm, is "to win as much as I can then keep her as a broodmare. We'll show her again on Thursday in the Novice Horse."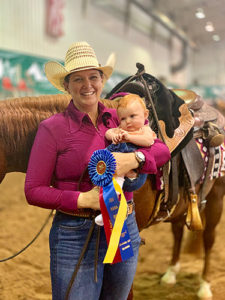 Nov. Horse Non Pro Level 2 [1] Co Champion Alicia Rapp and Loaded And Dancin
Tying for the win of the Novice Horse Non Pro Level 2 was Alicia Rapp and Loaded And Dancin, nicknamed Dirty. "He's an eight-year-old gelding I purchased at the end of last year from Mark and Shannon Rafacz. I bought him to have a non pro horse and to compete in the 7 & Ups," Rapp explained.
The pair marked a 143.5, worth $511. "He was great today. He dialed in nicely for me, almost a little too much, but he stayed with me in the run downs. He got turned really nice and circled up good," Rapp said.
Rapp, of Tampa, Florida, rides with Ted Chancey. She made the trip with her new daughter Loretta. "It was about a 21 hour trip. It was quite the drive with a 13-week-old baby," she said with a laugh.
Rapp and Loaded And Dancin, by Hes A Loaded Gun and out of One Dancin Diamond, will be quite busy this week, showing Wednesday in the Non Pro and 7 & Up, and Thursday in the Novice Horse Non Pro.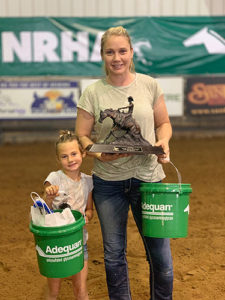 Nov. Horse Non Pro Level 1 [1] Champion Jennifer Gilliam and Darlin Get The Gun
Finishing third in the Novice Horse Non Pro Level 2, and winning the Level 1, was Jennifer Gilliam and Darlin Get The Gun with a score of 143. Total earnings exceeded $949. "She showed really well. We had an early draw and she came out and overall was really good," Gilliam said. "We will show again in the Novice on Thursday."
Gilliam, of California, purchased Darlin Get The Gun, by Colonels Smoking Gun and out of Darlins Not Painted, early in the year. "She's been a lot of fun. I showed a few times in the novice, and my daughter shows her in the short stirrup, so she's a family horse. She's been great," she said.
Gilliam hopes to qualify Darlin Get The Gun for the North American Affiliate Championships in November, and make the 31 hour trek back to Oklahoma City.
Landon Augustin and Chics Dig My Shine finished second in the Novice Horse Non Pro Level 1 with a score of 140.5, collecting $406. Chics Dig My Shine is by Shine Chic Shine out of Starlenas Joy.