Oklahoma City, OK – Winners competing in both slates of ancillary classes at the National Reining Horse Association Derby presented by Markel Insurance have the chance to win High Point Championships. Each High Point Champion receives a gorgeous Montana Silversmiths buckle.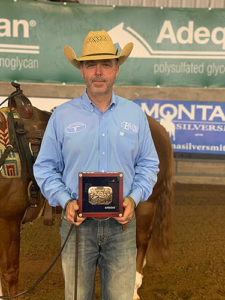 Int. Open [2] Class Winner and Int. Open High Point Champion – Nick Valentine and Double Loaded Gun, owned by Doug Forzani
On Sunday, Nick Valentine and Double Loaded Gun tied for the win of the Intermediate Open and came back on Monday to take sole possession of the title. That second win, with a score of 145, secured the High Point Championship, as well as a check for $1,323.
"My horse is very consistent. We had the same score as yesterday, but he felt a little better today," Valentine said. "He was a little tired yesterday, so I didn't ride him last night and just let him chill and get more sleep. He had an easy warm up just to let him stretch his legs. He knows his job."
Double Loaded Gun, owned by Doug Forzani, has been working as both a show horse and a breeding stallion. His oldest foals are now weanlings. "This horse is really talented physically and is bred really, really well. His mind is very special," Valentine explained.
Valentine and Double Loaded Gun, by Colonels Smoking Gun and out of KR Anniegityergun, will likely go to Tulsa for their next event. "I thank his owners for trusting me with him, and my wife and family and everyone that helps me. You can't get here by yourself, that's for sure," he said.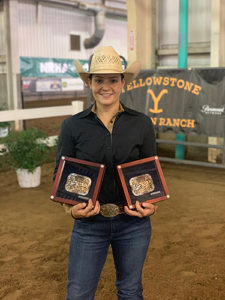 Ltd. Open [2]/Rookie Pro. [2] Class Winner and Ltd. Open/Rookie Pro. High Point Champion – Shalene Chartier and Jacd Up Dually, owned by Tony Dudley
Shalene Chartier and Jacd Up Dually won not one, but two, high point buckles. She and the five-year-old gelding topped the Ltd. Open and Rookie Pro. classes on Sunday and returned to the Adequan Arena on Monday to repeat the wins, clinching the high point wins and more than $514.
"It was very exciting for me. He was very honest both days I showed him, so I'm really happy," Chartier said.
The young trainer, who works for Matt Armenta in Whitesboro, Texas, had a feeling Jacd Up Dually would do well. "He felt really great warming up, and I knew he would be good from the time I rode him into the pen. I worked on the turn arounds a little bit before we showed and got some help from Matt, but this horse was good yesterday, so there wasn't much prep for today,'' she explained.
Jacd Up Dually, by Mister Nicadual and out of Footworks Yellow Jac, is owned by Tony Dudley. "I thank Tony and all the customers who are so supportive and fun to be around. It makes it exciting. Thank you to Matt for the opportunity," she said.
Finishing second in the Int. Open, Ltd. Open, and Rookie Pro. was Kaleigh Geringer and Lil Coded Jac with a score of 144.5. Lil Coded Jac, by Jacs Electric Spark and out of Hot Coded Candy, is owned by Susan Meyer.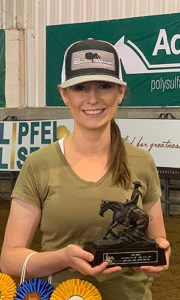 Ltd. Non Pro [2] Class Winner and Ltd. Non Pro High Point Champion – McKinnon Larcombe and Designed With Shine
McKinnon Larcombe and Designed With Shine seem unstoppable. They won the Limited Non Pro on Saturday with a 145. They topped that score in Monday's class with a 146, winning $331 and the High Point Championship.
Designed With Shine is owned by McKinnon's aunt Shauna Larcombe, who purchased the mare from Rosanne Sternberg. Designed With Shine, by Smart And Shiney out of Taris Designer Genes, has more than $69,000 in lifetime earnings.
Taking second in the Limited Non Pro and pocketing $238 was Grace Bentien and SJR White Knight with a 145. SJR White Knight is by Wimpys Little Step out of Whizs Katrina.