Ancillary action continued in the Adequan Arena at the National Reining Horse Association Derby presented by Markel Insurance. The day kicked off with the green reiner classes, and contestants placing in the top three of both levels won great gifts from NRHA Corporate Partner Classic Equine, who joined as the sponsor of NRHA's Green Reiner program for 2019.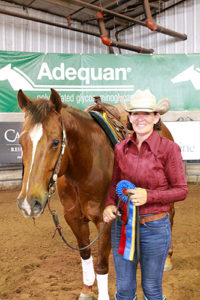 Green Reiner Level 2 [1] Champion – Marie Marsh & Chromed Olena
Marie Marsh hasn't gotten to know her horse Chromed Olena too well. She only purchased the gelding in February of this year, but that didn't stop her from riding him to a score of 141 to win the Green Reiner Level 2 [1]. "His circles were really good. We went a little slower, but his spins were great – he's a great spinner! We also had some really good stops," Marsh noted.
Marsh rides with Josiane Gauthier and had caught sight of Chromed Olena. "He's been in Josiane's barn a couple of years. He caught my eye because the girl that owned him had gone off to college, and I knew I wanted to buy him," Marsh explained of the gelding by Chromed Out Mercedes out of FS Smart Dot Chic.
Hailing from North Carolina, this is the first year that Marsh has come to the NRHA Derby. She plans to show again on Sunday. "Between now and then we will just ride and practice," she said. "Thank you to Josiane and my husband Michael."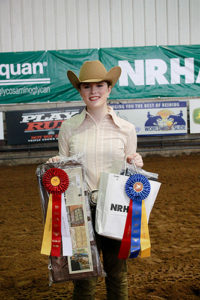 Green Reiner Level 1 [1] Co-Champion – Jada Mark & Wimpy Gata Shiner
Jada Mark tied for the win of the Green Reiner Level 1 [1] on her horse Wimpy Gata Shiner. "We bought her around August of last year for me to have a Derby horse. I tried her and we matched up just awesome. I love her," the 16-year-old explained. "I'm trying to get a collegiate scholarship for reining."
The pair marked a 140 in the Adequan arena, which also earned them reserve in the Green Reiner Level 2 [1]. "Today we were just trying to stay calm and be smooth and clean. She stayed with me, and I just trusted her," Mark said of the mare, by Wimpys Little Step out of Shinin In Hollywood.
Mark has only been riding reiners a few years and rides with Steven Marbry and Jeromy Lipps. She added, "I thank my mom, Wendy Nichols because she buys me everything and is my number one fan."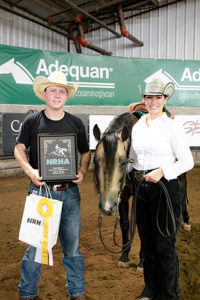 Green Reiner Level 1 [1] Co-Champion – Allison Thorson & Smart Cowboy Whiz
Riding Smart Cowboy Whiz, Allison Thorson claimed the Green Reiner Level 1 [1] co-championship. She's only owned the flashy reiner, by Who Whiz It out of Little Smart Jac, for a month. "We've been practicing hard. I saw him before, but when it's your first time to show a horse you don't know what to expect," Thorson said. "It was awesome to pull through everything. He's a horse that helps me go step-by-step instead of getting overwhelmed."
While she's relatively new to reining, Thorson is an accomplished horsewoman. "I grew up showing Tennessee Walking Horses and competed all the time, but, you know, when you're in a different discipline there is a lot to learn," she explained.
Thorson rides with Craig Schmersal. "I thank the Schmersal team. Everyone is great, and I am appreciative of how first-class they run everything. I also thank my parents, Duke and Rhonda Thorson. They are very supportive every step of the way, and I couldn't do it without them."
Thorson plans to show both of her horses again in Sunday's Green and Rookie classes.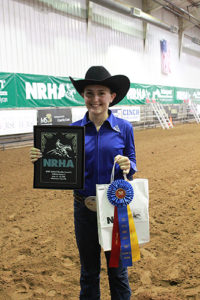 Rookie Level 2 [1] Champion – Anna Clausen & Smart Tinseltown
With an incredible 145, Anna Clausen and Smart Tinseltown topped the Rookie Level 2 [1] class. It's not the first class that the gelding, by Smart Spook out of Tinseltown Lil Step, has won this week. With Anna's sister, Shelby, he also won high point buckles in the Non Pro divisions.
"Me and my sister have been trading off riding him a little bit. She showed him earlier this week, and then I wanted to try to qualify for the Run for A Million for the Rookie class they have out there, so I showed Chester (Smart Tinseltown) and my other horse here today," Clausen said.
As always, Smart Tinseltown did his best. "He's just amazing. He was good today. We had a little bobble slowing down to the right, but we moved through it," she said.
Clausen, of Scottsdale, Arizona, has been riding reining horses for about three years. "I thank my parents for giving me these amazing horses, and my trainer Patrick Flaherty for helping us out, as well as everyone who helped get me ready to show," she said.
Rookie Level 1 [1] Champion – Alexia Tordoff & Blue Collar Tag
It was only her second time to show Blue Collar Tag, but Alexia Tordoff piloted the veteran reiner to a 145, topping the Rookie Level 1 [1]. "He's so special. He's by far one of my favorite horses I've ever had, and he's my first reiner, which is cool," Tordoff explained. "This was a big leap for me. I'm used to doing the horsemanship which is really slow and precise. It's awesome that I can learn on such an amazing horse."
Blue Collar Tag, by Whiz N Tag Chex out of Kachina Oak Olena, is a former National Reining Breeders Classic Open Champion. "He fits our program so well and is amazing with me. He knows when he gets in the pen what he needs to do," she said.
Tordoff, of Columbus, Ohio, rides with Kole Price. "I thank Kole and his wife Kelsey Huffman, and my parents for making this happen, and all my family and friends," she said. "I might show in the Youth 14-18 here. I'm 15, so I have a few youth years left, and I'll definitely show in the rookie again on Sunday."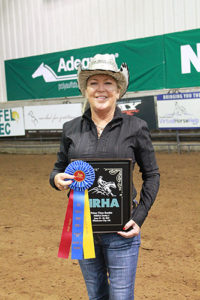 Rookie Prime Time [1] Champion – Stephanie Johnson & Sugarwhizngun
Although an over-spin cost her a spot in the Derby finals, Stephanie Johnson was determined to make a smooth run in the Adequan Arena on her horse Sugarwhizngun. "My plan was to get all my spins right, which we did, and our stops and rollbacks were great. I can't think of anything he did bad. I was really happy with him," Johnson said of her run, which resulted in a 143.5.
Johnson, of North Carolina, has only owned Sugarwhizngun, by Gunner out of Starlights Sugar Whiz, since December. "We were made for each other," she said of the horse she calls Romeo. "We got him from Dan Huss. He had him here at the Futurity, and I was looking for a horse. I fell in love the minute I got on him."
Johnson rides with Josiane Gautier. "I thank Josiane. She's the best and is amazing. It was a great day for our team. I thank them all because everyone is so supportive," she said. "I thank Romeo most of all."
NRHA Para Reining Champions
Para Reining focuses on the development of reining programs designed for riders with mental and physical disabilities. These programs begin with grassroots competitions and work toward high performance competitions for riders with varied degrees of abilities.
For more information about Para Reining, visit www.WorldParaReining.org.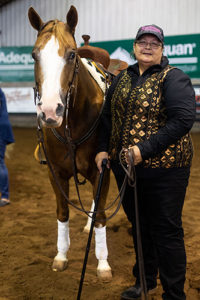 Para Reining Grade 4 – Melinda Davis & Royal Chexy Lady
Winning the Para Reining Grade 4 was Melinda Davis and Royal Chexy Lady. "We call her Reba, and she's owned by Camille Taylor and her daughter Emma. My other horse, who I was riding last year, got sore, so I borrowed her back to use this year. She rallied and came to it," Davis said of Royal Chexy Lady, by Nu Chex To Cash out of Shotoe Bobbi. "She's a good, good mare. She's just incredible."
Davis, of Arkansas, noted her pattern was pretty good. "I kind of overspun, but that happens. My rollbacks felt pretty good. I had a great team here helping me. I have to give a shout out to Mr. Sam Schaffhauser and his wife Jeanna, to everyone who helps me, and the Taylors for letting me borrow their horse," she said.
Davis actually used to own Reba. "I quit showing and sold her, and now, six years later, I'm back on her. I've had a lot of medical issues this year, so I haven't done any practice runs or lessons. I'm thankful to USA Reining and the NRHA for including Para Reining here at the Derby. I just feel blessed they have this class."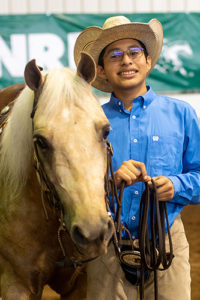 Para Reining Grade 6 – Tate Wynn & Coded 86
Tate Wynn topped the Para Reining Grade 6 on Coded 86. It's one of his first shows on the gelding, who is by Electric Code and out of Hollywoods Mae West. "I don't know how to describe him, but he's pretty special. I started riding him this year. When you get to know him and hang out with him in the barn, he is sweet. Every show he gets a little better," Wynn said.
Wynn, of Kentucky, noted that the day's pattern made the class easier. "It was really easy to remember. Not too hard, not too complicated, not too easy. It was just right!" he said. "I showed in Para Reining with my old horse. Showing in this class makes it a lot easier to remember the pattern."
Wynn is originally from Guatemala but came to live with his parents when he was just 13 months old. "We have horses and he grew up as a little tyke just riding with everyone. He was diagnosed with autism and has some cognitive disabilities, but for the most part he can get through a pattern," his mother, Theresa Wynn, explained. "We thought he might excel in the para since he qualified. I talked to his doctors, and they said sure! He really enjoys it."