Day 4 Ancillary Winners at NRHA Derby Presented by Markel Insurance
The National Reining Horse Association Derby presented by Markel Insurance features not only the big-money aged event, but also a full slate of ancillary classes. That means that the Oklahoma State Fairgrounds is busy with competition in both the Jim Norick Coliseum and the Adequan Arena.

The first slate of the Novice Horse Open classes was held on Tuesday, June 18. Several competitors will show again in the second slate on Thursday in hopes of winning the High Point Championship buckles presented by Montana Silversmiths.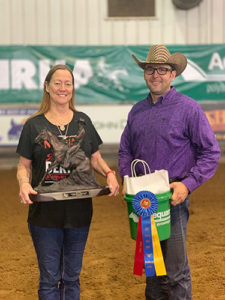 Nov. Horse Open Level 2 [1] Winner – Jared Leclair and Lime A Rita, owned by Susan Meyer 144.5 – 782.63
Topping the Novice Horse Open Level 2 with a 144.5 was Jared Leclair and Lime A Rita, owned by Susan Meyer. The win added another $782 to the seven-year-old mare's lifetime earnings.
"We bought her last year from Arno Honstetter. Both Susan and I have been showing her, and she's been a really good horse to show. She's one of those mares that, if she trusts you, she will do anything for you," Leclair said of the mare, by Custom Legend out of She Slides Wright. "Today she was really good. She ran, stopped, and turned big, and circled really well. I showed her in the Open the other day, and she placed fifth and won another thousand. Today we had a nice run, but we just didn't go as fast."
Earlier in the year, at the National Reining Breeders Classic, Leclair and Lime A Rita won the Novice Horse Open Level 2 High Point Championship. "We marked a 76 twice down there," he recalled. "We'll show this mare one more time here in the Novice on Thursday, and that will be it for this one."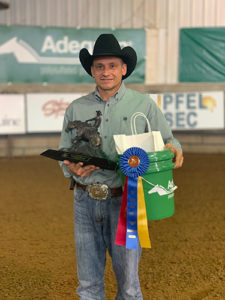 Leclair has ridden several horses for Meyers. "Susan has some really good horses. She's been a great customer and we really appreciate her," he said.
Finishing second in the Nov. Horse Open Level 2 and topping the Level 1 as Max Fontana and Plum In Tinseltown. The pair marked a 143, earning more than $1,201.
"I showed her last week and she did very well. We decided to just show in the Novice for right now, but I think she will do very well because she's building confidence and is very nice in the show pen," Fontana said. "She was really good today and with me all the time. I didn't push 100 percent, but she was ready for what I asked."
Plum In Tinseltown, a four-year-old mare by Gunners Tinseltown out of Sugarplum Chic, is owned by Rabboni Reining Horses. "She's a little green about the horse shows but is a very good mare. I'll show her again in the Novice on Thursday. I thank Rabboni Reining Horses for letting me show her."
Taking second in the Novice Horse Open Level 1 was Sean Johnson and Heavens Bells (A Sparkling Vintage x Cowboys Belle Bar). Johnson and Heavens Bells, owned by Lisa Mauzerall, marked a 142.5 to in $395.