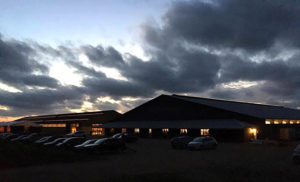 Regstrup, July 16 — Provided by Simona Diale — 140 horses with riders representing 12 Nations (Austria, Belgium, Denmark, Finland, Germany, Great Britain, Hungary, Italy, Netherlands, Norway, Slovakia, and Sweden) made their way to Tuse Creek Ranch in Regstrup, Denmark, where the 2019 edition of the $23,800-added NRHA European Affiliate Championship is being held along with $21,900-added NRHA approved show.
The Tuse Creek Ranch Mega Arena today hosted the first NRHA classes — here are your champions:
Opening the 2019 edition of the NRHA European Affiliate Championship and NRHA Show was the NRHA Snaffle Bit/Hackamore 5 & Under Open won by Peter Ljungberg riding Lone Shooting Gun for owner Sven Nolen. Silke Hendrix rode her AM LIL Birdy Gun to the NRHA Snaffle Bit/Hackamore 5 & Under Non Pro top honors and with a 140.5 score, Mariska Hak slid her own Ripped Wrangler to the winner's circle in the $500-added NRHA Rookie Professional. Clinching the $2,000-added NRHA Intermediate Non Pro was Lia Freriks riding her own Ready For Revolution with a 143.5 score.
For complete results and Livescore: http://www.showmanager.info/Eventliste.aspx?turnierID=815
Photo courtesy Troullioud Fotografie
The first NRHA European Affiliate Champion will be determined on Wednesday, July 17, when closing the day will be the NRHA EA Rookie Professional Championship finals following a full day of NRHA approved classes as well as the World Para Reining Grade 3.
If you cannot make it to Regstrup, follow the Livestream here:
https://rh-video.de/livestreaming…
For further information log on to https://www.nrha-eac2019-20.com/
Media Contact: Simona Diale – International Horse Press
Cell: +39 3405354629
Email: internationalhorsepress@gmail.com
Follow our Facebook page https://www.facebook.com/eac2019/