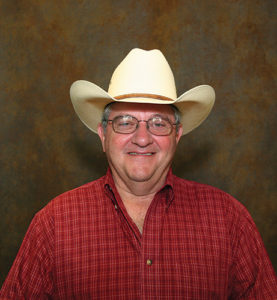 For Immediate Release – July 25, 2019 – Oklahoma City, Oklahoma – In 2007, the National Reining Horse Association (NRHA) Hall of Fame Committee initiated the NRHA Dale Wilkinson Lifetime Achievement Award, supported by the Reining Horse Foundation (RHF). Each year, the NRHA Board of Directors and past Hall of Fame inductees vote to approve a worthy candidate for recognition. This year's recipient is David Silva.
David Silva and his wife, Bonnie, have both supported NRHA for well over 30 years as exhibitors, breeder, sponsors, and owners. Silva's loyalty to the sport has encompassed all levels of reining, from grassroots all the way to elite competition. Silva has been a major donor to the National Reining Horse Youth Association (NRHyA) as well as RHF. He's also sponsored a variety of shows throughout the Northeast Region. Together, the Silvas have served as leaders for both the Connecticut Reining Horse Association (CRHA) and the Eastern Pennsylvania Reining Horse Association (EPRHA), hosting meetings at their home, donating equipment, funding programs, and dedicating time to running the shows.
During his years in the industry, Silva has cultivated and provided support for several well-known and respected reining trainers including Tim McQuay, Randy Cutbirth, Luke Gagnon, Sam Schaffhauser, Roger Brazeau, Borak Gibori, Lars Mortenson, Barbara Williams, Debbie Brown, Melanie Petroll, and Brad Giesbrecht.
In 2012, David Silva was the sixth person to join the NRHA Million Dollar Owners list. Some of his more notable horses include Hollywoodstinseltown, an NRHA Two Million Dollar Sire, and NRHA Hall of Famer Miss Tinseltown. Silva has bred, raised, and shown several other top reining horses including Gunners Tinseltown, Footworks Finest, Hollywood Downtown, Shiney Workboots, Great Footwork, and Reminic N Dunit.
David Silva is a prime example of the dedication to and support of reining and its continued growth that NRHA's Dale Wilkinson Lifetime Achievement Award embodies.
SPIRIT OF THE AWARD
This award is named after the legendary reining horse trainer known as the "father of reining," Dale Wilkinson, the first inductee into the NRHA Hall of Fame. Wilkinson is a multiple NRHA Futurity champion and one of the founding members of NRHA. Wilkinson was an educator, promoter, and mentor to all reiners—professional and non pro—exemplifying how riders should conduct themselves and train and exhibit their horses. Because of his unmatched lifetime of accomplishment in reining, it's entirely appropriate that the NRHA Lifetime Achievement Award is named for Dale Wilkinson.
David Silva will be recognized with this year's class of NRHA Hall of Fame inductees at Sliders' Night Out presented by Toyon Ranch on December 4 at State Fair Park in Oklahoma City during the NRHA Futurity. RHF is creating a special night, recognizing new and previous NRHA Hall of Fame inductees. For details on how to become a hall of fame table host or major event donor, contact RHF Executive Director Leslie Baker at lbaker@nrha.com, (405) 946-7400.