The Tamarack Ranch Developing Horse Futurity at the Tulsa Reining Classic was created with the goal of allowing reining horses to progress and perform at their own pace. As entries increase each year, it's evident that the reining industry has embraced the concept.
Dany Tremblay & Lil Gun Affair – Open Level 4 and Level 3 Champions
With a score of 221, Dany Tremblay and Lil Gun Affair claimed the Open Level 4 and Open Level 3 championship of the Tamarack Ranch Developing Horse Futurity. The talented mare, by Lil Joe Cash out of Gun Affair, added $6,644 to her lifetime earnings. "She was super easy to get ready today. It's something I really like about this mare. She's not complicated and is a team player. She's not scared of the crowd or judges," Tremblay said. "She's exactly the same in the show pen as at home, which is what every trainer wants."
Tremblay noted that Lil Gun Affair's best maneuver is her stops. "After we were done with the turnarounds and circles, I just sent her," he recalled.
Lil Gun Affair is owned by Martin Brisebois. "Her owner is from Canada and is a great friend of ours and a good customer. I wish he could have been here, I am so happy for him," Tremblay said. "We bought this horse as a yearling. She's part of our program and we've done everything with her. From day one she wanted to be nice, and now she's here winning something."
Tremblay brought twelve horses to Tulsa. "It's a busy week. This year I'm lucky because I have many good three-year-olds. I didn't know what to pick to put in which futurity. I don't think she's less talented than the others – I just thought I'd show her today," he said. "After this week we will know what horses are going where."
Abigayle Mixon and Archiesgunnatrashyya tied Mathieu Buton and Mega Smart N Trashy for reserve in the Open Level 4. Each marked a 218.5 and collected $2,608. Archiegunnatrashyya, by Gunnatrashya out of Jacs Electric Belle, is owned by Dee Dee Boeckman.
Mega Smart N Trashy, by Gunnatrashya out of Einsteins Dun It, is owned by Barn-377 LLC. He and Buton also finished second in the Level 2, worth an additional $1,139.
Matteo Rondanina & Spooks Smokin – Open Level 2 and Level 1 Champions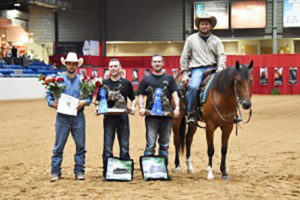 Not only did Matteo Rondanina and Spooks Smokin win reserve in the Open Level 3, the duo also topped both the Open Levels 2 and 1 with a 219.5. All totaled, the pair took home $4,486.
It wasn't in Rondanina's plans to come to Tulsa, but a busy schedule necessitated the trip to Oklahoma. "I was going to go to Vegas, but I am a little bit busy, so brought this horse here Monday. He was a little fresh Monday, so I didn't enter the Level 4," Rondanina said.
Although Spooks Smokin, by Spooks Gotta Whiz out of Smokin Marquita, might have been fresh earlier in the week, he came through in the show pen. "Yesterday he felt really good, and today, after the first turn, I knew he was with me and felt really good. He was with me totally. It was just the first stop. I was second to last on the set and there were a lot of tracks, so I ran him down watching and I needed to be more confident, but the other two stops I pushed more, and he did stop really good," Rondanina recalled.
Rondanina has ridden Spooks Smokin, who he owns with Sergio Elia, since he was a two-year-old. "He was a good horse from the beginning, and especially in the last few months he has made a big change and got better," he said. "I'll probably take him to Ardmore after we work on a few things a little more, then the plan is the big futurity."
Rondanina, who trains horses in Whitesboro, Texas, moved to the states two years ago. "I bought another business, so I train about seven or eight horses and then have a shipping company," he explained. "I brought one five-year-old here for schooling, and I may show her in the Derby on Sunday. She's qualified for the World Show and I want to school her for that."
Tying for reserve in the Open Level 1 was Sean Johnson and Adreaminheart and Josefine Spangfors and Jlosa, worth $546.
Adreaminheart, owned by Steve Brownless, is by Magnum Chic Dream out of Betcha Boots Lizzie.
JLosa, owned by Euro-Vets Inc., is by Arlosa Whiz out of Spook N Jessie.
For more information about Tamarack Ranch, located in Joseph, Oregon, visit the website at TamarackRanchReiners.com.
The National Reining Horse Association is not responsible for information contained in this press release. Please contact the author or submitting organization for further information, requests or questions.