Cremona, May 26 — Provided by Simona Diale, International Horse Press —The 67.000-added euro IRHA/NRHA Open Derby finals wrapped up the 2019 edition the show open 4-, 5-, 6-, and 7-year old horses. Once the last horse-rider combination left the show arena, three of the four Open Championships were conquered by two European professionals in their early 20s: Lucasz Czechowicz of Poland and Nico Sicuro of Italy.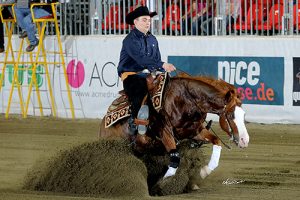 Czechowicz and Katarzyna Roleska's CSG Magnifique Gun (Colonels Shining Gun x Im Magnifique) had already proven their worth in the Open qualifier by posting a 221.5 for the lead along with multiple NRHA Open World Champion Ann Fonck riding Gunners Specialolena (NRHA Two Million Dollar Sire Gunners Special Nite x Dolly Jac Olena) for owner Diego Dalla Gassa. When the 23-year-old and his mount entered the arena on Saturday night, the score to beat was the 223.5 scored by Gennaro Lendi and Anna Parodi's Arc A Step Above (NRHA Two Million Dollar Sire Walla Walla Whiz x Wimpys Little Chic). Determined to show off the 6-year-old gelding's talent, Czechowicz lay down a run that kept the public in the stands glued to their seats: his impeccable run and amazingly fast, correct and powerful spins resulted in a 225 score along with the coveted L4 Open Derby Championship. "This is a dream come true and I cannot wait to see our run!" said Czechowicz. "I am fortunate to be able to show such great horses for Kate [Katarzyna Roleska) and this is certainly one of the best." Broke and first trained by Cira Baeck, the reins were handed over to NRHA Two Million Dollar Rider Bernard Fonck and his wife Ann. "Both Baeck and the Foncks's did an amazing job with him and I have now been riding him for two years," added the Polish professional. "We clicked from day one and he always tries as hard as he can for me. Tonight he was amazing and never would I have imagined that we could actually make it to the winner's circle."
Lendi and Arc A Step Above settled for the L4 Open Derby Reserve Championship adding this title to the 2018 L4 Open Derby International de Lyon title and 2019 Open Shoot-In Reserve Championship.
With Sugar Little Step between the reins, Nico Sicuro had already topped the L3 and L2 Open qualifier with a 219. The flashy 7-year-old stallion by NRHA Ten Million Dollar Sire Wimpys Little Step out of Ah Sugar Sugar and the 23 year old professional stepped up to an impressive 223 in the finals which earned them the L3 and L2 Open Derby titles. "I tried to add a bit of speed and risk in each maneuver tonight and it worked," said a beaming Sicuro. "He was great and we had a lot of fun in the pen. I am very grateful to owner Pietro Marseglia of Quarter Dream for giving me the opportunity to show this great horse and would like to thank all our team." Earning reserve honors in the L3 division with a 218 was Italian Giuseppe Prevosti aboard Luigi Parise's Gunna Sparkle (NRHA Eleven Million Dollar Sire Gunner x Custom Sparkler).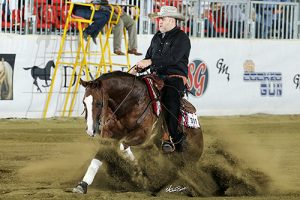 Clinching the L1 Open Derby Championship with a 216 score was Italian Professional Elio Simonini riding Sevenchextocash (Big Chex To Cash x Lil Chic Peppy) owned by Susanna Sodi. "We came to the Derby with four horses of which three were ridden by Susanna," said Simonini. "Since this is the last year Sevenchextocash is eligible to show in the Derby, we decided that I would show him here. Our goal was to take home the L1 title…we also took home the L2 Open Co-Reserve Championship and we could not be any happier for this wonderful gelding."
Taking co-reserve honors in the L2 was Silvia Venezia riding Lotsa Smokinguns (NRHA Eleven Million Dollar Sire Gunner x Lotsa Trains) owned by Sara Galimberti.
For complete results: http://www.showmanager.info/Result.aspx?eventID=14618&turnierID=849&klassenID=0&status=3
Photos by Bonaga Communication