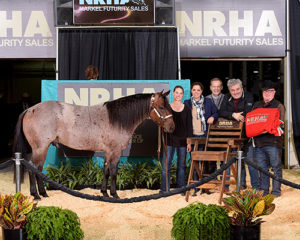 The National Reining Horse Association (NRHA)/Markel Futurity Prospect and Select Broodmare Sale, held December 6 during the 2019 NRHA Futurity and Adequan® North American Affiliate Championships, kicked off by auctioning breedings to 12 stallions to benefit the National Reining Horse Youth Association (NRHyA). A total of $20,400 was raised to support youth activities and scholarships.
The evening was topped by the $175,000 sale of Custom Vintage Berry, a 2017 bay roan colt (A Sparkling Vintage x Custom Roan Berry x Custom Crome). Steve Simon consigned the horse, who was then purchased by Elementa.
"She [Elementa owner, Cecilia Fiorucci] loved the horse from Europe as soon as she saw him," said agent Domenico Lomuto of Slide or Die LLC. "He will go to Elementa, and I think Cira [Baeck] will show him at the next [European] Futurity. I think that with him, it will probably be one of the best stables in Europe for sure."
Custom Vintage Berry was in training with Nici Schneider West for 335 days by the time of the sale. His dam is a full sister to American Quarter Horse Association (AQHA) World Champion Custom Red Berry, an earner of more than $187,000. Custom Vintage Berry was enrolled in the NRHA Nomination Program and the NRBC.
A bid of $67,000 made Xtra Kiss Me Again the second-highest seller. Consigned by Gabriel Diano, the 2017 sorrel colt was purchased by Karl Roberts.
Xtra Kiss Me Again (Boom Shernic x SS Kiss Me Kate x Wimpys Little Step) is a grandson of One Tuf Muffin, an earner of nearly $78,000 who was an NRHA Non Pro Reserve World Champion. He was enrolled in the NRHA Nomination Program and the NRBC.
The third-highest seller went for a price of $62,000 and was a young broodmare. Im Mizzen Gunner, a 5-year-old palomino mare consigned by Toyon Ranch LLC, was purchased by Russell Coiles.
Im Mizzen Gunner (Colonels Smoking Gun x Mizzen Shine x Shining Spark) was injured as a yearling and sold as broodmare sound. She had carried two foals in the past but was reset this year, and sold with an embryo conceived May 9, 2019, by SG Frozen Enterprize. Enrolled in the NRHA Nomination Program, NRHA Euro Nomination Program, and the NRBC, the mare was five panel negative.
For those looking for a good deal on a quality reiner, the NRHA/Markel Marketplace Sale will start tomorrow, December 7, at 9:30 a.m. in Barn 3 at State Fair Park in Oklahoma City, Oklahoma, following the Quarter Horse News Sale Breakfast at 8:30 a.m.