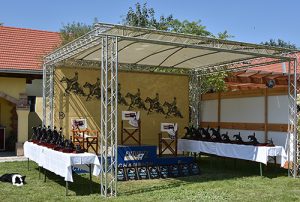 Provided by Ramona Billing – The 2018 Austrian Reining Horse Association (ARHA) Futurity & NRHA Show should be a real success again this year as there is a huge demand both for the futurity and the ancillary classes. Obviously, Europe's top open and non pro riders, as well as youth competitors enjoy the special atmosphere and great conditions for reining at Helmut Schulz' facility in Wiener Neustadt. The final deadline for the Austrian Futurity classes is August 14, if horse and rider are to be published in No. 1 of the popular show magazine THE SCORE. Entries can be made online on www.showmanager.info.
Preparations at the show grounds are well under way. Riders and owners can look forward to the event as well as lots of service around it. As always, there will be a Welcome Party and the hugely popular Country Night at the end. Videos are taken in HD quality, and show photographer Christian Kellner will be present to take pictures. As a welcome present, every competitor will receive a show pic sponsored by H&D Schulz QH.
Informationen:
Gerda Langer – ARHA Team, ARHA – Austrian Reining Horse Association, A – 2392 Sulz im Wienerwald, Raitlstraße 154, Tel. +43-2238-8484 mobil +43-664-4534726, Fax +43-2238-8545, office@nrha.at, www.nrha.at, www.futurity.at
The National Reining Horse Association is not responsible for information contained in this press release. Please contact the author or submitting organization for further information, requests or questions.