Wednesday at the Tulsa Reining Classic featured a full day of National Reining Horse Association approved ancillary classes in both the Mustang and Super Duty Arenas.
Craig Schmersal & Hot Hollywood Whizky – Open Champions
Craig Schmersal and Hot Hollywood Whizky were the last to compete in the Open ancillary class and bested the field with a score of 148. It was a typical run for the seven-year-old reiner. "He circled so good, and his favorite thing to do is slow down. Then he just runs down there and buries it. It's just so effortless for him," noted Schmersal, an NRHA $4 Million Rider. "He was great today. I was just trying to cruise through the pattern. He does stuff so physically that it doesn't take much for him to mark high."
Hot Hollywood Whizky is by Topsail Whiz out of Hot Hollywood Jewels, and is owned by Mark Blake. "That horse has just been a Steady Eddie for Mark and I. Mark was kind enough to share him with me this week. We're just trying to put some open money on him," Schmersal shared.
Schmersal has a busy week. "I brought some three-year-olds for Saturday's futurity, and I showed one today in the Tamarack Ranch Developing Horse futurity. I'm just trying to get them out and about," he said.
Josh Murphy and Got That Iowa Shine finished second in the Open with a 147. Got That Iowa Shine, by Smart And Shiney out of SLJ This Is My Juice, is owned by Kalyn Sanders.
Kenzy Donnelly & Shesa Tinker Toy – Int. Open and Ltd. Open Champions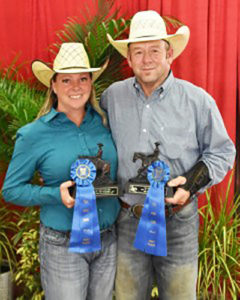 Kenzy and Kelly Donnelly haven't owned Shesa Tinker Toy long, but the four-year-old mare is proving herself to be a solid show horse. "She's really nice, quiet, and tries to please," Kenzy Donnelly noted after the pair won both the Int. Open and Ltd. Open classes with a 144.5.
"My wife bought her for a non pro horse, but she took my horse and I took hers, so it all worked out. She still likes her horse, too, but she might steal her back after today," Donnelly, of Whitesboro, Texas, said with a laugh.
Shesa Tinker Toy is by Tinker With Guns out of Smartest Sister. "She was good today, and really waited on me. We've been having some trouble with the run downs, but today she really squared up and did her job," he said. "I'll show again tomorrow, and I plan to just do the same deal and see what happens."
Nick Valentine and Double Loaded Gun finished second in the Intermediate Open with a 144. Double Loaded Gun, by Gunner out of KR Anniegetyergun, is owned by Doug Forzani.
Kaleigh Gerringer & Lil Coded Jac – Rookie Professional Co-Champions
Kaleigh Gerringer and Lil Coded Jac tied for the win of the Rookie Professional, as well as second in the Limited Open. The pair marked a 143.5. "Today went really well. I was really happy with him. He was super quiet and just stayed with me the whole time," she said.
Lil Coded Jac is a full sibling to standout athlete Electric Code. The seven-year-old gelding is by Electric Spark out of Hot Coded Candy. "He's owned by Susan Meyer, and we call him Uncle Jack. I've been showing him about two years now. He's been an amazing horse," she said. "We won the affiliate at the futurity last year, and then some small shows here and there. He's been very consistent for me."
Gerringer has been working for Jared Leclair for three years and has been riding reining horses since she was 12 years old. "I just saw a reining horse and fell in love," she said.
Eduardo Giannasi & Ruf Till The End – Rookie Professional Co-Champions
Eduardo Giannasi and Ruf Till The End marked a 143.5. "She was really good. Probably the best she's been in a while.  I've been having a ltitle trouble in her circles, but she was really good today," he said. "I was very happy. She's always been a big stopper. We had a bobble in the first stop, but everything else was good."
Giannasi has been riding the six-year-old mare for three years. The mare, owned by Cardinal Hill Training Center, is by Lil Ruf Peppy and out of Remedys Sure Slide. "She was good today, so I will be easy on her and show her again tomorrow," Giannasi said.
Jessicah Keller & Coronarita Time – Novice Horse Non Pro Level 2 Co-Champions
Jessicah Keller and her homegrown mare Coronarita Time tied for the win of the Novice Horse Non Pro Level 2 with a score of 140. The flashy palomino mare is by Shine Big Time and out of Corona Lite Chex, a mare that Keller herself used to show. "I made the futurity finals on her mother, and Corona Lite Chex's dam was Kings Gold Cody, who my sister showed. We've had the whole family," Keller explained. "There are definitely some similarities between all three of them."
Keller added that Coronarita Time has been easy to show this year. "She's a big turner and a big stopper, and is nice to be around and is good minded. She's been very consistent this year," she said.
Keller will show Coronarita Time again on Saturday in the Affiliate Regional Championships for the Novice Horse Non Pro. "We went a little slower today than we would normally go because today is not the affiliate finals day, but we plan to give it more on Saturday." She added, "I think we'll be alright. I'm going to go show her and do the best we can."
Allana Vernon & Whizkeys Hot Jewel – Novice Horse Non Pro Level 2 Co-Champions
Tying Jessicah Keller for the win of the Novice Horse Non Pro Level 2 was Allana Vernon and Whizkeys Hot Jewel. Vernon and Whizkeys Hot Jewel, by Whizkey N Diamonds out of Jewels Lil Sparkle, were finalists in the Non Pro Level 1 at this year's NRHA Derby. The pair took home $248 for the co-championship.
Paige Vernon & Guns Last Chance – Novice Horse Non Pro Level 1 Champions
Paige Vernon and Guns Last Chance took sole custody of the Novice Horse Non Pro Level 1 title with a score of 145, winning $248. Guns Last Chance is by NRHA $11 Million Sire Gunner, out of Shiners Woman.
Kary Key and Oh Yes I Can Jac finished second in the Novice Horse Non Pro Level 1 with a 142, worth $218. Oh Yes I Can Jac is by Marthas Mega Jac out of Smart Juicy Lucy.
 Sarah Flarida & Starbucks Jazz – Green Reiner Level 1 & Level 2 Champions
Sarah Flarida won the Green Reiner Level 1 and Level 2 titles in the Super Duty Arena on Starbucks Jazz with a 72. "I haven't gotten to show in about six years, so some of it's a blur because I get nervous," Flarida admitted.
Luckily she had a veteran reining horse as her partner. "He's a blast. He's been shown a whole lot by open riders, so he can be a little tricky to get shown, but he was awesome. This was the best run we've had," Flarida said of the 16-year-old stallion, by Smart Starbuck and out of Flipped Out Jazz. Starbucks Jazz made the NRHA Open Futurity Finals with Brian Bell as a three-year-old, and has been a finalist at all the major events.
Flarida and Starbucks Jazz have a special connection. "I worked for Brian a million years ago, and I got to ride this horse as a four-year-old, so I know him a little bit. It's just a crazy thing that I got to ride him again," she said. "He's owned by Whitney Conrad and her mother Dana Case. They're good friends of mine and were nice enough to let me lease him."
Sarah and her husband Matt make their home in Purcell, Oklahoma. Matt's advice to Sarah before the run was simple – go win. "He has more confidence in my abilities than I do. He has helped me a lot the past few weeks with Jazz," Sarah said.
Trent McNally and Thelmas Little Step, by Wimpys Little Step and out of Kachina Oak Olena, finished second with a 71.5.
The National Reining Horse Association is not responsible for information contained in this press release. Please contact the author or submitting organization for further information, requests or questions.