Tulsa, Okla – The first ancillary class titles at the Tulsa Reining Classic were awarded Tuesday afternoon, after a full day in the Super Duty Arena of the Tulsa State Fairgrounds. 
Tell Edgmon Wins Novice Horse Open Level 2 on Docs Shining Crome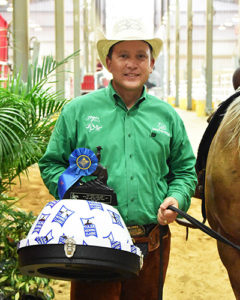 With a score of 146.5, Tell Edgmon and Docs Shining Crome topped the Novice Horse Open Level 2, winning $302.
Docs Shining Crome, an eight-year-old stallion by Custom Crome out of Shining Pearl, is owned by Michael Marks/Texas Horse Power. "I've had him a little over a half a year. Each trip we're getting to know each other better, and I'm figuring out how best to prepare him," Edgmon said. "He keeps getting bigger and bigger scores."
Although Docs Shining Crome marked a big score, Edgmon admitted the stallion seemed slightly on edge before the run began. "A couple days ago we were in there and a big rain storm came through and blew a couple tarps down. When we walked in there I could tell he was still thinking about it. He was looking around as we were walking in," Edgmon recalled. "As soon as we got to the middle, he dropped his head and went to work. He stayed steady for me and tried. I can't ask for more than that."
Although Edgmon might show Docs Shining Crome in the second slate of the Novice Horse Open Level 2, the pair will definitely be competing again on Thursday in the South Central Regional Affiliate Championships in the Open classes. "I also have a Derby horse and another affiliate horse, as well as a couple non pros I'm coaching, so I'll be busy," he said.
Anderson and Mixon Tie for Win of Novice Horse Open Level 1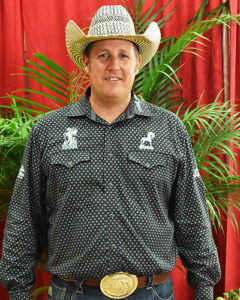 Jarvis Anderson and PS Cruella De Vil tied for the win of the Novice Horse Open Level 1 with Abigayle Mixon and Lil Miss Whizzy. Both Anderson and Mixon marked scores of 143.5 to win $285.
Anderson and PS Cruella De Vil also won an additional $208 for second in the Level 2.  "She stopped all three times real solid, she rolled back well, and the other stuff was good, too," Anderson said. "She stretched out good in her circles, and turned around well for her level. It was a clean run."
PS Cruella De Vil, owned by Patsy Schulltz, is a four-year-old mare by HF Mobster out of A Promising Chic. "I'm riding some other horses for Patsy now. I like this mare's honesty. She keeps getting better, and wants to be good and do the right thing," he said.
It will be a busy week for Anderson. "I have a futurity horse and some others in the ancillary. My wife and daughter are showing, too," noted the Whitesboro, Texas, trainer.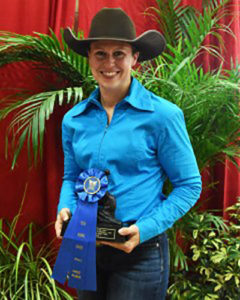 Abigayle Mixon, of Marietta, Oklahoma, has only been showing Lil Miss Whizzy for a few months, but still piloted the mare through a good run. "It was good. She hasn't been shown much, and today she was really relaxed. She turned good for me and was nice in her circles. She ran and stopped really nice, too," Mixon explained.
Lil Miss Whizzy is by Topsail Whiz and out of Shiney Lil Miss. "I'm just showing her in the novice horse classes here to get her seasoned out. She hasn't been shown before this year," Mixon said. "I've also got a couple three-year-olds to show, and a derby horse as well."
Next up for Mixon? "I'll go to Waco and then to the Snaffle Bit Futurity," Mixon, who also shows reined cow horses, explained.
Rookies Win Titles in Super Duty Arena
Several rookie riders competed in the Super Duty Arena, some going all out and some using the time to prepare for classes later in the week. Reighann Duncan won the Rookie Level 1, and there was a four-way tie for the Rookie Level 2 title between Jennifer Richards, Kimberly Brokaw, Dean Spence, and Trent McNally. Brokaw and Spence, along with Deborah Good, also tied for the win of the Prime Time Rookie.
Reighann Duncan and KR Easy Chic Win Rookie Level 1
Marking the high score of the rookie classes and winning the Rookie Level 1 were Reighann Duncan and KR Easy Chic with a 70.5. Duncan has only been riding KR Easy Chic, by Easy Otie Whiz, for a few months. "She's kind of new to me. I'm fortunate to have got her, and she's been great ever since," Duncan said. "Today I really tried to work on things from the last show, and was going for a win, so it was awesome."
Although Duncan has been showing reiners for just five or six years, she has ridden horses since she was three years old. "I used to do a lot of sorting and penning, and I made the switch to reining because a barn friend got me into it. I've been enjoying it ever since," she said.
Duncan rides with Gabe Garrison. "His advice today was to kick ass!" Duncan said with a smile. "We'll be showing the next three days so hopefully we can keep going off of this and have another high note."
Trent McNally and Thelmas Little Step – Rookie Level 2 Co-Champion
After more than a two decade hiatus, Trent McNally returned to the reining pen. "I grew up around it, but started back a little over a year ago. I enjoyed it when I was younger, but then I had to go to work," he explained. "I woke upone day and I was 46, and I knew that if I was going to do it, I needed to do it now, so that's how I got back into it."
McNally was showing five-year-old Thelmas Little Step. "Casey Hinton helped me find her, and then Marie at Xtra helped me for a while and did a ton of work. Now I ride with Kole Price," McNally said. "This mare is super calm and so sweet. You can't upset her."
McNally noted that part of his success was likely due to a bet made with his trainer prior to the class. "I have a tendency not to run to the end of the arena, and Kole told me if I didn't, I'd have to go back to the stalls and do 20 pushups, so I made it a point to not stop short," he said.
McNally and Thelmas Little Step have several more shows this year, including Las Vegas, Ardmore, and Oklahoma City. "I just hope to keep improving," he said.
Jennifer Richards and Gunna Spook Ya – Rookie Level 2 Co-Champion
Jennifer Richards didn't expect to show Gunna Spook Ya in Tuesday's class; she'd been battling some sickness all morning. Luckily, she was able to show. "He did really well for me. He was nice and honest today, so I'm really happy. I literally just got on shortly before I needed to show," she said.
Richards, of Richmond, Texas, purchased Gunna Spook Ya through Brian Bell two years ago. "He's pretty honest, but quirky, too," she said. "I ride with Josh Murphy now and he's done a wonderful job getting us prepared. I thank him, my best friend Kalyn Sanders, and everyone with Team Murphy. It takes a village."
Richards will show again on Wednesday in the Novice Horse Non Pro and Friday in the ARC Rookie.
Kimberly Brokaw and KR Ima Dreamer – Rookie Level 2 and Prime Time Rookie Co-Champion
Another member of Team Murphy tied for the Rookie Level 2 title. Kimberly Brokaw piloted her horse KR Ima Dreamer to a solid run. "It went pretty well. I had a little problem in the middle for a second, but he did a good job for me," Brokaw said.
Brokaw, of Nixa, Missouri, has been riding KR Ima Dreamer, owned by Kristen Avila, for about six months. "He's an eight-year-old gelding, and Bobby and Kristen own him and let me use him. I love him. He's super talented and a really nice horse. I love everything about him," she said.
Brokaw added that Tuesday's run gave her the confidence she needed to show the rest of the week. "I feel good after today. I know where we need to step up and what we need to work on, so we'll go from there," she said.
Brokaw added, "I thank Bobby and Kristen Avila. I thank my trainer, coach, and friend Josh Murphy, as well as my husband, Kent, for supporting me through all of this."
Dean Spence and Xtra Play For Voodoo – Rookie Level 2 and Prime Time Rookie Co-Champion
Dean Spence purchased Xtra Play For Voodoo in January of this year, but it's been a long road getting the talented reiner ready to show. That's why winning the co-championship of both the Rookie Level 2 and Prime Time was so special. "We've put a lot of time in him. Jared Leclair has really put a lot of hours into this horse. It's been a struggle, but we started seeing a breakthrough about a month ago, so today I'm very proud," Spence, of Gainesville, Texas, noted.
For Spence, making it through the arena gate was an accomplishment. "The last few shows I haven't been able to get him through the gate – he had to be led in. Today, though, he was really relaxed. Jared had worked with him and when I got on him he was super. I'm very proud," he said.
Spence and Xtra Play For Voodoo will show again on Friday and Saturday. "I like showing here in Tulsa. There are a lot of friends and family here, and it's a great environment," he said. "I thank God, and I thank Jared Leclair for all his help."
Deborah Good and Chics Love Me Wimpy – Prime Time Rookie Co-Champion
A few years ago, Josh Tishman and Chics Love Me Wimpy won the Rookie Professional Year End Reserve title, and now the special nine-year-old gelding gets to enjoy being shown by his owner Deborah Good. "I bought him from Mike McEntire a few years ago, and I ride with Casey Deary. He's a really special horse that takes great care of me and allows me to grow as a rider. I'm the only one riding him now," she said. "He gets to stay home since he's given me so much."
Good was simply shooting for a clean run in Tuesday's class. "I've been working on just staying in a 70, so today was special. We made a few one-penalty maneuvers, but other than that it was clean and a lot of fun," she said.
Good and Chics Love Me Wimpy have a big week ahead. "We'll show in the Green, the Rookie, and see if I want to do the Non Pro. I also qualified for the Prime Time Rookie affiliate, so we'll do that, too." She added, "I thank Casey Deary and Josh Tishman for their constant support and encouragement."
The National Reining Horse Association is not responsible for information contained in this press release. Please contact the author or submitting organization for further information, requests or questions.