In addition to numerous opportunities for aged event horses, the Tulsa Reining Classic features a full slate of National Reining Horse Association classes, and also hosts the South Central Affiliate Regional Championships. The top ten finishers in each of the ARC classes earn a spot at the North American Affiliate Championships, which will be held at the NRHA Futurity in December.
The South Central ARC receives strong support from sponsors that include Adquan, Cardinal Reining Horses, Cinch, Classic Equine, Markel Insurance, Montana Silversmiths, Platinum Performance, Quarter Horse News, SmartPak, Toyon Ranch, and the NRHA.
Mirjam Stillo & Steppin Little Lena – ARC Open Champions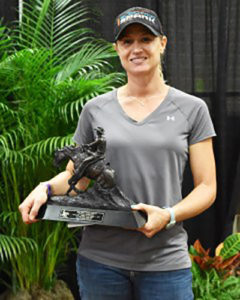 Mirjam Stillo and Steppin Little Lena, owned by Heidi Pichotta, claimed the ARC Open Championship honors with a score of 145. They also tied for fourth in the Open (2), bringing the day's earnings to more than $775. "It was fun. I'm happy with the result. He showed good. We didn't get a lot of prep time, but he came in and did his job and showed well. He's always been a reliable horse," Stillo said.
Steppin Little Lena, by Wimpys Little Step out of Collena O Lena, will stay busy the rest of the week, pulling double duty in both open and non pro classes. "The goal was to qualify him for the ARC open, and then I will show him in the Novice Horse 2, and the owner will show him in the rookie. He will be busy, but he'll handle it. He's a grown up horse," Stillo said. "He's consistently good."
Stillo trains out of Toyon Ranch in Pilot Point, Texas. "I moved there about a year ago. It's a great facility and a great place," she said. "Next for him will be the World Show, and then the NAAC finals at the Futurity."
Brian Bell & Lil Juice Cash – Open (2) Champions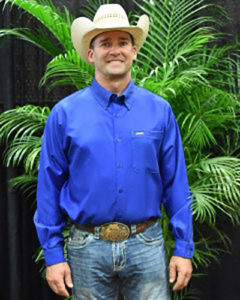 NRHA Million Dollar Rider Brian Bell piloted Lil Juice Cash to a 147.5, winning the Open (2) and earning $1,208. "He was really smooth, and did everything pretty good. He'll normally mark that score. He's like a robot," Bell said of the four-year-old gelding, by Lil Joe Cash out of Peppy Lil Juice.
Lil Juice Cash is owned by Julie Ridgeway. "She shows him a lot and I get to show him every now and then, but when I do he's really good," Bell said.
Although Bell is done showing Lil Juice Cash for the week, he'll stay busy. "I have a bunch of futurity and derby horses to show the rest of the week," he said. "Then I'll be home for two days and then off to Vegas for another show."
Taking second in the Open (2) was Craig Schmersal and Hot Hollywood Whizky, who won the class on Wednesday. Hot Hollywood Whizky, by Topsail Whiz out of Hot Hollywood Jewels, is owned by Mark Blake. The pair took home $949.
Tell Edgmon & Docs Shining Crome – ARC Int. Open and Ltd. Open Champions, Int. Open (2) and Ltd. Open (2) Co-Champions
On Tuesday, Tell Edgmon and Docs Shining Crome won the Novice Horse Open class, and on Thursday claimed several titles, including the ARC Int. Open and Ltd. Open, and Reserve in the ARC Open. By virtue of winning those classes, Edgmon and Docs Shining Crome earned a spot in the Adequan NAAC finals at the NRHA Futurity.
"I showed him in the Novice Horse on Tuesday and then schooled him yesterday and tested him a bit. He was good there, so I went ahead and showed him today for the ARC and he did pretty good," Edgmon said.
The pair marked a 142.5. "I was getting him ready in another arena with deeper dirt, then I came in here and it was a little faster in the show pen and he didn't like it as much. He tried to stop, and stopping is his biggest trick so I lost a few points there." He added, "But he still went in and turned and circled really well for me and made up some points."
Docs Shining Crome, by Custom Crome, is owned by Mike and Heather Marks of Texas Horse Power. "I've been riding him about a year. I like how simple he is. There are no tricks to him," the Lipan, Texas, trainer said. "I thank my wife Ari Edgmon for all her support."
Nick Valentine & Double Loaded Gun – Int. Open (2) Co-Champions
Nick Valentine and Double Loaded Gun also marked a 142.5 to tie for the win of the Int. Open. Double Loaded Gun, by Gunner out of Anniegityergun, is owned by Doug Forzani.
Naike Albert & Cee Masota Spook – Ltd. Open (2) Co-Champions
Naike Albert and Cee Masota Spook took the Ltd. Open (2) Co-Championship with a score of 142.5. Cee Masota Spark, a five-year-old mare, is owned by George and Carol Bell.
Cee Masota Spook is by Smart Spook out of Cee Another Masota. "She was right there with me. I think she's a perfect mare," Albert, who has been showing reiners for eight years, said.
Although Albert is finished showing for the week, she will be helping her new husband Brian Bell with his Derby and Futurity horses. After a quick two day trip home, the couple will travel to Las Vegas for the next event.
In addition to riding and training reining horses, Albert, of Aubrey, Texas, is also a talented painter.
Kaleigh Gerringer & Lil Coded Jac – ARC Rookie Pro Champions, Rookie Pro (2) Co-Champions
On Wednesday, Kaleigh Gerringer and Lil Coded Jac tied for the win of the Rookie Pro, and ended at the top of the leaderboard again on Thursday with a 141. The pair took sole possession of the ARC Rookie Pro, and once again tied for the win of the Rookie Pro ancillary class.
"Today he was really good. It was a run-in pattern, which sometimes can be a little tough for us, but he was super quiet. He stayed with me the whole time. He was just easy and I was very happy," Gerringer said.
Lil Coded Jac, by Jacs Electric Spark out of Hot Coded Candy, is owned by Susan Meyer. "I thank Susan for all the opportunities she has given me. Not just on this horse, but others, too. I love every opportunity I get," Gerringer said.
Gerringer and Lil Coded Jac are done for the week, but will be heading to Las Vegas next week.
Finishing second in the Rookie Pro (2) was Eduardo Giannasi and Ruf Till The End. Ruf Till The End, owned by Cardinal Hill Training Center, is by Not Ruf At All and out of Remedys Sure Slide.
Cody Garrison & Bombshell Banjo – Rookie Pro (2) Co-Champions
Bombshell Banjo has spent the last couple years as a broodmare, but has made her return to the show pen and now leads the world in the Limited Open division. On Thursday, Cody Garrison piloted the 12-year-old mare to the Rookie Pro (2) co-championship. "She was turned out as a broodmare because my girlfriend had back surgery, and we brought her back this year for her to show. I started schooling her and ended up showing her a bit. She's just been a phenomenal horse," Garrison said.
Bombshell Banjo, owned by Brogan Lee, is by Banjo Whiz out of Bob Acres Badgerlena. "We've owned her going on six years now. She has been an absolutely terrific mare and everything you could ask for," Garrison said. "She's always right there with you and shows good."
Garrison and Bombshell Banjo marked a 141 in the class. "She came in and felt really good coming through the gate. She ran and stopped big. She might have backed a little slower than I liked, but turned and circled good both way. This pen is big and fits here. There's a little more room and I can run her a bit more," he said. "I picked a bad patch of dirt for the first stop, but she came right back to me. She knows her job."
Although Garrison and Bombshell Banjo are finished at the Tulsa Reining Classic, they'll be traveling to Wisconsin in a few weeks for another event.
McKinnon Larcombe & Designed With Shine – Non Pro., Int. Non Pro, and Ltd. Non Pro Champions
McKinnon Larcombe and Designed With Shine, owned by Shauana Larcombe, claimed the win of the Non Pro, Int. Non Pro, and Ltd. Non Pro classes with a 145.5, collecting $1,277. Thursday's class served as a warmup for the rest of the week. "I'm going to show in the youth on Saturday and just cruise through there, and then on Sunday I'll show in the ARC for the youth and the Non Pro classes, so hopefully we can get qualified to show at the NAAC at the Futurity," Larcombe said.
Larcombe and Designed With Shine, by Smart And Shiney and out of Taris Designer Genes, have picked up wins at multiple events, including the NRHA Derby and the National Reining Breeders Classic. "My favorite thing to do is show her. She's a great horse on the ground. She's sweet to cuddle and everything, but she is so much fun to show," Larcombe said. "She's always hooked in and tries her hardest."
The 18-year-old is not just a phenom in the show pen, she's also started a successful photography, design, and advertising business, which keeps her busy. "We might go to the Best of the West in Scottsdale, and then to the Southwest Futurity in Ardmore, and then the Futurity," she explained.
Larcombe's family regularly attends the Tulsa Reining Classic. "We have come here every year we've been in the United States. It's such a great show. The staff runs it so well. There are great prizes, so many arenas to ride in, and a great facility," she said.
With a score of 143, Paul Queen and Outta Dough, by Gallo Del Cielo and out of Dough Olena, took reserve in the Non Pro and Ltd. Non Pro, and tied for second in the Int. Non Pro.
Julie Ridgeway and Gunnaout Shine Ya, by Gunnatrashya and out of Jesta Little Shiner, tied for reserve in the Int. Non Pro.
Tolbert Foster & Wimpys Memorabilia – Prime Time Non Pro Champions
Tolbert Foster and his 10-year-old mare Wimpys Memorabilia claimed the Prime Time Non Pro title. "I'm surprised I won something. We had a little trouble with the last stop, but it was just good enough. This is a tough pattern. I studied it all week, and luckily got it right," he said with a laugh.
Foster has owned Wimpys Memorabilia, by Wimpys Little Step and out of Memorable Affair, for six years. "She's had some real nice babies that I've been excited about. She's been a good show horse, too." He added, "I may retire her at the end of this year. I'm not sure."
Foster and Wimpys Memorabilia will show again on Sunday. "I just hope for the same kind of results. It's tough, so I'm really thrilled I won something. It's always exciting to win," he said. "We'll go to one more show this year in Ardmore, and hopefully I'll have my other mare ready to go."
Cindy Johnson and Wound Her Up Doc, by Wimpys Little Step and out of Wind Her Up Doc, finished reserve in the Prime Time Non Pro.
Sarah Flarida & Starbucks Jazz – Green Reiner Level 1 & 2 Champions
Sarah Flarida and Starbucks Jazz swept the Green Reiner classes at the Tulsa Reining Classic, winning both levels on both days of competition with a 71.5. "I had some spots I need to work on today, but we'll work on making it better for the next time," Flarida, of Purcell, Oklahoma, said.
Starbucks Jazz, a 16-year-old stallion by Smart Starbuck and out of Flipped Out Jazz, is a veteran competitor. He made the finals of all the major events with Brian Bell before going on to have a long career. "He's been kicked out in the pasture for retirement for the past four or five years. His owners, Dana Case and Whitney Conrad, had offered him to me to ride. I asked if it would be ok since he had been retired. Dana said, 'He's going to run you over to get back in a stall. He thinks he's a show horse and feels super degraded living outside in the pasture,'" Flarida recalled with a laugh. "She's right. He is so happy to be in the barn. He loves being a show horse. He'd much rather do this than be retired."
Flarida and Starbucks Jazz have a special connection. Flarida was working for Brian Bell when the stallion was a four-year-old. "It was really cool to get to ride him back then when I was green myself, and to show him now is awesome. I am super grateful to his owners for letting me show him," she said.
Abigail Zuch and Dun Smarter tied Trent McNally and Thelmas Little Step for reserve in both levels. Dun Smarter is by Magnum Chic Dream and out of SLJ Smartly Dun, while Thelmas Little Step is by Wimpys Little Step and out of Kachina Oak Olena.
The National Reining Horse Association is not responsible for information contained in this press release. Please contact the author or submitting organization for further information, requests or questions.