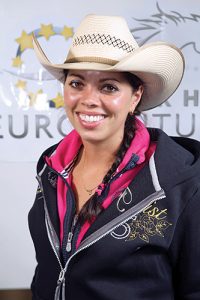 For Immediate Release – December 20, 2018 – Oklahoma City, Oklahoma – The National Reining Horse Association (NRHA) welcomes NRHA Professional Cira Baeck as the second female, and first European female, to join the list of Million Dollar Riders. Baeck flew into the next level of her career with two top qualifying rides during the Italian Reining Horse Association (IRHA) Futurity Level(L) 4 Open Finals this past weekend atop NF Shining Whiz and Sailorsacrofpride BB.
Under Baeck, NF Shining Whiz, owned by Kim Windey and David Perneel, clinched the title of the L4 Open Reserve Championship with a score of 227. She also rode Sailorsarcofpride BB, owned by Ruediger Diedenhofen, and exited the arena with her total earnings amounting to about $50,000 throughout the 2018 IRHA Futurity that ran from December 7-15 in Cremona, Italy.
The Belgian trainer and NRHA Judge won her first NRHA paycheck in 2002 and has actively competed in European and North American NRHA events ever since. Beginning as a youth competitor, Baeck has received multiple honors during the past decade and a half, including the following:
Three-time NRHA Open World Champion Top Ten: 2013 on Whizasunnysailor BB (3rd), 2015 on Whizasunnysailor BB (2nd), and 2017 on Gunners Snappy Chic (3rd)
Two-time NRHA Non Pro World Champion, plus six other Top Ten placings in the same division: 2007 on Don Quixote Escapes (1st), 2008 on Peek A Boom (1st), 2008 on Whizashiningwalla BB (3rd), 2010 on Gumpy Grumpy BB (3rd), 2009 on Whizashiningwalla BB (4th), 2007 on Little Gump (6th), 2009 on Gumpy Grumpy BB (6th), and 2005 on Little Gump (7th).
Three-time FEI World Equestrian Games medalist: 2010, 2014, and 2018 Team Silver Medalist for Belgium
2013 IRHA Derby L4 Open Champion on Whizasunnysailor BB
2014 NRHA European Derby L4 Open Champion on Colonels Shining Gun
Cira Baeck credits NRHA legend and Hall of Fame Inductee, Bill Horn, for her drive and passion for the sport as he continues to be her biggest inspiration. Other NRHA Professionals, such as Brent Loseke and Bernard Fonck, NRHA's first European based Two Million Dollar Rider, also have been influential in Baeck's career.