For Immediate Release
Tryon, NC USA – September 12, 2018 – The United States underlined their domination of Johnson Controls Reining competition by taking Team Gold at the FEI World Equestrian Games™ Tryon 2018 on Wednesday, September 12. The American team, led by the brilliant 18-year-old Cade McCutcheon on his grandfather's horse, Custom Made Gun, claimed a comprehensive victory from Belgium in second and third-placed Germany. It was Team USA's third successive FEI World Equestrian Games™ Gold medal triumph as they claimed the Johnson Controls Reining crown on a team score of 681 points.
Belgium, meanwhile, completed a hat trick of silver medals, while Germany's bronze was a Reining first for them at WEG.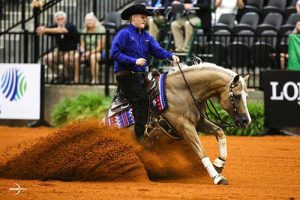 For Cade, who was joined in the team by Casey Deary, Daniel L Huss and Jordan Larson, it continued the family's remarkable connection to WEG success, given that his father won Individual Gold in 2010 and his mother Mandy claimed silver four years ago.
"I was real nervous, but all the guys really helped me and that made a huge difference," Cade said. "My grandfather owns my horse and he's trained it as well. He is a pretty good owner to work for."
And Deary added, "Cade did an amazing job. He showed all that he had and we are all extremely proud of the job he did."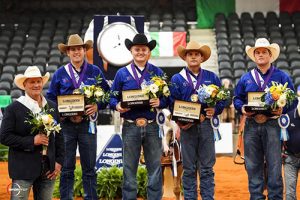 Reflecting on another second-placed finish, Belgium's Bernard Fonck said, "I think everybody did everything that they could do with their horses and although it was a strong competition, I think Belgium was also pretty strong."
With the crowd adding to a memorable atmosphere by getting fully involved in the action, there was also plenty for Germany to celebrate as they completed the podium places.
"This is the fifth WEG I have been a competitor at," said Grischa Ludwig. "All the other competitions we've always been fourth and fifth, we've been beaten so many times by a half point and one point and now we've beaten the others (Austria) by a half point, which makes this feel even sweeter."
"I did not think that it takes five FEI World Equestrian Games to get a medal! But, in the end, we really deserve it. This team really deserved it. We've been consistent. We had no low score and we were really fighting for the medal."
For more information on the FEI World Equestrian Games™ Tryon 2018 and to view start lists and results, please visit www.Tryon2018.com.
To purchase tickets or for more information about the WEG, please visit www.Tryon2018.com.
Click here to watch the FEI World Equestrian Games™ Tryon 2018 promo video!
Media Inquiries
For media inquiries about the FEI World Equestrian Games™ Tryon 2018, please visit www.Tryon2018.com or contact one of the following press officers:
National Press Officer – Carly Weilminster at cweilminster@tryonweg.com or +1 (828) 863-1144
International Press Officer – Gayle Telford at gayle@revolutionsports.co.uk or 0044(0) 203 176 0355
For more information from the FEI, please contact Shannon Gibbons at shannon.gibbons@fei.org or 0041-78-750-6146.
Photo Credit ©Sportfot. These photos may be used once in relation to this press release with proper credit.
About the Tryon International Equestrian Center
Tryon International Equestrian Center at Tryon Resort, host of the FEI World Equestrian Games™ Tryon 2018, is one of the world's premier equestrian lifestyle destinations, with first-class facilities for all eight FEI disciplines. From carousel to competition, the mission of Tryon Resort is to celebrate the magic of the horse, grow equestrian sport, and increase access to this majestic animal. Tryon Resort is a spring, summer and fall haven for equestrian competitors and enthusiasts, and a year-round destination for connoisseurs of diverse cuisine and shopping, lodging getaways, and family entertainment. Learn more at www.Tryon.com.
About the FEI World Equestrian Games™
The FEI World Equestrian Games™, held every four years in the middle of the summer Olympic cycle, is the property of the Fédération Equestre Internationale (FEI), the world governing body for horse sport organized by the International Olympic Committee (IOC). It is one of the biggest events on the global sporting calendar, combining World Championships in the Olympic disciplines of Jumping, Dressage and Eventing, the Paralympic discipline of Para-Equestrian Dressage, as well as Driving, Endurance, Vaulting and Reining.
The inaugural FEI World Equestrian Games™ were hosted in Stockholm (SWE) in 1990. Since then the Games have been staged in The Hague (NED) in 1994, Rome (ITA) in 1998, Jerez (ESP) in 2002, and Aachen (GER) in 2006. The first Games to be organized outside Europe were the Alltech FEI World Equestrian Games™ in Kentucky (USA) 2010. The Games came back to Europe for the 2014 edition, the Alltech FEI World Equestrian Games™ in Normandy (FRA), which attracted more than 500,000 on-site spectators and a worldwide television audience of 350 million, as well as delivering an economic impact of €368 million to the French economy.
The National Reining Horse Association is not responsible for information contained in this press release. Please contact the author or submitting organization for further information, requests or questions.