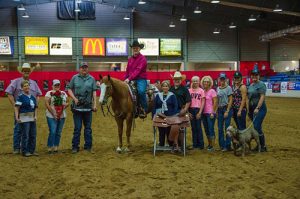 The Tulsa Reining Classic, held at Expo Square Aug. 27 – Sept. 2 saw smart maneuvers and big stops during the SmartPak Non Pro Derby in the Ford Truck Arena.
Cade McCutcheon took home the championship in the SmartPak Non Pro Level 4 Derby when he claimed the win aboard Me And Julio (Colonels Nite Special x Darlins Not Painted) with a score of 220. The 2014 gelding turned in a big performance for McCutcheon, which he says is a confidence booster for their future.
"We bought him after the NRBC this year and we were still getting to know each other at the NRHA Derby and we had a little trouble," McCutcheon said. "So, it was good to get this run before we go into the majors next year and get that confidence and get going together."
McCutcheon and Me And Julio earned $4,967 for their efforts in Tulsa. Last year McCutcheon's mom, Mandy McCutcheon took home the Non Pro Derby win and Cade says it's a good feeling to trade the win with his mom.
Gina Schumacher rode Slideomatic Spook (Spooks Gotta Whiz x Shiney Diamond Lady) owned by XCS Ranch to a score of 219 for the SmartPak Non Pro Derby Level 4 Reserve Championship.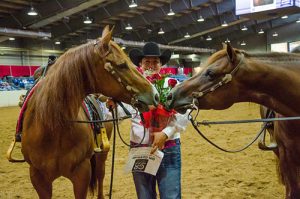 It was an epic day for Anne-Marie Burnes when she shared the championship in the SmartPak Non Pro Level 3 Derby with Bailey Kolson, plus shared the win with herself on two different horses in the Level 2 and Level 1. Burns also took home the championship in the Novice Horse Non Pro Derby.
Burns said the win is extra special, because of the year she spent working on herself.
"Last year I was plagued with pilot errors so I was so pleased to get them both shown today," Burns said. "It's been a long year and this is my last class of the year, so it's a great way to end the year."
Aboard REF Sturgis (Custom Harley x Chics Time To Rein) Burns marked a 218.5 to share the co-championship in the Level 3, Level 2, Level 1 and took the championship in the Novice Horse Non Pro.
The 2012 gelding has had a long road to the winner's stage. He was injured after the first show of his 3-year-old year and put on stall rest for an entire year. Burns says she was able to hold the faith and REF Sturgis pulled through to become the horse he is now.
"We brought him back after a year in the stall and four months of being turned out and he was just awesome," Burns said adding that he continued to build strength in the show pen. "This year he made the finals in the NRBC in the Level 1 and 2, and he made the Derby finals 3, 2 and 1. I made pilot errors in both finals. So, it's so satisfying this being his last derby that I was able to get him shown."
Riding Lil Jersey (Yellow Jersey x Whiz N Darlin) Burns shared the win with herself in the Level 2 and Level 1 with a score of 218.5. Burns purchased Lil Jersey last year and said their relationship hasn't been as easy as with REF Sturgis.
"Lil Jersey and I have taken a little longer to make friends," she said with a laugh. "Again, I was so happy to get him shown today. I showed him first and he did so well. I was very excited."
All totaled Burns earned $6,288 from the SmartPak Non Pro Derby.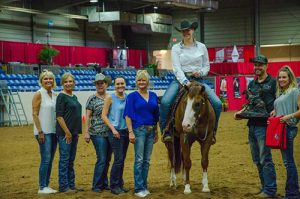 Bailey Kolsun and Diamond Studden Guns (Gunnatrashya x Like To Flo) marked a 218.5 to share the co-championship in the Level 3. They also took third in the Level 4.
Kolsun purchased the 6-year-old gelding three years ago and has been an easy horse for Kolsun to team with and show.
"He was awesome today, he was on his game," Kolsun said. "He's a very talented horse and he's been awesome for me for years."
The win brings Kolsun confidence going into the High Roller Classic. Together, the team earned $4,164 for their efforts in Tulsa.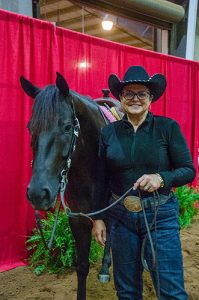 Jillane Brown won the SmartPak Non Pro Prime Time championship from a score of 220 aboard Xtra Voodoo Sailor. The 2014 mare by Shiners Voodoo Dr out of Always Sailing Smart also led Brown to the Novice Horse Non Pro reserve championship and third in the Level 2 and Level 1.
"She's an amazing horse," Brown said. "She circled really good for me and her turn arounds are great and her rundowns are probably the best. She's a really big stopper. [This win] means a lot to me. We got checks in all the divisions, so I'm really pleased with her this week."
Brown earned $2,238 in Tulsa and said it marked her biggest win on Xtra Voodoo Sailor thus far.
Frederick Christen won the Prime Time reserve championship riding Blonde Ambishen (Shiners Voodoo Dr x Relaxin With A Bud) as well as third place riding Xtra Voodoo Step (Wimpys Little Step x Voodoo Chic) from a score of 217.5.
Don't miss a second of the action and make plans to watch RFD-TV's Horse of the West coverage of the Tulsa Reining Classic, which will air on Monday, September 24th and October 1st at 1:30 and 9:30 pm Central Time.
Go to www.horseofthewest.tv to find an episode schedule, search for RFD in your area, or watch past episodes. Be sure to subscribe to the Horse of the West YouTube page to see more videos, features, and interviews.
Catch all the action of the Tulsa Reining Classic at www.tulsareining.com and by following along on social media.
The National Reining Horse Association is not responsible for information contained in this press release. Please contact the author or submitting organization for further information, requests or questions.