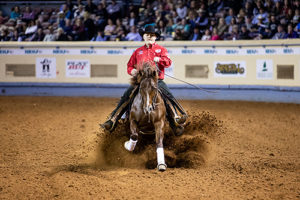 Ten days of intense, world-class competition culminated Saturday, Dec. 7, with the National Reining Horse Association (NRHA) Futurity Open Finals. The NRHA Futurity, held at State Fair Park in Oklahoma City, featured top horses and riders from across the globe.
When the curtain fell as the final horse left the arena, it was 19-year-old Cade McCutcheon who emerged victorious, not only winning the Level 4 Championship but also tying for the Reserve title.
It's been a banner year for Cade McCutcheon, who turned in his non pro card in January to become an NRHA Professional. Prior to the NRHA Futurity, he had won more than $706,616 in lifetime earnings, not including the $307,500 he won in August at the inaugural Run for a Million event.
Still, he wasn't counting on winning the Level 4 Open Championship at the NRHA Futurity. "I didn't expect to win it my first time here as a professional, but that's everyone's goal," he said.
McCutcheon had three shots at finishing in the top spot of the Level 4: Deja Vu With A Gun, Super Marioo, and Guns And Dynamite. He competed first on Deja Vu With A Gun (owned by David Silva), marking a 212.5.
Next up was Super Marioo, and the pair scored a 224.5. "I ran in and hit my first stop. I got turned big, and before I loped off, I thought to myself, 'Just make sure you lope off on the correct lead. Don't screw it up,'" he recalled. "That horse was there for me the whole way. There are a couple things that could have been better, but overall, what can I say?"
Just five horses later, NRHA Six Million Dollar Rider Shawn Flarida entered the arena on the 2018 NRHA Markel Insurance Prospect Sale high seller Shine Colt Shine. With gracefully executed circles and powerful stops, it looked like McCutcheon's lead could be in jeopardy. When the score was announced, Flarida and Shine Colt Shine fell just short with a 223.5.
Competing in the third from last set, McCutcheon rode Guns And Dynamite. The 19-year-old trainer piloted the colt through another great run, resulting in a 223.5, tying Flarida for second.
After that, McCutcheon couldn't have told you how the last seven horses scored, but he could have given you an update on college football. "I went to the bus and was watching Wisconsin vs. Ohio State and doing my best not to pay attention to it. I was just waiting for my mom to call me," he admitted.
Unbeknownst to him, his scores held, and McCutcheon won not only the Level 4 with Super Marioo, but also Levels 3 and 2, for $196,175 in earnings. Super Marioo's nominator, Hillis Akin Family Partnership received $9,808.
McCutcheon also tied for Reserve in the Level 4 on Guns And Dynamite, and took sole possession of the title in Levels 3 and 2. Combined with his earnings on Deja Vu With A Gun, McCutcheon's winnings for the evening came to $341,899. That unofficially pushed him to NRHA Million Dollar Rider status.
Super Marioo, owned by Story Book Stables, is by Gunnatrahya out of HA Chic A Tune. McCutcheon began riding the colt in early fall when he was purchased from Gunny Mathison by Freddy Brassfield. "Gunny sold me this horse this summer. He did a phenomenal job training him, and I just had to pick him up and do some of my things. Without Gunny, this never would have happened," McCutcheon said.
Shortly after McCutcheon showed the colt at the Best of the West Futurity, he received a phone call from Brenda Joyce, owner of Story Book Stables. "She said she wanted to have a horse with me and asked about Super Marioo. She bought him from Freddy, and has been amazing to work with ever since," he said. "This is the first horse I've had with her, and I'm really excited for the future, whatever she decides to do."
McCutcheon and Kirstin Booth's Guns And Dynamite, by Gunners Special Nite out of Chic Olena Starbuck, won a total of $145,724 across the three levels. Nominator Turnabout Farms received $7,286.
"I thank my parents and grandparents for doing whatever it takes to make me as good as I can be," he said. "There are hundreds of people who played into this, and I'm lucky I had the right horse to win tonight."
Flarida and Shine Colt Shine pocketed a check for $110,752 for the Level 4 Open Reserve title, with nominator Sally Amabile receiving $5,637. The Shine Chic Shine colt, out of Gunners Miss Oak, lived up to the high expectations of being the 2018 Markel Insurance Prospect Sale high seller. The colt is owned by Gaynia Revenberg.
Jacob Ballard and Flashin Benjamins Win Level 1 Open Championship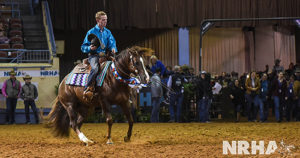 On October 6, Jacob Ballard took Flashin Benjamins into his training program. He was familiar with the horse, who he started as a 2-year-old, but the stallion had spent the last year-and-a-half with Kole Price. The pair only had two months to sync back up before the NRHA Futurity, but Ballard rose to the challenge, and the duo scored a 218 to win the Level 1 Open, and place in Levels 3 and 2.
"I've dreamed about being in the finals of the [NRHA] Futurity forever, and to pick off the Level 1 was pretty exciting," said Ballard, who is 26 years old. "I can't describe it." Prior to running pattern 10, Ballard said he knew if he could execute the run-in, stop, and back-up well, everything else would fall into place. The horse didn't let him down, turning even better under the bright lights than he did in the warm-up arena.
"After I loped off [from my turns], I knew that he was locked in and I could go and push him in his circles," Ballard said. "By the time I got done with my second lead change, I knew I was home free. All I had to do was turn the corner and go stop him. He just killed the ground like he does every time."
Ballard, who apprenticed under Price before going out on his own at the beginning of 2019, said it was a testament to Price's program that he was able to click with the horse so quickly. Since he only had two months before the NRHA Futurity, he knew he needed to make every ride count. Schooling at his local college gave him a place to practice in a show setting, which he thinks gave him an advantage.
Flashin Benjamins (Gunnatrashya x Shiners Hot Flash) was owned by Leann Spurlock at the time of the NRHA Futurity and was nominated by Nicole Miller. Ballard said the horse's owners have been very involved, which he respected and appreciated.
"You can't get to where I am without having good owners," he said. "Everyone wants to talk about the horse and other factors, but the owners are a huge part of it." The stallion may be moving on to new things, as his owners received an offer on him at the NRHA Futurity. Ballard has some other prospects waiting in the wings, but he won't forget the colt he started and then rode to an NRHA Futurity L1 Open Championship.
"I remember stopping him when he first got sliders on, and he stopped really smooth — about 10, 12 feet," he said. "He has that same effect, only now he does it with 25 feet. He hasn't changed a whole lot as far as talent goes, just a lot of the buttons are different and more progressed.
"It's been a long road of ups and downs, but I'm thankful for all of it," he added. "I wasn't sure it was the best move in January [to go out on my own], but God is on my side as far as the events and people he's put in my life to get me where I am."
The Level 1 Reserve Championship was won by Josh Tishman and Lanas Lil Joe, by Lil Joe Cash and out of Elanachics. Lanas Lil Joe is owned by Steve Carr and was nominated by Rainbow Ridge Equestrian.
Martin Larcombe Wins Prime Time Open on Shines Like Spook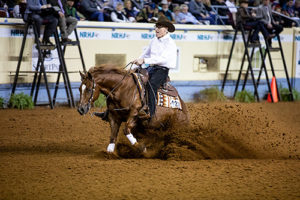 It didn't take much convincing when Rosanne Sternberg, and NRHA Million Dollar Owner,* asked Martin Larcombe to ride Shines Like A Spook. The royally bred colt is by NRHA Six Million Dollar Sire Smart Spook and out of Ebony Shines, who recently became one of two NRHA Million Dollar Dams. "Rosanne bred this horse, and owns both the sire and the dam, so this is a pretty good promotion for her brand. You can imagine in April when she said she had this colt that it didn't take much to get me to try him," Larcombe said with a laugh.
Larcombe and Shines Like Spook qualified for the Level 4 and 3 Open Finals, as well as the Prime Time. Their score of 220 equated to good checks in the Level 4 and 3, and the win in the Prime Time. All totaled, the pair took home $42,672 in finals cash. "I've taken him to a couple pre-futurities, and he's been respectable. I know he has a lot of ability and a lot of stop. I think he will mature a bit more and get more solid as a show horse," Larcombe shared. "Even saying that, I can't complain about how good he's been this week. He has stepped up all week. He's going to be a show horse."
Sternberg and Larcombe have a long history together. They got to know each other when Larcombe was training reiners in Europe, and the relationship continued when his family moved to the United States. "I thank Rosanne. She's had horses with me the past few years and has been a great customer. I also thank my crew, which is basically my family," he said. "I also thank my great customers who support me."
Larcombe went one-two in the Prime Time, taking Reserve on One Sensationaldream, owned by Neylon Performance Horses LLC. The pair marked a 217.5, worth $11,410, with nominator Kathy Bagnell receiving $498. One Sensationaldream is by Magnum Chic Dream and out of Dun Up Sensational.
*During the Level 4 Open Finals, Rosanne Sternberg unofficially became an NRHA Two Million Dollar Owner. Rosanne is only the second owner to reach this milestone, following Arcese Quarter Horses that reached the Two Million Dollar mark in 2012.