By Jan Anderson – Always innovative and full of surprises, the management of the Best Little Derby in the West put together an exciting program of classes at the 2019 event, held April 20–27 in Nampa, Idaho, at the Ford Idaho Center. New this year was the Rookie 2 Shootout! This special event was for all Rookie 2 entries who showed in the two slates. The classes were held on Tuesday and Thursday, and the top 10 (plus ties) combined scores were eligible to compete in the finals which was held on Saturday, right before the Open Derby. The excitement was evident as the contestants watched the bubble right up till the last of the over 50 entries came out of the pen. When it was over, there were 11 qualifiers with the bubble score at 139. Each of these rookie riders were winners of a finalist vest and buckle! But the big prize was a trophy saddle sponsored by Equine Oasis! The Shootout was seeded so that the highest score went last in the draw. There was a buzz all week as the class approached!
It was a privilege getting to know each of the finalists and their strategies.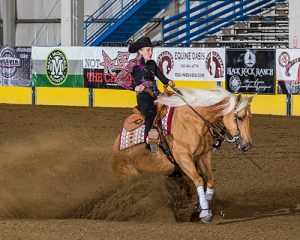 Draw # 1 Jade Marie Whitmarsh from Cochrane, Alberta, is a 16-year-old who rides with Austin Seelhoff. She grew up around horses at her mom's riding arena and boarding facility called Willow Acres. She also enjoys figure skating and basketball. She has been reining for about three years and used to barrel race and do other events, but she likes the reining because, "I like the community and family around it…the togetherness. It's like a little family of support. And I like the thrill of it!"
Whitmarsh is working on becoming a team with her five-year-old palomino mare, Spook N Ebony (Stella) as it is their first show together. They are working out the kinks and trusting each other more. She admits to being nervous and thinks it's great to give the rookies a chance to have "their moment."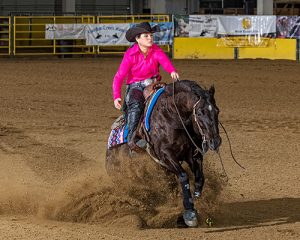 Draw #2 Nancy Brugato is a prime-timer who with her husband owns a wholesale produce company in Tigard, OR, just outside of Portland. She often rides with Matt McDowell and bought her cow-horse bred black nine-year-old gelding, Mister Black Magic from Robert Chown. She spent time in Texas last year with Billy Williams and was a Rookie Shootout Finalist at the 2018 NRBC. She says that she began doing reining because her daughter was taking lessons.
Brugato's goals are to improve a little bit more every time she shows. "I want him to enjoy his job—I want consistency with a little improvement each time. My favorite thing about reining is that it is good for me and my mind, and the people are fun. I really respect what these horses can do and how well they're trained; they are just dialed in, doing their jobs."
Draw #3 Kathleen Cooney, another prime-timer, sells technology software and is from Portland, OR. She rides with Kyle Kellmer Performance Horses in Battleground, WA. She began riding about 10 years ago, doing breed shows, but after a break from it, came back and decided to do reining only. It is the challenge that she likes best about reining. "It's unpredictable. When you're in the pen, you correct something, and then there's something else you need to work on. You don't usually come out and say, 'I did everything right!' It just doesn't happen."
Cooney's horse ARC King Snapper (Tritan) is a nine-year-old gelding that she is still in the process of getting to know. This is their third show together and Cooney confesses that she has terrible show nerves. "I'm an absolute nervous-wreck! I really get torqued up! I just have to keep focused on myself, the horse, and what we can do together. I am excited—just thrilled to be in the top 10!"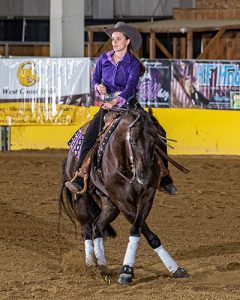 Draw # 4 Samantha Etsell is a 27-year-old from Arlington, WA, where she works in sales for Barn Pros. She has been riding since age 12 and started reining while at Kansas State. She shows her big black five-year-old gelding, Devils Cut Whizkey in the Rookie classes and is showing him in the non pro derby, so this is a real bonus for her. "We have been trying to get him show-broke and we've been growing as a team."
This is her first time at this show and she thinks it is "awesome!" "The spotlight concept for the rookies is great and definitely gives you more incentive to be here and go for it. It grows the sport for the rookies. I love it!"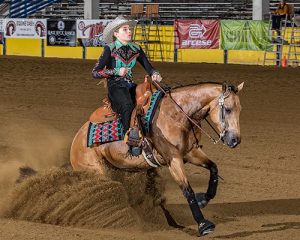 Draw #5 is the youngest of the finalists, 14-year-old Madison Wigen of Plain City, UT. She enjoys basketball and track when not riding. She has a new partner, Gee Whiz Ima Dunit, a six-year-old buckskin mare that has never been shown until this year. Lucky for Wigen, her dad is a reining trainer (Travis WIgen)! The mare, purchased last year, came with the nickname "Phoenix" because she was stuck and frozen in a water trough and managed to survive.
The goals for this team have been just to get to know each other and to get the mare "seasoned." But the shootout has been an extra bonus, and she feels lucky and excited to be a part of it. Now she just wants to have a clean run. "The best thing about reining is all the people we get to meet and the relationship with your horse—going out there and getting to show them."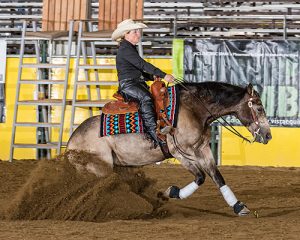 Draw #6 is Kitrina Makin from Wallowa, OR, where she and her husband run an RV rental and diesel mechanic shop. Now that her daughter has gone off to college, she has decided it is her turn. She enjoyed watching her daughter rein and wants to give it a try. She rides her gelding KR Sweet Shine, who came from Darren Stancik's barn, with help from her trainer Matt McDowell.
This is Makin's first show and she says she has no idea how she got to be a finalist! She comes from a speed event background, so she likes the speed, but her challenge is to make it pretty. She credits McDowell for being a great teacher and her horse for being talented. "I want to get confident and consistent. My horse has definitely got it. I'm just trying to survive!"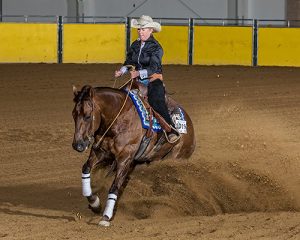 Draw # 7 is Rochelle Zimmerman, a single business woman from Medford, OR. She began reining several years ago after western pleasure wasn't fun anymore. She purchased her now six-year-old chestnut gelding Olenas Little Step (Wimpy) a few years ago through Todd Bergen where he stays in training and gets help from Bergen's assistant Titus Covington.
Zimmerman says reining is way harder than it looks and that she was intimidated by the big class. "It's a cool program to offer a saddle. It's the biggest thing I've ever done. I get nervous beforehand but not once we get started. It'll be fun!"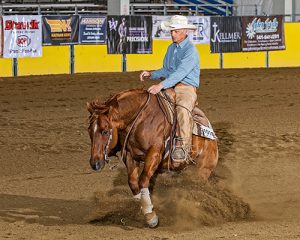 Draw #8 is Erick Sorenson, a 62-year-old full-time veterinarian from Townsend, MT. Sorenson rides his 12-year-old sorrel gelding, Wimpys Ritzy Bud, that he has had for two years. He started showing reining horses about 20 years ago, but only a few times; then he got too busy. He began again about five years ago, but never got to more than a couple of shows a year. He spent last year trying to figure out his horse. This is the first time he has ever gone to a show for so long. He says it has been fun to spend a week with his wife Jackie at a horse show. She is a successful non pro and according to Erick, his favorite thing about reining is to spend time with Jackie.
Sorenson likes reining and says, "In my career, I've just had to work with horses as a vet, which I enjoy, but I've never had the luxury to do the horsemanship. Most of the people I see (at the reinings) are really good to their horses and the horsemanship is inspiring. This rookie thing has really improved the interest!"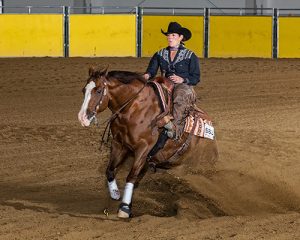 Draw #9 is Claudia J (CJ) Green from Idaho Falls, ID. She started riding at age 53 when she met her husband. She calls him her "horse enabler" because he supports her so fully. She found a good reiner at Jackson Porath's when she was looking for "just a good horse to ride" and had no intentions of reining. But, when Porath "dared" her to show, she did and got hooked. The next year she bought Slj Custom Style, a 10-year-old chestnut gelding that she affectionately calls "a goofball."
Green, who rides with Johnette Burman, claims that she is really a "greenie" playing with the rookies and credits her horse for being really consistent. "I'm not very good at stopping. That rundown thing… He's great to get me here!"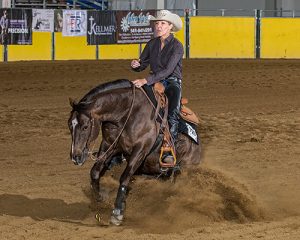 Draw #10 is Sydney Weaver of Sandy, UT. She rides with her brother-in-law Mack Weaver and is married to Mack's identical twin, Randy. She and her husband have a high-end custom car business and show cars from coast to coast. Although she has ridden her entire life and shown all-around and English horses, she is new to the reining. "Because I come from the all-around world, which is slow precision, this is a change of pace for me. Mack has to make me go faster than what I'm used to."
Weaver bought her eight-year-old grulla gelding, Whizards Little Step, after riding him and falling in love with him last December. "This is our very first show together. If I focus on one maneuver at a time, it's really helpful and I don't get overwhelmed. And it's nice that he knows his job, so I can focus on me. He's teaching me a lot!"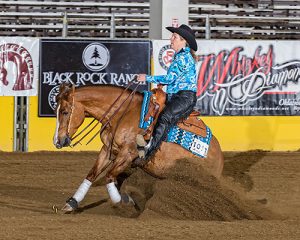 Draw #11 is the final contestant, Heather Priddy of Deer Park, WA, riding her eight-year-old gelding, Gunnin For Wimps. This 40-year-old stay-at-home mom has ridden since she was little, but finally got back into it with an interest in reining last year. She was able to compete and make the top five at the 2018 Rookie of the Year competition. Priddy rides with Matt McDowell and purchased her horse from him as well. "His patience and positive words helped me keep at it when things were tough. He's a great trainer and coach!"
Priddy believes that she is already a winner just by making it this far. She's pretty excited and says it is a "cool deal" for the rookies. "The technicality of reining makes it a great challenge and the chance to improve yourself. I just want to go clean and have a nice ride. On the finals, we're going for it. We're going to run a little faster and stop a little bigger!"
AND SHE DID! She won the finals with a 215. Afterward she had this to say, "I appreciate the opportunity. It was a really nice program to do for the rookies. When I saw it on the premium, it was so exciting to see something for us rookies: to have a clean-slate finals and go for a saddle! I appreciate that they are thinking about the rookies!"
Images courtesy of Caleb Tipton Photography
The National Reining Horse Association is not responsible for information contained in this press release. Please contact the author or submitting organization for further information, requests or questions.