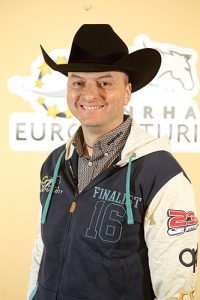 For Immediate Release – December 18, 2018 – Oklahoma City, Oklahoma – The National Reining Horse Association (NRHA) welcomes NRHA Professional Bernard Fonck as the newest Two Million Dollar Rider, unofficially. Fonck sealed the deal on the next level in his career with three top qualifying rides at the Italian Reining Horse Association (IRHA) Futurity Level(L) 4 Open Finals this past weekend atop Spook Sunburst, CSG Shinethingun, and GP Hot Revolution.
Fonck and Spook Sunburst, owned by Koen Symoens, slid out of the arena holding the L4 open champion title with a score of 227 1/2. On CSG Shinethingun, owned by Katarzyna Roleska, Fonck tied for 4th with a 224 score. Another successful ride aboard GP Hot Revolution, owned by Golden Paint Ranch, brought Fonck's total earnings to exceed $122,244 throughout the 2018 IRHA Futurity that ran from December 7-15 in Cremona, Italy.
The Belgian rider has competed in European and North American NRHA events since 2002. Fonck has received multiple honors including the following:
Seven-time NRHA World Open World Champion: 2008 on Lenas Pegesis (with Ann Fonck), 2010 and 2011 on Great Sun Burst, 2012 on Sail On Top Whizard; and 2015, 2016, and 2017 on What A Wave
Multiple FEI World Equestrian Games medalist: 2018 Individual Gold Medalist on What A Wave and three-time Team Silver Medalist for Belgium
2009 NRHA European Futurity L3 and L4 Open Champion riding Sail On Top Whizard
2013 NRHA European Derby L4 Open Champion On Smart N Sparkin
2014 IRHA 3-Year-Old Futurity L4 Open Champion on Lil Ruf Whiz N Tag and Reserve Champion on Big Fat
2016 NRHA Germany Breeders 4-Year-Old Futurity L4 Open Champion on Gunners Big Chex and Reserve Champion on Spook Shine Spook
Other reiners who have surpassed the Two Million Dollar NRHA Lifetime Earnings mark include Tim McQuay (2005), Shawn Flarida (2006), Craig Schmersal (2010), Andrea Fappani (2010), Duane Latimer (2014), Mandy McCutcheon (2014), Jordan Larson (2015), and Todd Bergen (2015).