Regstrup, July 19 — Provided by Simona Diale — The National Reining Horse Association (NRHA) European Affiliate Championship, managed by NRHA Denmark and NRHA Norway, provided yet another day of intense competition. It was a great day for Benelux as Tiara van Dongen of the Netherlands and Jody Fonck of Belgium clinched the NRHA EA Intermediate Open and Youth 13 & Under Championships respectively.
The $4,000-added NRHA European Affiliate Intermediate Open kept the public glued to their seats until the very last rider. Draw two in a field of 22 qualified riders, Anders Josefsson of Sweden, riding Maganic for owner Annika Bootsman Kleberg, set the bar by scoring a 218.5. In the last set of riders, Pete Perkiö of Finland aboard his Winchesteratomic tied to lead until the last combination to go, Dutch Tiara van Dongen and Don Quintanas Whiz (owned by Kristel Wauters) performed to an impressive 221 and the European title. "I cannot believe we actually won, even though that was our goal," said van Dongen. "I knew this mare could do it because she's an awesome horse and really deserves this title. She's 9-years-old and I've had her in training since 2017 but haven't shown her very much. This year I told her owner that we needed to qualify her for the championship because I knew that we could win…and we did!" Both Josefsson and Perkiö were pleased with their co-reserve Championship. "My horse did really well for me today and, since the other horse I qualified was injured yesterday, he covered up for her," said an enthused Josefsson. "This gelding, who I've had in training for three years, has always been really good for me and truly deserves this result." Perkiö and his gelding came back to the pen with the 2019 NRHA EA Limited Open Co-Reserve Championship under their belts earned the day before: "Once again he was there for me all the way," said the 25-year-old professional. "This is the second show together for us and going back home with two reserve championships is simply great."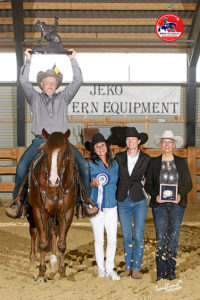 For Jody Fonck of Belgium, this was her first European Affiliate Championship and, with a great 218.5 riding Topgun Showtime, the young rider clinched the NRHA European Affiliate Youth 13&Under Championship. "I started riding a year and a half ago and my goal for the past year was to qualify for this event," she said. "When I went in the pen today I knew I had to give it all we had but, during my run, because she kept her head so low in the circles, the left rein went over her neck so I had both reins on one side. I carried on trying to keep calm, and she was there for me all the way. I could not be any happier for this win!" Sliding to the second step of the podium with was yet another Belgian rider — Alicia Nouwen — who rode her Sheza Tuff Jacky to a 217. "I'm very proud of my horse because before this class, for some reason, she was very nervous. Once she went in the pen she calmed down and was just great for me," said Alicia who was quick to credit her trainer, Wim Vervecken for her result. "I've had her for two years now, and thanks to my great trainer we managed to make it to the podium." It was a special day for 12-year-old Oliver Svensson of Sweden who took third place honors with Shes Madonna, a mare his father [NRHA Professional Johan Svensson] purchased for him three years ago. "I am so proud of my horse," said Oliver. "She is 16-years-old and when we bought her she was a lesson horse at a riding facility. My father helped me to train her but I have been the only one to ride her. This is a great day for me and, since she is in foal, this will be her last show…I really look forward to riding her baby!"
Friday Ancillary Action: 
In a field of 46 riders, Evelyn Boots of the Netherlands rode to the $500-added NRHA Limited Non Pro win with her own MC Jacs Tuff Girl and a 143 score! Sweden's Carl Bernadotte, riding Busy Make N Millions, and Teija Pietilä of Finland aboard her Remidoc tied for second place after posting a 141.
Belgium took the first three spots in the $5,000-added NRHA Non Pro counting 11 entries: Steve Vannietvelt took the win with a 221.5 riding What A Wave owned by Gina De Pauw. The 11-year-old stallion is the 2018 World Equestrian Games Individual Gold medalist and last week conquered the SVAG FEI World Reining Championship Individual Young Riders Bronze Medal with Nimroid Vannietvelt in the saddle! Piet Mestdagh and Reining Whiz took second honors and Dries Verschueren atop Smart N Sparking placed third.
Multiple past NRHA Open World Champion Ann Fonck rode to the win with a 222.5 in the $10,000-added NRHA Open riding Spook N Perla owned by Golden Paint Ranch. Fonck also took reserve honors posting a 217 aboard Made In Walla owned by Sabine Lisec and Chuck Klipfel. Miroslav Baniari closed in third place riding Kam Holly Instep for owner Eliza Olach.
Saturday will close the great edition of the 2019 NRHA EAC and qualified riders will be vying for the $500-added Limited Non Pro, $100-added Youth 14-18, $5,000-added Non Pro and $10,000-added Open Affiliate Championships!
For complete results and livescore: http://www.showmanager.info/Eventliste.aspx?turnierID=815
If you cannot make it to Tuse Creek Ranch, follow the livestream here:
https://rh-video.de/livestreaming…
For any further information you may need, log on to https://www.nrha-eac2019-20.com/
Media contact:  Simona Diale
International Horse Press
Email: internationalhorsepress@gmail.com
Cell: +39 340 5354629