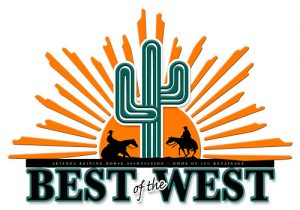 The AZRHA Best Of The West is excited to announce the addition of added money to both their open and non pro futurities. Taking place October 1–6, 2019, at Westworld of Scottsdale, Arizona, the show will offer more than $165,000 in added money, two slates of ancillary classes, as well as lots of prizes, buckles, and saddles.
In the open division, $65,000 has been added for L4, $15,000 for L3, $10,000 for L2, and $5,000 for L1. For the non pros, $15,000 has been added for L4, $7,500 for L3, $4,000 for L2, and $2,500 for L1. As always, the AZRHA only retains 10%.
Additionally, AZRHA will allow 7-year-olds to enter the open and non pro derbies this year.
For more information about AZRHA and upcoming shows, please contact us at AZRHACommunications@gmail.com and visit AZRHA.com or BestoftheWestReining.com.
The National Reining Horse Association is not responsible for information contained in this press release. Please contact the author or submitting organization for further information, requests or questions.