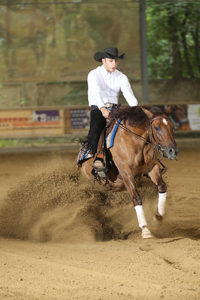 20-year-old Carlo Ambrosini from Italy had already dominated the L4 Non Pro Futurity go round, 3-year-old horses, aboard his stallion My Smart Show (My Showbiz Whiz x MS Linton Lena). In the final, the two scored a 219 with a fine run claiming the L4 Non Pro Futurity Championship. It was Carlo's third ARHA Futurity Champion title after winning the L4 and Int. Non Pro in 2018 and the L1 Non Pro in 2015. The young Italian was 4th at the FEI World Championship 2017 in Givrins, NRHA European Futurity Champion L4 Non Pro 2018 and won the 2019 IRHA Derby Non Pro L4. Ambrosini also rode his second horse Step In The Night (Saturdaynight Custom x Wimpy Surprise Chex) to fourth place in the final scoring a 212.
The Reserve Futurity Champion title Non Pro L4 went to Franziska Wallner aboard her Shes Jerseylicious (Yellow Jersey x Shiney Enterprise), who scored a 217.5. This was also the Int. Futurity Championship Non Pro for the 18-year-old from Germany who had won the L1 Futurity the night before. Franziska was an NRHA European Derby L4 and NRHA Breeders Derby finalist and won the 2019 IRHA Derby Non Pro L1.
In Int. Non Pro, the Reserve Futurity Championship was claimed by Sharon de Groot from the Netherlands who scored a 214 aboard Tinsel Whizington (Tinsel Jac x Conquistador Sis).
ARHA Futurity Champion Non Pro 2017 Ewald Rifeser and Petra Burger's gelding One Day SG (One Gun x Connie All Dun) plced third in L4 and Int. Non Pro scoring a 213.5. 
AustrianRHA Futurity Champion L4 Open, 3-year-old Horses: Dominik Reminder & BMS Walla Getcha Gun
Klaus Lechner wins Int. Open Futurity
With Top Score 223, Dominik Reminder from Germany and Martin Bachmann's BMS Walla Getcha Gun (Walla Whiz Crome x Ally Get Your Gun) claimed the AustrianRHA Futurity Championship Open L4, 3-year-old horses. The stallion who was second after the go round, was bred by Barbara Seibold. "I am so happy about the title and this horse,2 said Reminder, who was 2018 ARHA Open Futurity Champion. "BMS Walla Getcha Gun was so honest. It was real fun showing him. Like his sire Walla Whiz Crome, whom he is very close. This was his first show, and I am very happy how he presented himself. And we are proud that Walla Whiz Crome sired an Open Level 4 Futurity Champion in his first crop. My special thanks are to Marina Becker for selling BMS Walla Getcha Gun to us, whom she trained until very recently."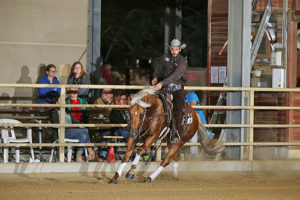 Manuel Cortesi and AR Vintage Dream (A Sparkling Vintage x Sweet Candy Dream) owned by Elisabetta Raviola claimed the Reserve Futurity Championship L4 after leading after the go round. The stallion was bred by Luigi Parise.. 27-year-old Cortesi, who was FEI European Champion Young Riders and IRHA Futurity Champion Non Pro, won the 2015 AustrianRHA Futurity Level 3 Open and was Reserve Champion L4 Open last year.
Third place in L4 as well as the Intermediate Open Futurity Championship were claimed by Austrian Klaus Lechner aboard Hollys Shiny Shine (Shine Chic Shine x Gunnin In Hollywood), who scored a 220.5 for owner and breeder Richard Hagl.
Pierluigi Fabbri and Cristian Cecini's Paint mare CC Little Red Gun (One Gun x SM Lil Jabalina) became Reserve Futurity Champion Int. Open scoring a 219.5. Three riders tied for third place with a 219 each: Cristian Dalla Pozza aboard Captains Doc Badger (AB Captain Badger x Kay Sarah), a stallion bred by Dario Carmignani and owned by Angelucci Quarter Horses, Andrea Manucci aboard LS Dun Blue Berry (Spat A Blue x Hollywood Greatberry), a stallion bred and owned by Impr Agr La Selvetta, and Alois Kompatscher aboard his stallion Welcometothejungle (Hang Ten Surprize x MS Title Nine) who was bred by Heike Melanie Ebler.
The National Reining Horse Association is not responsible for information contained in this press release. Please contact the author or submitting organization for further information, requests or questions.