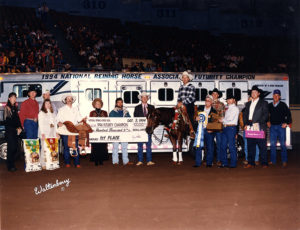 For Immediate Release – October 23, 2019 – Oklahoma City, Oklahoma – The National Reining Horse Youth Association (NRHyA) is set to auction a piece of history: National Reining Horse Association (NRHA) Professional Bob Avila's 1994 NRHA Futurity champion saddle.
Won riding Lenas Wright On, the saddle was donated by Avila to benefit NRHyA programming. It will be auctioned during the Reining Horse Foundation's premier fundraising event, Sliders' Night Out presented by Toyon Ranch, on December 4 at State Fair Park in Oklahoma City.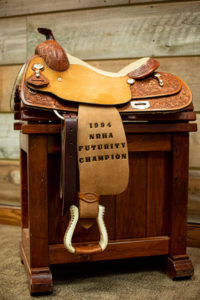 "In the last couple of years, I have participated in a few things with youth programs and it got me thinking about this," Avila said. "I have had the saddle for a long time, and I thought it would be a neat thing for the kids. I would rather help them than anyone else."
Funds generated from the saddle will help provide scholarships, leadership opportunities, and programming to the youth members of NRHA. NRHyA is funded through RHF, a 501(c)3 nonprofit organization.
"Winning the NRHA Futurity is incredibly special, and there are only 30 people in the world who have ever won it," Avila said. "It is a dream that every trainer in the world, young or old, has. He [Lenas Wright On] was a special horse and a great athlete. You don't get a lot of those in your lifetime. It is a very special saddle to me, and I want it to help the kids."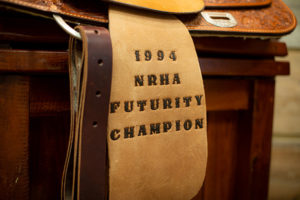 Not only can spectators bid on this commemorative saddle and other items offered in the live auction, but they will also enjoy an event where RHF recognizes former and incoming NRHA Hall of Fame inductees, honors the 2019 Dale Wilkinson Lifetime Achievement Award recipient, and presents the first-ever NRHA Reiner of the Year award. It is a night celebrating the sport's legacy and bright future.
"I am getting older, and I would like to see the stuff I have end up with people who will appreciate it," Avila said.
Advance reservations are encouraged to ensure a chance to attend Sliders' Night Out and enjoy the steak dinner and celebration. The benefit is held in conjunction with the NRHA Futurity & Adequan® North American Affiliate Championship Show.
To make event reservations or bid by proxy on the saddle, contact Leslie Baker, RHF Executive Director, at (405) 946-7400 ext. 106, or email rhf@nrha.com.