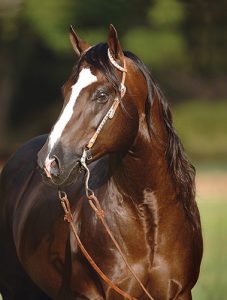 For Immediate Release – June 19, 2018 – Oklahoma City, Oklahoma – The National Reining Horse Association (NRHA) was saddened to learn about the passing of an NRHA legend, Custom Crome.
NRHA Four Million Dollar Sire Custom Crome (Crome Plated Jac x Another Greyhound) was owned by Steve Simon of Marietta, Oklahoma. Inducted into the NRHA Hall of Fame in 2009, the American Quarter Horse stallion created a legacy within the sport that will transcend his lifetime.
During his competitive career, Custom Crome earned more than $106,489 within the NRHA show pen. His top win came during the 1993 NRHA Futurity where he earned top accolades with NRHA Hall of Famer Mike Flarida aboard. The pair also had a top 10 finish at the All American Quarter Horse Congress that same year.
The 1990 stallion continued his impressive career within the breeding pen—with his offspring earning top 10 titles in the NRHA Futurity, NRHA Derby and National Reining Breeders Classic. Together, his offspring have earned more than $4,124,730 in NRHA Lifetime Earnings (LTE). His top progeny includes Custom Pistol (out of Hollywood Lady Jo) with over $233,230 NRHA LTE; Custom Cash Advance (by Cash In Roan) with over $228,443 NRHA LTE; and Custom Legend (by Dry Doc Bobbie) with over $228,364 NRHA LTE.
NRHA sends our deepest condolences to Steve and Iris Simon, and everyone involved with Custom Crome throughout his career.