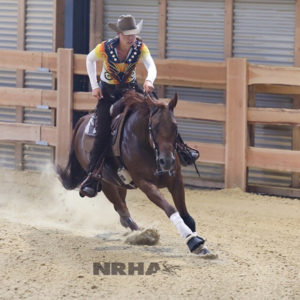 Saturday closed the great edition of the 2019 National Reining Horse Association (NRHA) European Affiliate Championship held at Tuse Creek Ranch, Regstrup, Denmark, managed by NRHA Norway and NRHA Denmark. Close to 150 horses made their way to the great facility where a total of over 450 entries made their way to the show arena!
Regstrup, July 20 — Provided by Simona Diale, IHP — Making the great Scandinavian event even more special was the last class of the day on Saturday when multiple past NRHA Open World Champion Ann Fonck unofficially surpassed the NRHA Million Dollar Rider mark winning the $10,000-added NRHA EA Open Championship aboard Spook N Perla. The talented lady rider with the pretty mare owned by Golden Paint Ranch between the reins had won the $10,000-added NRHA Open the day before and had placed second on Made In Walla for owners Sabine Lisec and Chuck Klipfel. "I'm really happy," said Ann Fonck. "Becoming a million-dollar rider was never in my plans! My priority was being a good mommy and for a couple of years, I showed very little. When I went back to showing again, I wanted to prove to myself that I could do something special in a 'man's world.' This is the outcome and I still cannot believe I made it, thanks to the great horses I have had the honor of riding."
The podium was all Belgian as Wim Vervecken scored a great 220 riding Janne Beate Melby's Wimpy Genuinediamond and NRHA Two Million Dollar Rider Bernard Fonck claimed third place honors aboard Missedouttinseltown, also owned by Golden Paint Ranch. "This was a great show, really well organized, and all my horses and non pro and youth riders did really well," said Vervecken. "It was great to be on the podium with Ann and Bernard Fonck. My horse is now 10-years-old and I had bought him for my wife. Since I qualified for the Open, I'm happy that I showed him here and am super proud of this result."
Prior to the closing Championship class, three European Affiliate Championship finals were held:
In a field of 38 qualified riders, Leonoor De Bruin of the Netherlands riding Crome Dont Corrode owned by De Bruin Reining Horses and George Allen Sternberg of Great Britain aboard RS Barbaresco Blue (owned by Francesca Sternberg) between the reins both posted a 216 in the $500-added NRHA EA Limited Non Pro Championship. The two chose to run off for the title and, once they had both performed again, the highest step of the podium was for De Bruin! "This is a dream come true," said De Bruin. "My horse was really nice to me and yes, I really wanted to make it to the highest step of the podium, especially after having taken part in the Affiliate Championship the past and never placing higher than third a few times. My 11-year-old horse is fantastic and I've been riding him for six years now. He truly deserves this Championship title."
Settling for reserve honors, Allen Sternberg was pleased with his performance. "I had to go to the Belgian Futurity to get enough points to qualify my two horses here," said George. "It was a goal to do well with both, but I must admit I do have a soft spot for RS Barbaresco Blue. I started riding and showing two years ago; he was the first horse I showed and has pretty much been the only one I've been showing. He has done really well for me, is really good minded and is a lovely mover. I would have liked to have been on top of the podium but am happy to have had the joint top score in the first run."
MC Jacs Tuff Girl slid Evelyn Boots of the Netherlands to third place honors with a great 215.5 score. "I leased this horse just before the Belgian Futurity last year," said Boots. "I wasn't really thinking about qualifying for the Affiliate Championships but when I found out we had a second qualifying period, we went for it! She was shown quite a bit until she was 5 years old — she is now 11 — and was out of the show pen for about four years. We brought her back and is now winning everything. We are thrilled!" Boots thanked her trainer Jurgen Pouels who was unable to come to Denmark, and trainer Kim Verveken for helping her out during the Championship.
The $100-added NRHA EA Youth 14-18 Championship counted 27 qualified young reiners from Europe. Nimroid Vannietvelt of Belgium did it again, this time aboard Nic Ricochet owned by Vannietvelt/De Pauw. With a great performance, he rode his mount to a 221 score and the Championship. "I really love this horse," said Nimroid. "He already rode me to an Affiliate Championship two years ago, which is when I started riding him. He suffered a small injury three months ago and was in the pasture until two weeks ago. That's when I started riding him again and he was right there for me. He's 11-years-old and never tries to trick you in the show pen…he's simply special!
With only two horses left to go, Isabeau Keiser of Sweden performed a great run riding her own Gumps Hummer BB. Once they left the show arena, a 218.5 appeared on the scoreboard and the second step of the podium was theirs. "I've never scored a 72 with my horse before today and I am thrilled," said the 15-year-old. "I've had my 7-year-old gelding close to three years ago. I fell in love with him when I tried him; he's a sweet little horse, and was super special for me today."
Nicoline Andersen Lau of Denmark riding Chic N Charme owned by Annette Andersen and Cora Kümmerling of Sweden reining Asa Kümmerling's Freckles Whiz Delmaso posted a 213 thus sharing the third step of the podium.
Clinching the $5,000-added NRHA EA Non Pro Championship with a 218.5 score was Dries Verschueren of Belgium riding Smart N Sparkin owned by Golden Paint Ranch. "I am really proud of my horse because he was in the breeding barn until 3 weeks ago and once again when he was back to work, he did an excellent job," said Verschueren. "My little boy is 11-years-old now and since he was 3-years-old he has done nothing but earn great results. I would like to thank Bernard Fonck for the work on this horse and my parents — without them, I would not have these great horses to show!"
Taking reserve honors was Great Britain's Francesca Sternberg who posted a 217.5 riding her own Spooks Gotta Lena and in third place, a point behind was Lia Freriks of the Netherlands atop Ready For Revolution. "This has been a fantastic show and we've come as a family, and each component of our family made it to the podium here," said Sternberg. "My horse is technically Doug's, who was kind enough to lend her to me for the non pro, and she was great for me: her heart is as big as a house!"
Once the curtain fell upon the Mega Arena at Tuse Creek Ranch, Sweden officially topped the 2019 NRHA European Affiliate Championship Country Standings with 413 points. The Swedish Reining Horse Association will receive $500 from the National Reining Horse Association for leading the standings!
The NRHA European Affiliate Championship Youth Team Tournament counted 14 teams, each composed of two 14-18 Youth and two Youth 13 & Under riders. The top 10 teams each received a medallion offered by NRHA and the winning team components each received Montana Silversmiths buckle. 

For complete results:http://www.showmanager.info/Eventliste.aspx?turnierID=815
For any further information you may need, log on to https://www.nrha-eac2019-20.com/
Media contact:  Simona Diale
International Horse Press
Email: internationalhorsepress@gmail.com
Cell: +39 340 5354629