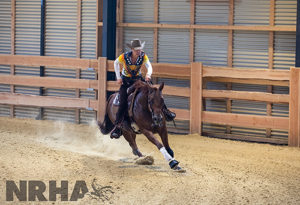 For Immediate Release – July 24, 2019 – Oklahoma City, Oklahoma – The National Reining Horse Association (NRHA) unofficially welcomes NRHA Professional Ann Fonck as the third female, and second European female, to join the list of Million Dollar Riders. Fonck's winning ride at the $10,000-added 2019 NRHA European Affiliate (EA) Championship in Denmark this past weekend pushed her past the earnings milestone.
Riding Spook N Perla, owned by Golden Paint Ranch, Fonck earned a score of 225 to take the NRHA EA Open title on Saturday. During Friday's action, Fonck rode Spook N Perla to a score of 222½ and the class win in the ancillary open. She also piloted Made In Walla, owned by Sabine Lisec and Chuck Klipfel, to a Reserve Championship with a score of 217.
The Belgian's earnings have come from European events. Fonck won her first NRHA paycheck in 2001 and has actively competed in European NRHA events ever since. Fonck has received multiple honors during the past decade and a half, including the following:
Two-time NRHA Open World Champion: 2008 on Lenas Pegesis and 2014 on Ebony Spook
Multiple FEI World Equestrian Games medalist: 2010, 2014, and 2018 Team Silver Medalist for Belgium
Three-time NRHA European L4 Open Futurity Reserve Champion: 2010 on Gunspinner, 2013 on Roosters Minnie, and 2015 on Roses for EinsteinTwo-time NRHA European L4 Open Derby Champion: 2012 on Spook A Little and 2018 on Shiners Voodoo
Three-time NRHA European L4 Open Derby Reserve Champion: 2013 on Ebony Spook, 2017 on Made In Walla, and 2018 on Made In Walla
Two-time NRHA European Level (L) 4 Open Futurity Champion: 2016 on Roosters Attitude and 2017 on Shiners Voodoo
2016 NRHA Open Reserve World Champion on Ebony Spook
Two-time NRHA EA L4 Open Champion: 2017 on Gunnerlicious and 2019 on Spook N Perla
NRHA extends a big congratulations to Ann Fonck on this accomplishment.