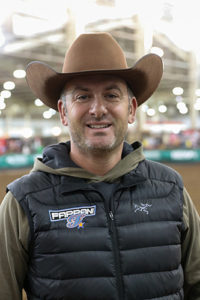 The field of more than 370 entries has been paired down to the crème de la crème who will compete in the National Reining Horse Association Open Futurity Finals on Dec. 7.
Competition began last Thursday, with the top 75 from each division advancing to the semifinals. The entries who fell in the top 30 for composites scores of the first round and semifinals earned a spot in the clean-slate finals.
There was an increase in Open finalists for Levels 1 and 2, bringing each of those to 30. That means this year there will be 25 more spots to the finals, equating in deeper payouts. This year will feature the most added money ever in the Level 1 through Level 4 Open purse at $714,113, and it will be the second-highest Level 1 through Level 4 Open purse ever with $1,552,677.
Guaranteeing his spot in the Level 4 Finals and topping that division with a composite of 443.5 was NRHA Five Million Dollar Rider Andrea Fappani and Guns In My Genes. Fappani and Guns In My Genes marked a 223 in the first round and a 220.5 in the semifinals. Guns In My Genes, by Tinker With Guns and out of the blue hen mare Taris Designer Genes, is owned by Rancho Oso Rio.
Cade McCutcheon held on to the top spot in both the Level 3 and Level 2 Open on Super Marioo, owned by Story Book Stables LLC. McCutcheon and Super Marioo followed a big 222.5 in the first go with a 219.5 in the semi-finals for a 442 composite. Super Marioo is by Gunnatrashya and out of HA Chic A Tune.
Ryan Rushing and Isnt She Dreamy claimed the top spot of the Level 1 with a 437, thanks to a 217 in the first go and a 220 in the semi-finals. Isnt She Dreamy is by Magnum Chic Dream and out of Miss Silver Gun, and is owned by Amy Rushing.
The score needed to earn a spot in the Level 4 Open Finals was a 436.5, while it took a 432.5 to advance in the Level 3. Riders with a score of 426 in the Level 2 earned a spot in the Finals, as did Level 1 riders who marked at least a 420.5.