A long week of competition at the National Reining Horse Association Derby presented by Markel Insurance culminated with the presentation of high point awards to several ancillary champions. On the final day of competition, more than 135 entries showed in youth, short stirrup, green reiner, and rookie classes held in the Adequan Arena and Jim Norick Coliseum at the Oklahoma State Fairgrounds.
Riders who competed in both slates of ancillary classes were eligible to win the high point championship and receive stunning buckles from Montana Silversmiths.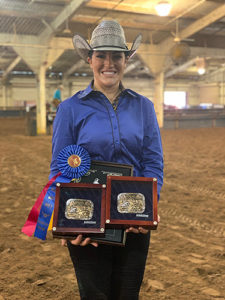 Green Reiner Level 1 & 2 [2] Co-Champion and Green Reiner Level 1 & 2 High Point Champion – Allison Thorson & Smart Cowboy Whiz
Allison Thorson showed her horse Smart Cowboy Whiz for the first time on Friday, tying for the win of the Green Reiner Level 1 [1] and for second in the Level 2 [1]. They returned to the Adequan Arena on Sunday to tie for the win of both levels with a 142. "My first time showing him was Friday, so we obviously gained some confidence. This time I went in with a little more steam and power because I knew there wouldn't be anything super scary and that he'd help me through the pattern," Thorson shared.
Smart Cowboy Whiz, by Who Whiz It out of Little Smart Jac, gives his owner a lot of confidence in the pen. "I was super happy with him. He's a horse that will go for more if you ask. It's awesome to have a partner like that. Not only that, but he's really pretty to look at," she said.
Tying for the day's win, combined with her success on Friday, clinched the high point championships for both classes, and Thorson was presented with two Montana Silversmiths buckles. "Obviously winning the high point is another great thing. I feel very fortunate. It shows we had some consistency this week when we showed. I know there are some parts that I can clean up and fix, but we were consistent and that's what I'm most proud of," Thorson explained.
Thorson grew up showing all around events in the Tennessee Walking Horse industry. Her supportive parents helped her travel across the country showing in western, English, and showmanship classes. "Still, reining is a whole new challenge. It all comes down to if you're having a good day or not. Everyone works hard to be here," she said.
Thorson rides with Craig Schmersal. "I thank Craig and Ginger and the whole Schmersal team. It's first class and everyone is very supportive. They give us the right tools to succeed," Thorson noted.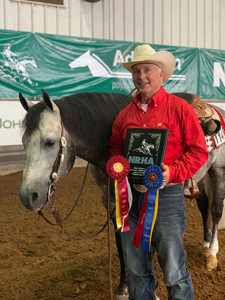 Green Reiner Level 1 & 2 [2] Co-Champion – Bruce Koefoot & Smart Lil Velvet
It was a great day for the Schmersal clan, as another barn mate, Bruce Koefoot, tied with Thorson for the win of the Green Reiner Levels 1 & 2. Koefoot, of Nebraska, rode Smart Lil Velvet, a horse he's only been showing since last fall.
"Craig and Ginger found him for me. I hadn't shown in about five years, on a mare that's now one of my broodmares, so I told them I want to get back into showing. I trust them explicitly, and they found him for me," Koefoot said of the stallion, by Smart Like Juice out of Velvet Pistol. "He's a stud, but he doesn't know it. He's very forgiving, and as a novice rider, he takes care of me. I don't have to worry about him doing something he shouldn't."
Smart Lil Velvet lives with the Schmersals in Arizona. "We have a townhouse down there that we go to as often as we can, and I ride him every day when I'm down there. I haven't ridden him since March when I won the Green Reiner at the Cactus Classic, but he did very well here," Koefoot said.
Koefoot has ridden with the Schmersals for more than 13 years and noted their program is first-class. "I have had several horses with him. What I like about Craig is he doesn't just train a futurity horse and that's it. He takes care of the horses so after the futurities you have a horse to ride. They take very good care of them," Koefoot said. "I thank Craig, Ginger, Wade McDonald and the whole crew. Everyone in the barn is super."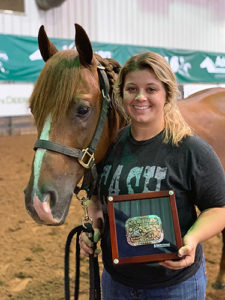 Rookie Level 2 High Point Champion – Paige Pastorino & Taylor Made Magnum
Paige Pastorino and her horse Taylor Made Magnum won the Rookie Level 2 High Point Championship. It was a busy week for the pair, who also showed in the Non Pro classes earlier in the week. "He's done great. We've been working on critiquing a few things in our run downs, and he got better as the week went on," she said.
Taylor Made Magnum, by Magnum Chic Dream out of Beaus Liberty Bell, is now 12-years-old. "I've had him a few years and he's my first reiner. He's mister consistent. It's so nice because he warms up exactly the way he is in the show pen. That's exactly what I need and want and he gives me everything, every time," Pastorino said.
Pastorino, who lives in California, rides with Dany and Fred Tremblay of Ardmore, Oklahoma. "We're actually heading home to California with the horses in a few minutes. We're going to Reining By the Bay, so we're going to take our horses with us and meet Fred and Dany out there," she said. "I thank my mom, Dany, and Fred. They're awesome and every day they push me. I wouldn't be here without them."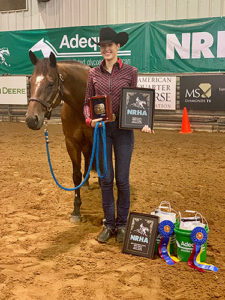 Rookie Level 1 & 2 [2] Champion and Rookie Level 1 High Point Champion – Alexia Tordoff & Blue Collar Tag
Alexia Tordoff and Blue Collar Tag cleaned house at the Adequan Arena, winning both levels of the Rookie and claiming the Level 1 high point buckle. "It's my first buckle from the NRHA, so I'm pretty excited," Tordoff said.
Tordoff and Blue Collar Tag, by Whiz N Tag Chex out of Kachina Oak Olena, scored a 146 in Sunday's competition. "He was really good today. He was better than Friday and scored a point higher. He was awesome," she said.
Tordoff's game plan for Blue Collar Tag was simple – rest. "I really didn't change it up at all. He got the day off yesterday, and so I showed him pretty fresh today. He got to be in the spa all day yesterday, so he was pretty pampered," she said.
Tordoff is planning to show next in Las Vegas. "I thank Kole and Kelsey Price, my parents, my sister, and all my friends and family," she said.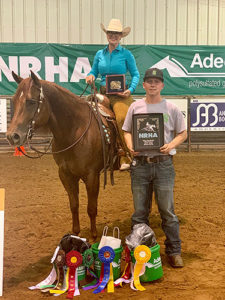 Prime Time Rookie [2] Champion and Prime Time Rookie High Point Champion – Jamie Walters & Hot Rockin Spook
Jamie Walters won the Prime Time Rookie [2] on her horse Hot Rockin Spook with a 140, and in doing so claimed the Prime Time Rookie High Point title. "Today he was a good boy. My run was fast at the end, and I need to work on that, but it was a good run. I stayed on!" Walters said with a laugh.
Hot Rockin Spook, by Smart Spook out of Hot Rockin Badger, was shown as a futurity horse by Tish Fappani, collecting several wins. "I've owned him about three years now. He can be a little hot sometimes, but we had a practice session a couple days ago and everything came together," she shared.
Walters rides with Wade McDonald, an assistant trainer at Craig Schmersal's. "It's been a great week for Team Schmersal. Jennifer Neudorf won the Non Pro Derby, then Bruce and Allison tied for the Green today, Addisyn did so well in the Youth, and Craig won Reserve last night. I always say if you want to ride better, you ride with the best," she said.
Walters qualified for the Run for a Million Rookie while competing at the National Reining Breeders Classic. "I'm so excited. I have two months to work on that," she said. "I thank my family and everyone who watched me on the live feed. Thank you to Wade, Craig and Ginger, my boyfriend Mark, my parents, and my sister," she said.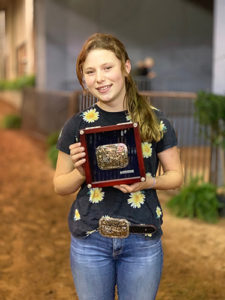 Youth 13 & Under High Point Champion – Addisyn Schmersal & CC Enterprise
A second place finish in the 13 & Under [2] clinched the 13 & Under High Point Championship for Addisyn Schmersal and CC Enterprise – a repeat performance for the duo. "I won it last year with the same horse. This time was a little easier because the last time was the first show with him. I'm more used to him now, and it was a lot of fun," Schmersal said.
Many of the exhibitors that ride with Addisyn's father Craig won classes and high point buckles this week, and Craig qualified three horses back to the Open Finals. "It's been a great week for Team Schmersal," 13-year-old Addisyn noted.
Next up for Schmersal and CC Enterprise, by Wrangle Whiz out of Rems Little Sugs, is a schooling show followed by the American Quarter Horse Association Youth World Show.
"I thank my parents, my dad's staff, and all my friends and family," Schmersal said.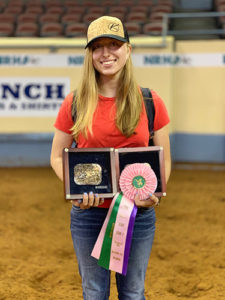 Youth 14 – 18 & Unrestricted Youth High Point Champion – Siena Krueger & Shining On Spook
Siena Krueger and Shining On Spook won the Youth 14 – 18 [1] and Unrestricted Youth [1] class on Saturday, but the two high point Montana Silversmith's buckles were still a surprise. "It's pretty unexpected. This is probably the biggest achievement I've had with my horse in a couple of years," Krueger shared. She and Shining On Spook, by Smart Spook out of Shining High Roller, finished fourth in both classes today with a 142.5.
"Today he was really good in the turns and circles. I lost my stirrups, but overall it was pretty good," Krueger, who turns 15 years old on Tuesday, noted.
Shining On Spook was shown by Krueger's mother, but the young rider took over the reins when the horse aged out of the Derby events.
Krueger rides with Kari Klingenberg in Arizona. "I thank Kari for always working to get us to be the best we can, and my mom for giving me this horse to ride," Krueger said.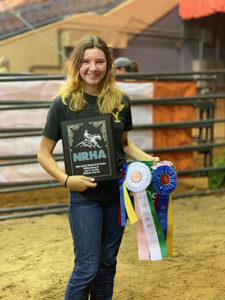 Youth 13 & Under [2] Champion – Ava Bush & Shes A Shining Gun
Ava Bush piloted her horse Shes A Shining Gun to a score of 142.5 to win the Youth 13 & Under [2]. It was the first show back for Bush, who's taken most of the season off to let a fractured ankle heal. "I've had him about two years. We started off with our spins which were pretty good. We stumbled a little in our left spin but made up with it to our right. Our circles were good, too," she shared.
Bush lives in Spokane, Washington, but she also rides with Arizona's Kari Klingenberg. "We try to fly down once a month for the week," she said. "I thank my parents and Kari Klingenberg for helping me. I wouldn't be able to do it without them. I also thank everyone who helps out at the barn."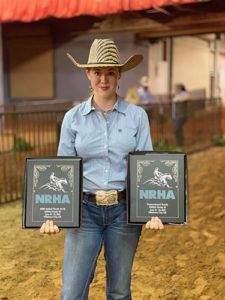 Youth 14 – 18 [2] & Unrestricted Youth [2] Champion – Lydia Bell & Chics Want My Number
Chics Want My Number won the Youth Short Stirrup [1] on Saturday with Kynley Bell, and on Sunday won the Youth 14 – 18 [2] and Unrestricted Youth [2] with older sister Lydia. "It was awesome. Just a clean, smooth, and solid run. I love this horse. He's the same every time," Bell said. "We bought him a few years ago from a good friend of ours who showed him as a three-year-old and derby horse."
Bell noted that "Leroy," who's by Wimpys Little Step out of Dixie Chic Olena, has quite the personality. "He's definitely goofy. He fools around and flips his head. If I don't warm him up in the arena long enough, he'll play around when we show," the 16-year-old shared.
The next stop for the pair is the AQHA World Show. "Hopefully we will do well there," she said. "I thank my mom and dad for hauling me everywhere and everyone along the way who has supported me. Most of all I thank God above for giving me the opportunity to do this."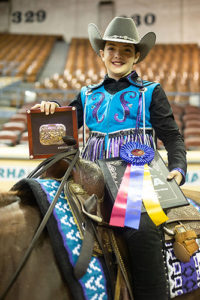 Short Stirrup [2] & Short Stirrup High Point Champions – Becca Schaffhauser & Lil Rene Gun
Showing in the Jim Norick Arena, 10-year-old Becca Schaffhauser piloted Lil Rene Gun through Pattern 2, scoring a 143. Not only did that win the day's class, it also secured the Short Stirrup High Point Championship. "She was very good. She did not go too fast," Schaffhauser said.
Lil Rene Gun, by Gunner out of Sail Away Rene, is owned by James and Kathleen Fanello. "My dad showed her in the Derby last year, and I'm very happy to show her. She's seven and is a very good horse. She's easy to ride and not too hard for a beginner," Schaffhauser said.
It was the first time for the pair to compete together, but they'll be traveling to Vegas for another event soon. "Thank you to my parents and James and Kathleen for letting me show her," she said.
Schaffhauser also took Reserve in Saturday's class with a 140.5 on Dun Got My Rest, owned by Turnabout Farm Inc. Dun Got My Rest is by Hollywood Dun It out of Got My Rest.