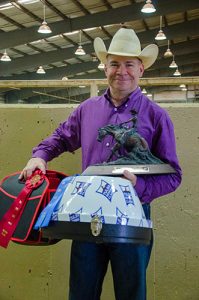 Thursday the Tulsa Reining Classic continued with ancillary classes in the Mustang and Super Duty arenas at Expo Square in Tulsa, Oklahoma.
Paul Qeen riding Outta Dough (Gallo Del Cielo x Dough Olena) scored a 144 to top the Non Pro held in the Mustang arena for owner Dorothy Queen. Paul has a long relationship with the 13-year-old that shines through in the show pen. Outta Dough was first Queen's mother's horse, but soon she handed over the reins and the rest is history.
"He's been in the family a long time. My mom rode him for a long time after Mike Berg trained him. I had just gotten out of school and asked Mom if I could show him and she said 'he's yours,'" Paul said. "I don't show him that much, but he's just as honest as he ever was."
The duo also took home the reserve titles in the Intermediate and Limited Non Pro. All totaled they earned $1,102 for the their efforts on Thursday.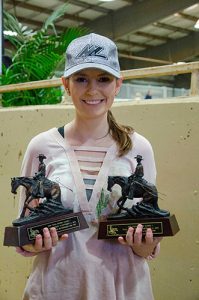 McKinnon Larcombe and Taris Dreamer topped the Intermediate Non Pro and Limied Non Pro with a score of 146. The duo has taken home big wins together, but Larcombe says Thursday's performance was their best so far.
"Everything put together was the best it's ever been. It's the highest I've ever scored on him," Larcombe said. "Everything was as good as it could have possibly been."
Taris Dreamer is by Magnum Chic Dream out of Taris San Cutter and owned by Ron Thompson. The 9-year-old led Larcombe to a total of $738 on Thursday. Larcombe says over the past several years they've build a strong relationship and Thursday's wins gave her a confidence boost for the remainder of the Tulsa Reining Classic.
"We've been working a lot on his run downs. He's been shown so much in his life that he's so experienced in that section that he thinks 'Oh, I'll show you the way, kid,'" Larcombe said with a laugh. "Today he let me pilot him instead of him piloting me, so I was very happy with him."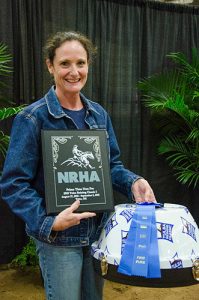 Keri Sigman had a great showing in Tulsa on Thursday taking home the championship in the Non Pro Prime Time with a score of 143.5 aboard Wimps Quixote Cody.
"The run was pretty good today, there were a few little bobbles, but he tried really hard, so it was fun," Sigman said.
The 12-year-old gelding by Wimpys Little Step out of Cody Kay Quiote has been with Sigman since the end of his 3-year-old year and Sigman says he holds a special place in her heart. On top of the Prime Time win Wimps Quixote Cody also earned the reserve co-championship in the Non Pro, tied for third in the Intermediate and Limited classes.
In the Open ancillary and Affiliate Regional Championships Open classes Jared Leclair and Smart Voodoo Doctor (Shiners Voodoo Dr x Smart As Sister) took home the NRHA Open and ARC Open wins from a score of 146.5 for owner Dean Spence.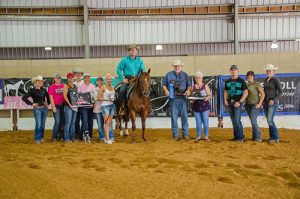 Stephen Archer and Smart Stepin Lena followed up their Wednesday wins with the Intermediate Open and ARC Intermediate Open wins on Thursday. The duo scored a 143.5. Smart Stepin Lena is by Wimpys Little Step out of Smart Shiney Lena and owned by Carolyn Tellepsen and has been a standout horse for the Archer-Tellepson partnership.
"Everything was good, I missed my middle stop a little bit, but that was my fault," Archer admitted. "He was good, he's always good."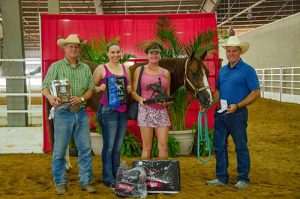 Nick Valentine and Mandy Faust shared the win in the NRHA Limited Open ancillary class with scores of 143.
Valentine rode Double Loaded Gun (Colonels Smokin Gun x Anniegityergun) to the win for owners Dough and Deborah Forzani. Valentine has only had the stallion for one month and used the Tulsa Reining Classic as a trial to understand the horse's riding style.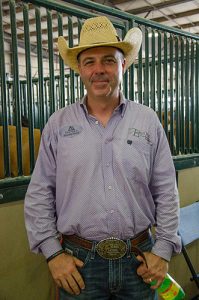 "I brought him here for him to get to know me and for me to get to know him and test him out," Valentine said. "He's seasoned, he knows his job, so we're just testing the waters to see what we can do together."
Faust rode Highlanders Scandal (Conquistador Whiz x HR Short Wheel Base), owned by Barn 66 LLC, to the win. Faust doesn't normally show the 9-year-old mare, but says Sally Berg gave her the opportunity. Faust also shared the co-championship in the NRHA Rookie Professional division with Kaleigh Geringer.
The ARC Limited Open champions were Todd Martin and Matteo Argentero with scores of 139.5.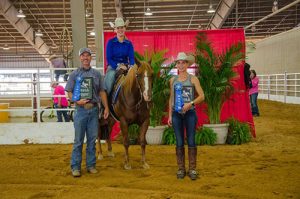 Martin rode Conquistador Rox (Conquistador Whiz x Roxie Boom) for owner Allison Buffington, who is one of Martin's youth competitors.
"[Buffington] is showing him in the affiliate championships and I school him throughout the year and I got qualified on accident I didn't realize that we got qualified," Martin said with a laugh, "so we brought him up here and I got to show him and get [Buffington] ready for this weekend."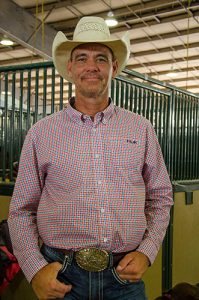 Buffington will take the 7-year-old gelding into the show pen Friday for the youth classes.
Argentero rode Skeattle Slew (Skeets Peppy x Starlite N Oak) owned by Ginger Dwyer to the win.
In the NRHA Rookie Professional division Kaleigh Geringer shared the win with a score of 143 aboard Lil Coded Jac owned by Susan Meyer. The duo also took home the ARC Rookie Professional win. Lil Coded Jac is by Jacs Electric Spark out of Hot Coded Candy.
"He's an awesome horse he's so cool and super honest in the show pen," Geringer said. "He was really with me and really quiet today, the run felt really good."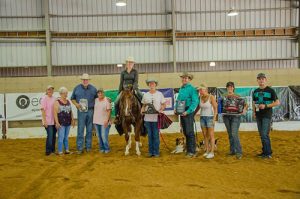 Jennifer Richards topped the Green Reiner Levels 1 and 2 riding Gunna Spook You with a score of 71. Richards said she's been working on stepping up her game with the 7-year-old gelding by Gunnatrashya out of Sugarplum Chic and accomplished her goal on Thursday.
"We've been trying to challenge the pattern a little bit more, so today I kind of challenged it and gave him a little bit more freedom and trusted him through the pattern and it worked," Richard said.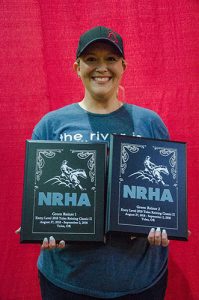 Don't miss a second of the action and make plans to watch RFD-TV's Horse of the West coverage of the Tulsa Reining Classic, which will air on Monday, September 24th and October 1st at 1:30 and 9:30 pm Central Time.
Go to www.horseofthewest.tv to find an episode schedule, search for RFD in your area, or watch past episodes. Be sure to subscribe to the Horse of the West YouTube page to see more videos, features, and interviews.
Catch all the action of the Tulsa Reining Classic at www.tulsareining.com and by following along on social media.
The National Reining Horse Association is not responsible for information contained in this press release. Please contact the author or submitting organization for further information, requests or questions.