At Elementa Masters Premiere the stands were packed and all tables were taken at the elegant ringside restaurant with its candlelight tables, as the public flocked to watch the second section of the impressive Non Pro Class that followed on from the Intermediate and Limited levels disputed in the morning of Friday 8 November: an exciting presentation of the top Open riders that will take the field for the highlight of this event was held between the two sections. In addition to those fans who made it here to Verona to watch the competitions live, such huge numbers have been following the event as it unfolds via streaming that the official website crashed. The server was upgraded over Thursday night to ensure that everyone had the chance to enjoy today's appointment with the great Non Pro competition.
The arena lit up on the second day of Elementa Masters Premiere to host an impressive field of 107 participants fired up and ready to battle in the NRHA Non Pro, Intermediate Non Pro and Limited Non Pro, with spirits undampened by the grey skies hanging over Verona. A number of entries worthy of a Special Event. If we consider that within days of the opening of registration last August, the number of entries surpassed the places available, forcing many athletes to sit this one out, there can be no doubt that the appeal of Elementa Masters sets records that go beyond the rich prize money.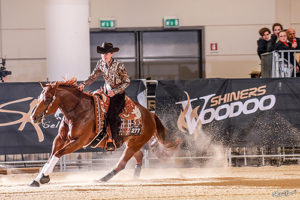 In this carefully planned context, where care was even taken to entertain the crowd each time the arena was dragged, with the use of lights, music and videos to interact with the public, an irrepressible Gina Schumacher slid to a thrilling 223 to clinch the title of the $40,000 Non Pro competition on Shine N Whiz (Topsail Whiz x Spark N Pretty). "This is actually my mum's horse" explained Gina and added laughing, "in fact, I think he probably prefers her to me! I have not been riding him very long, but now mum has less time she has given him to me to show. This is our third outing together and he tries really hard, so I enjoy riding him every time." It was a long haul for the German 22-year-old who boasts the 2016 NRHA World Championship Non Pro and FEI Reigning World Young Riders Championship among many other titles, and needs little introduction to reining fans: she was the first and last rider to enter the arena in the second section of the Non Pro event that ran through Friday evening. Her first draw was with the 8-year-old stallion Snip O Lution who officially retired tonight, closing his career on a strong 221 and placing third: "We took the decision because this horse has been competing since he was 3; he was SWRHA Open Lev 4 Champion in 2014 and has been a Derby finalist both in the Open and Non Pro categories, so I think he deserves  a rest." Gunstep, the horse she placed top of the AQHA Non Pro competition on Thursday afternoon was last in and Gina chose to take it easy as the horse has had some difficult moments in the show pen: "My main goal was to make sure he felt comfortable."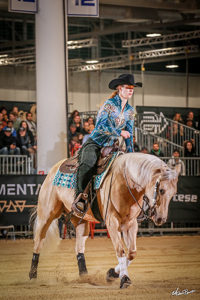 Just a single point shy of Gina's score was Austrian Anna Lisec with a 222 aboard the flashy palomino This Wimps So Fly, by Wimpys Little Step x Fly Flashy Jac. The 9-year-old gelding, bred by Ruben Vandorp and owned by Sabine Lisec & Chuck Klipfel, has partnered Anna through a series of ventures since 2014. In 2015 the duo was NRHA European Derby Non Pro Champion at all four levels, in 2017 at the Level 4 and was back in the finals of the same event last year, placing 4th at Level 4.
Tying for first place on a score of 218 to triumph at both the Intermediate and Limited levels were German Justin Ketterer aboard his uncle's 7-year-old Jacs Electric Snap by Jacs Electric Spark out of Shania Snapper and Frenchman, Gregory Morat on OK Spook, 12 years, son of Smart Spook and OK Mate.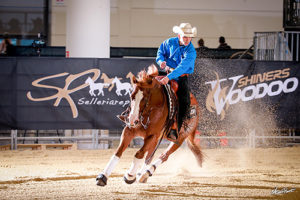 Justin, just 20 years, hails from the Black Forest where his family has a farm. "I have been reining since I was a kid and started competing more seriously when I was about 12; this is my third year showing this horse that was bred by my dad. I had a good feeling coming here and was really pleased with the way my horse went. The show was cool as well: everything looked nice, the ground was good, and the organisation went smoothly." And Justin's plans now? "I'm going to the States to watch my sister compete in the Okla Futurity with a horse we have there." Maybe next year it will be Justin himself, though as he says: "You need the right horse!"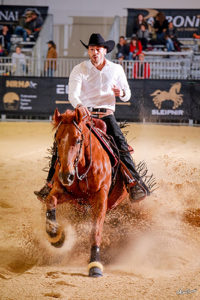 Self-described "entrepreneur, globe-trotter and motor sports enthusiast" Gregory Morat has been reining since 2012 and chose to create his own facility in order to better enjoy the sport, the beautiful Bo Ranch located close to France's "horse capital", Fontainebleau. The switch from bikes to horses was a very conscious choice for this competitor who earned the moniker of the "True Gentleman" after stopping to aid a Russian rival recover from a fall during the gruelling 2017 Dakar rally: "I love competing with horses because they give so much to me, it is very different having a partnership with an animal to racing on a machine. I decided to abandon racing bikes after the Dakar to devote myself totally to horses. This particular horse, OK Spook,was really with me today and it was very exciting to be competing in the first Elementa event; he gave the maximum." Despite some nerves when passing the gate, Gregory thought he achieved about the right mix of control and adrenalin that allowed the pair to reach this result. His thanks go to Stefano Ferri, head trainer at Bo Ranch who was nearby to give support and "reveal some of reining's secrets".
Vimeo Channel Elementa Masters Premiere:
https://www.youtube.com/watch?v=IWqKPwMOVZI
Photos by Andrea Bonega
The National Reining Horse Association is not responsible for information contained in this press release. Please contact the author or submitting organization for further information, requests or questions.