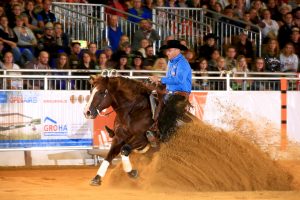 For immediate release: February 25, 2019
Attractive purse in Bronze Trophies and Maturities
For many years, the decision of the NRHA World Champion was made in the AMERICANA Bronze Trophy, and this event is still a must for those who are fighting for the World Championship. In 2017, NRHA 2 Million Dollar Rider Bernard Fonck claimed the Open Trophy aboard What A Wave – those who watched his spectacular performance, which earned a 231, during the evening show will certainly not forget it. And the two finished the year as NRHA Open World Champion. In 2019, the AMERICANA Bronze Trophy Open will offer a purse of €40,000-added – plus a €7,000-added Intermediate Open. The final will be during the Friady evening show – another reason why top reiners love AMERICANA. Where else in Europe can you ride in front of 5,000 spectators?
This year, there will also be a €10,000-added Non Pro and a €7,000-added Intermediate Non Pro plus a €5,000-added Maturity Open and a €4,000-added Maturity Non Pro.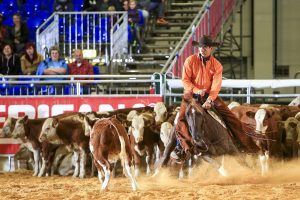 European Championship Cutting and ERCHA Futurity
Another main attraction of AMERICANA are the cattle classes. There is the European Championship Cutting Open with a purse of €12,000-added plus the €6,000-added Non Pro European Championship. In 2017, it was Italian cutter Martina Annovazzi who claimed the Open title aboard Highbrow Time scoring a 154 in the final.
Another fine discipline which is seldom seen at a show in Germany is the Reined Cow Horse – a discipline which has always been inseparable from AMERICANA. Here, the first ERCHA European Reined Cow Horse Futurity was organized. And ever since, the ERCHA Futurity has been part of AMERICANA every two years. This year, the Futurity offers a purse of €17,000-added. Also, there will be a €9,000-added ERCHA Nations Cup (team and individual ranking).
€5,000-added each in Trail and Ranch Riding Open, for the first time with Ranch Riding Non Pro
AMERICANA also offers top class sport in Trail and Ranch Riding with a €5,000-added European Championship Trail and a €5,000-added European Championship Ranch Riding Open. Also, there will be a €3,000-added Ranch Riding Non Pro. The European Championship Ranch Riding will be held in a go-round plus a final which will be part of the Friday evening show.
For riders, AMERICANA will start on September 1. The competition schedule will be online starting mid-March. In May, entry forms will be available on www.americana.de.
Order your tickets for the evening shows now
Tickets for the AMERICANA evening shows and events are available on www.americana.de or by calling -49 (0)1806 – 999 000. Tickets for the evening shows should be ordered well in advance – they will sell out quickly! Tickets for the Friday and the Saturday evening shows include entry during the day as well. Tickets for Wednesday and Thursday night are available either with or without day entry. Also, there is a whole show pass which includes all evening shows plus the events on Wednesday and Thursday and entry to the fair during all days.
Contact: AFAG Messen und Ausstellungen GmbH
Winfried Forster
phone. +49 (0) 821 – 5 89 82 – 143 / fax +49 (0) 821 – 5 89 82– 243
winfried.forster@afag.de / www.americana.de
As Europe's premier western event offering a considerable purse, AMERICANA has long been the meeting point of top riders of all disciplines. Enjoy the unique atmosphere of this prestigious event, and compete to earn your share of the winnings this year!
The National Reining Horse Association is not responsible for information contained in this press release. Please contact the author or submitting organization for further information, requests or questions.