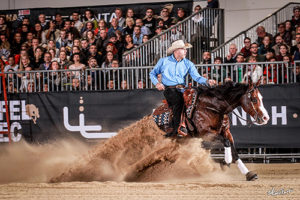 Morey Fisk on the 11-year-old stallion Chicks Smokingun beats the world's leading ladies, the 2 Million Dollar riders Ann Fonck and Cira Baeck, by a single point with a thunderous 226 and a half that thrilled the public packing the stands to overflowing and emotionally charged for the big show. The 45-year-old Canadian, who came to Europe for a short stay in 1994, and has been here ever since, was the first rider to achieve a hat trick at the NRHA European Futurity, conquering the title of Open Champion three years in a row. The AQHA&APHA bay stallion that partnered Morey on this memorable night is by the outstanding Colonels Smoking Gun out of Dun It By Chick and was continuing an excellent career that has seen him finalist in the NRHA Open Futurity, the NRBC Open, NRHA Open Derby and NRHA Non Pro Derby. Morey chooses a single word to describe this horse with which he has been competing successfully for some time: "Awesome".  The run that secured the title for Fisk was in no way a given: "It was just fantastic! I could never have predicted that I would be celebrating this win today, but one of my goals this year was to compete and do well in this show; I had actually been holding the horse back a bit so he would be ready for this Open." Fisk works out of Horse Academy, Mooslargue France where he not only trains but follows a group of Non Pros: "It's a part of the job I really enjoy; one of the satisfactions of being a trainer for me is being able to help people develop and in this facility our clients have the advantage of being able to compete regularly at home – we have about one show a month." Next up on Fisk' agenda is the IRHA/NRHA Futurity coming up at the end of this month.
Sharing reserve honours were two Belgian colleagues among Europe's most successful reiners, namely Ann Fonck on Gunners Specialolena, daughter of NRHA Three Million Dollar Sire Gunners Special Nite out of Dolly Special Lena and owned by Diego Dalla Gassa, and Cira Baeck on Maria Cecilia Fiorucci's power-packed, eye-catching stallion Phantom Face, previously ridden by Craig Schmersal who earned $113,089 competing in the US with this 6-year-old son of Pale Face Dunnit out of Gorgeous Like A Star, before coming to Italy. Fonck's mount, "Dolly", was a relative "young'un"' in last night's event: last year the 5-year-old mare took Laura Della Gassa to the top of Levels 4 and 3 of the 4-year-old Non Pro Italian Futurity.
Another very happy lady after marking 225 on Winnie The Boo (Spooks Gotta Whiz x Jac Golden Faith), was Sylvia Rzepka, who came back again after Friday night's win of the AQHA Open here to win the Intermediate Open on Florian Aubruner's 7-year-old mare with a great run that also placed her 4th in the Open. "I have had this horse for a couple of years and have made quite a few changes," explained Sylvia "and now he's really starting to perform well for me. He can be a little bit freaky sometimes, but when he shows he has a heart of gold". Winner of the Italian Derby in 2011, Rzepka has competed in the World Equestrian Games (WEG) twice and was part of the German team awarded the bronze medal at the FEI World Championships in 2008; on this mare, Sylvia took Reserve Honours in the L3 Open NRHA European Derby this August, then going on to gain the title of Level 3 Champion and Level 4 Reserve Champion at the Austrian Maturity the following month. She has been working out of the facility of H & D Schulz Quarter Horses a Neustadt, Austria for the last two years: "It's a great place for me to train my horses, it's one of the busiest areas in Austria for reining and we have the Austrian Futurity and Maturity there".  Rzepka summed up her show last night as "highly emotional". She commented: "There is always something that can go better in a run, but I went in there last night with high expectations". Expectations that certainly were not disappointed. Of the event Sylvia added: "I have been in the sport for the last 20 years, but to compete in something like this was pretty cool."
Reserve Champion at the Intermediate level was Klaus Lechner, who also travelled here from Austria, guided Cody Rooster Delmaso (Ricochet Rooster X Made Of Lacy) to a score of 223. The veteran stallion, 14 years of age, is owned by wife Julia-Gaupmann-Lechner. Klaus has been working professionally in reining since 2010 and now runs his own centre, together with Julia, in Lower Austria.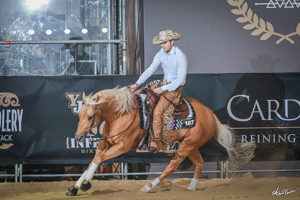 Niklas Ludwig was crowned Limited Open Champion after closing his run on 218.5 aboard 2013 stallion Whiz N Spook (Smart Spook X Whizicle) owned by Margot Van Doone. Ludwig said of his companion: "I would describe him as a big baby: he likes to play around and can be a little tricky to handle at times, but I really like him. We have been together for the last two years". He adds, "I always knew this show was going to be special, of course, it's partly the money but also everything around it. It is bringing a lot of new people into the sport so it can only be good!" Niklas, who has been working together with older brother Grisha at Ludwig Quarter Horses in Schwantelhof, Germany for the last seven years, says the two brothers work well together as a team. He adds that he has no idea what he would do if he were not a reiner: "I love the horses, I love the sport and I like to get up every morning to do this work". For now, the show season is over for the 26-year-old German who started in reining with his dad, going to help out with Grisha in the holidays and then travelling to the US to gain experience with Tom McCutcheon, Duane Latimer and Martin Larcombe. Certainly, he is looking forward to a little relaxation and then it will be time to get ready for next year!
Just half a point behind (218) to claim reserve honours at the Limited level was Lena-Marie Maas riding Georg Ferl's 2015 QH stallion Chic Heidi (Chic Magnetic X Heidi Sailor). The 20-year-old German trainer was Individual and Team gold-medal winner in the Youth Continental/Regional Championships in Givrins in 2015.
Vimeo Channel Elementa Masters Premiere:
https://www.youtube.com/watch?v=IWqKPwMOVZI
Photos by Andrea Bonega
The National Reining Horse Association is not responsible for information contained in this press release. Please contact the author or submitting organization for further information, requests or questions.