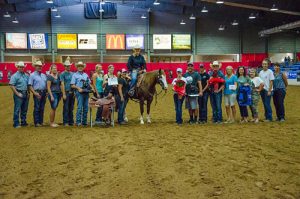 The Tulsa Reining Classic Open Derby took the spotlight on Sunday at The Tulsa Reining Classic, held at Expo Square. Big stops, smart maneuvers and stylish reining horses were shown in the open derby in the Ford Truck Arena where 83 entries battled for top honors.
Abby Lengel rode ARC Gunna Mark Ya to claim the Level 4 Open Derby championship, as well as the Level 3 Open Derby championship with a score of 226 – the highest marked score of the show.
Lengel had a big day in Tulsa with the win aboard the 2012 mare by Gunnatrashya out of Shiney Miss Marker that she's ridden to other big titles such as the NRBC Level 2 Open championship and great success at the NRHA Derby. One of the things Lengel feels most proud of is how the mare has matured with her.
"She's felt so good. At home she's been riding better than she ever has," Lengel said. "She's totally different in the show pen and that's been one of the hardest things her – that she's so much different when you're showing her than when you're riding her, but she's felt so good [lately]."
Lengel picked up a total of $11,576. "She turned the best she ever has, didn't have any penalties and she stopped really, really good," Lengel said. "It's hard to find a place to complain. She was with me the whole time. "
Lengel said she feels blessed to get the win with this mare In the last year of her derby career .
"I had the attitude of she only has a couple of shows left, so I'm not holding anything back. I've worked hard on her and I just wanted to get the most out of it," Lengel said. "She just let me show her and God has blessed us with her and these runs have been pretty amazing."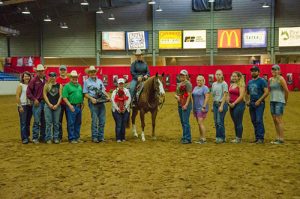 Debbie Brown rode Spooks Lil Princess to the Tulsa Reining Classic Open Derby Level 2 and Level 1 championships with a score of 221 for owner Teresa Grier. The duo has only been partnered for a couple of months while Brown prepped the 2014 mare for the Tulsa Reining Classic.
"She was really good," Brown said. "The biggest thing I wanted to get done today was to trust her in her run. She's been riding good all week and so I wanted to make sure I trusted her and showed her [correctly]."
Brown said she was proud of the 4-year-old mare by Smart Spook out of Slide By Shiner for showing up in top form and was pleased with their success together in the pen. The duo picked up $2,483 for their efforts in Tulsa.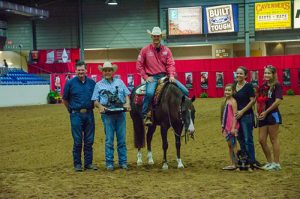 Jason Vanlandingham and Gunna Spark (Gunnatrashya x Roylenas Spark) scored a 221.5 to win the Novice Horse Open Derby Level 4 championship, worth $3,551 for owner Rosanne Sternberg.
Vanlandingham has had the 4-year-old stallion since he was a yearling and taken him through his training until Sternberg purchased him. Now Vandlandingham and Gunna Spark are having success in the show pen.
"She showed well, there's a few things we have to work on; I wish he would have had a little more cadence in his turns, but other than that the run was great," Vanlandingham said.
The National Reining Horse Association is not responsible for information contained in this press release. Please contact the author or submitting organization for further information, requests or questions.